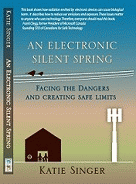 An Electronic Silent Spring

(

Image

by

Katie Singer

)

Details DMCA


Posted by Katie Singer
www.electronicsilentspring.com


Here's another great list from EHTrust.org.

INTERNATIONAL PRECAUTIONARY ACTIONS by Governments, Authorities and Schools.

Governments and health authorities around the world are taking action to minimize citizen's exposure to wireless radiation.

Download this information as a PDF by clicking Here.

Schools Worldwide are Removing the WiFi

2014: Portland Waldorf School, Portland Oregon,USA, WiFi removed.

2014: Meeting House Montessori, Braintree Massachusetts, USA, WiFi replaced with ethernet.

2014: Ghent, Finland, Wi-fi banned from pre-schools and day care.

2014: UPPER Sturt Primary School, Australia "No WIFI" LOW EMF Policy

2014: The St. Augustine School in Italy turned off Wifi and goes back to Wires.

2013 Winlaw Elementary School, B.C. Canada turned off WiFi.

2013 Te Horo Primary School New Zealand Replaced WIFI with cable-based internet.

2013 Kootenay Lakes District School Board BC (One school without Wi-Fi)

2013 Blaise-Cendrars High School, Switzerland. Teachers vote to remove WiFi.

2012 Kivioja primary school in Ylivieska Finland bans phones and minimizes Wireless.

2012: Halton Waldorf, in Burlington Vermont: Remaining free of Wireless Radiation

2011 City of Lakes Waldorf School, WiFi taken out. Minneapolis, Minnesota USA

Next Page 1 | 2 | 3 | 4 | 5 | 6 | 7

(Note: You can view every article as one long page if you sign up as an Advocate Member, or higher).