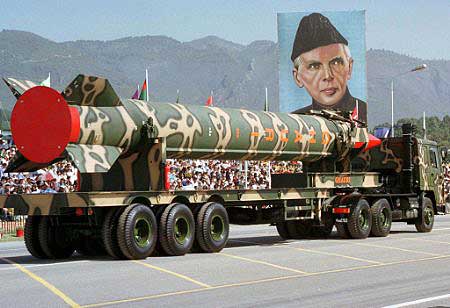 Pakistan's Nuclear Weapons Program

(

Image

by

nuclearweaponarchive.org

)

Details DMCA
Indian Express reported on Monday (Oct 26) that the United States warned Pakistan in 1984 about an Indian military attack on the Pakistani nuclear reactor at Kahuta. The paper said that the US warning came in US President Ronald Reagan's letter to General Zia-ul Haq, President of Pakistan.
Last week, the US State department declassified its top-secret documents from 1984-85 which focus on the Pakistani nuclear program.
The Indian Express report said that the Americans were not alone in anticipating an Indian attack. It quoted several books on Indian plans to attack Pakistani nuclear reactor at Kahuta near the capital Islamabad.
Prof Rajesh Rajagopalan of JNU (Jawaharlal Nehru University) recently pointed to a book by Sergey Radchenko and Artemy M. Kalinovsky as saying that documents in the Hungarian archives show that the Soviets had shared with the Hungarians India's plans to attack Kahuta. Radchenko- Kalinovsky book - The End of the Cold War and the Third World: New Perspectives on Regional Conflict - is based on the declassified documents of the Eastern Block.
In his book, India's Nuclear Policy --1964-98: A Personal Recollection, K Subrahmanyam (former Director of the Institute for Defense Studies and Analyses) recollected that the Indian proposal to Pakistan for non-attack on each other's nuclear facilities, which he suggested to Rajiv Gandhi, was an outcome of such rumors in the Western media.
India and Pakistan sighed an 'Agreement on the Non-Attack of Nuclear Facilities' in 1988 and ratified in 1991. Since 1992, India and Pakistan have been exchanging the list of their nuclear facilities on January 1 every year.
Israeli attack on Iraq's nuclear reactor
Sushant Singh of India Times says that the first time India is believed to have considered such an attack is in June 1981 when daring Israel destroyed the under-construction Iraqi nuclear reactor at Osirak. Eight F-16s of the Israeli Air Force flew more than 600 miles in the skies of three enemy nations to destroy the target and returned unscathed.
In 1996, WPS Sidhu, senior fellow for foreign policy at Brookings India, was the first to state that after the induction of Jaguars, Indian Air Force (IAF) had conducted a brief study in June 1981 on the feasibility of attacking Kahuta. The study concluded that India could "attack and neutralize" Kahuta but feared that such an attack would result in a full-blown war between India and Pakistan.
This was besides the concerns that an Indian attack will beget an immediate retaliatory -- some say, even pre-emptive -- Pakistani air strike on Indian nuclear facilities.
The Indian Express referred to a book by Adrian Levy and Catherine Scott-Clark - Deception: Pakistan, the United States and the Global Nuclear Conspiracy - which claimed that Indian military officials secretly travelled to Israel in February 1983 to buy electronic warfare equipment to neutralize Kahuta's air defenses. Israel reportedly also provided India with technical details of the F-16 aircraft in exchange for Indians providing them some details about the MiG-23 aircraft.
The Indian Express also enumerated several instances when India considered air strike on Kahuta:
1. In mid- to late-1983, strategic affairs expert Bharat Karnad, Indira Gandhi asked the Indian Air Force once again to plan for an air strike on Kahuta. The mission was cancelled after Pakistani nuclear scientist Munir Ahmed Khan met Indian Atomic Energy Commission chief-designate Raja Ramanna at an international meet in Vienna and threatened a retaliatory strike on Bhabha Atomic Research Centre at Trombay.
2. The next time India is believed to have seriously considered attacking Kahuta was in September-October 1984. Details of the Pakistani nuclear program crossing the weaponization enrichment threshold had then begun to emerge. As seen from US documents declassified last week, on September 16, 1984, US Ambassador Dean Hinton told General Zia that if the US were to see signs that India was preparing for an attack, they would notify Pakistan immediately.
On September 22, 1984, a reliable source from a foreign country -- later assumed to be the CIA Deputy Director -- reported to the Pakistani top brass that there was the possibility of an Indian air strike. The same day, ABC television also reported that a preemptive Indian attack on Pakistani nuclear facilities was imminent, which was based on a briefing made by the CIA to a US Senate intelligence subcommittee. But India did not go ahead with its plans to attack Kahuta.
(Note: You can view every article as one long page if you sign up as an Advocate Member, or higher).