Reprinted from The National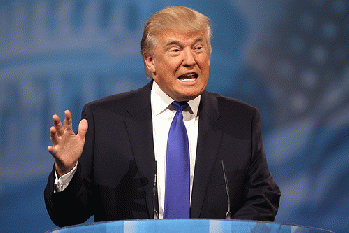 Donald Trump
(
Image
by
Gage Skidmore
)
Details
DMCA
The grubby underside of US electoral politics is on show once again as the Democratic and Republican candidates prepare to fight it out for the presidency. And it doesn't get seamier than the battle to prove how loyal each candidate is to Israel.
New depths are likely to be plumbed this week at the Republican convention in Cleveland, as Donald Trump is crowned the party's nominee. His platform breaks with decades of United States policy to effectively deny the Palestinians any hope of statehood.
The question now is whether the Democratic candidate, Hillary Clinton, who positions herself as Israel's greatest ally, will try to outbid Mr Trump in cravenly submitting to the Israeli right.
It all started so differently. Through much of the primary season, Benjamin Netanyahu's government had reason to be worried about Israel's "special relationship" with the next occupant of the White House.
Early on, Mr Trump promised to be "neutral" and expressed doubts about whether it made sense to hand Israel billions of dollars annually in military aid.
He backed a two-state solution and refused to recognise Jerusalem as Israel's capital.
On the Democrat side, Mrs Clinton was challenged by outsider Bernie Sanders, who urged "even-handedness" towards Israel and the Palestinians. He also objected to the huge sums of aid the US bestows on Israel.
Mr Sanders exploited his massive support among Democrats to force Mrs Clinton to include well-known supporters of Palestinian rights on the committee that drafts the party's platform.
But any hopes of an imminent change in US policy in the Middle East have been dashed.
Last week, as the draft Republic platform was leaked, Mr Trump proudly tweeted that it was the "most pro-Israel of all time!" Avoiding any mention of a two-state solution, it states: "We reject the false notion that Israel is an occupier ... support for Israel is an expression of Americanism."
The capitulation was so complete that even the Anti-Defamation League, a New York-based apologist group for Israel, called the platform "disappointing" and urged the Republican convention to "reconsider." After all, even Mr Netanyahu pays lip service to the need for a Palestinian state.
But Mr Trump is not signaling caution. His two new advisers on Israel, David Friedman and Jason Greenblatt, are fervent supporters of the settlements and annexation of Palestinian territory.
Mr Trump's running mate, announced at the weekend, is Indiana governor Mike Pence, an evangelical Christian and a stalwart of pro-Israel causes. So why the dramatic turnaround?
Candidates for high office in the US need money -- lots of it. Until now Mr Trump has been chiefly relying on his own wealth. He has raised less than $70 million (Dh257m), a fifth of Mrs Clinton's war-chest.
(Note: You can view every article as one long page if you sign up as an Advocate Member, or higher).