Reprinted from Consortium News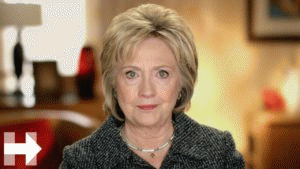 Former Secretary of State Hillary Clinton.
(
Image
by
YouTube (Screenshot)
)
Details
DMCA
>
In Campaign 2016, the American people have shown little stomach for more foreign wars. The Republican candidates who advocated neoconservative warmongering crashed and burned, losing to Donald Trump who sold himself to GOP voters as the anti-neocon, daring even to trash George W. Bush's Iraq War to an aghast field of Republican rivals.
Sen. Bernie Sanders went even further, daring to mildly criticize Israel's repression of Palestinians, yet still ran a surprisingly strong race against the hawkish former Secretary of State Hillary Clinton. And, if Libertarian and Green anti-imperial candidates are counted in general election polls along with Trump, the trio makes up a majority of voters (54 percent in an NBC News/Wall Street Journal poll).
Only Hillary Clinton (who comes in at 39 percent) is carrying the neocon banner proudly in the general election, advocating a U.S. "regime change" invasion of Syria -- dressed up as "no-fly zones" and "safe zones" -- while she also cheers on more hostilities toward nuclear-armed Russia.
In Russia, the neocons dream about their ultimate "regime change," dragging Vladimir Putin from the Kremlin and seeing him butchered much as happened to Iraq's Saddam Hussein and Libya's Muammar Gaddafi, their grisly deaths representing two of the "highlights" of neocon domination of U.S. foreign policy in recent decades.
But very few of Clinton's backers seem to support her because they want more neocon-style imperialism abroad. They usually express their desire to see a woman president ("it's her turn") or praise her pragmatic approach to domestic issues ("she can get things done").
While some followers like the fact that she has traveled the world and has dealt with many leaders as First Lady, U.S. Senator and Secretary of State, that doesn't mean these Democrats like that she voted for the Iraq War, pushed President Obama into the Libyan disaster, and wants to escalate the costly and dangerous new Cold War with Russia.
Indeed, if there were an effective peace movement in the United States -- along the lines of the 1960s civil rights movement -- many Clinton supporters might join the peace leaders in demanding face-to-face meetings with her and threaten to withhold their backing if she doesn't repudiate her neoconservative war policies.
That no such peace movement exists reflects the failure of anti-war advocates to penetrate the world of practical politics the way that the Rev. Martin Luther King Jr. did in working with President Lyndon Johnson to end racial segregation. But that's not really the fault of peace advocates since they have been shut out of the mainstream media to a far greater degree than the civil rights movement was in the 1960s.
Like the South's Segregationist Media
To extend the comparison, it's as if today's New York Times, Washington Post, CNN and MSNBC were behaving like the dominant white Southern newspapers of the 1960s, turning their collective backs toward those who favored racial integration.
Martin Luther King Jr. meeting with President Lyndon Johnson at the White House in 1966.
(
Image
by
Photo: White House
)
Details
DMCA
Just like the white Southern press tried to pretend the civil rights movement wasn't happening, today's U.S. mainstream media ignores voices opposed to America's imperial wars, no matter how credentialed those citizens are. Consider, for instance, how the major media won't publish anything from the Veteran Intelligence Professionals for Sanity, a group that reflects the views of such international figures as Pentagon Papers leaker Daniel Ellsberg, FBI whistleblower Coleen Rowley and former CIA analyst Ray McGovern.
Ironically, as much as U.S. officialdom and its mainstream media castigate RT and other Russian news outlets as "propaganda" fronts, RT and the like are playing the role that the Northern press did during the civil rights era by carrying important stories about U.S. peace protests while the NYT, WPost, CNN and MSNBC behave like the South's segregationist media did in the 1960s, dismissing or ignoring the dissent. [See, for instance, Consortiumnews.com's "When Silencing Dissent Isn't News."]
If it weren't for today's biased and imbalanced U.S. media, there would be daily, front-page, prime-time, network news attention to the dangers of perpetual war and a critical examination of Hillary Clinton's role in wasting trillions of dollars and hundreds of thousands of lives.
There would surely be a serious and thorough debate about the wisdom of Clinton's continued hunger for an expanded war in Syria. Yet, today's mainstream "debates" are limited to slight deviations between Official Washington's dominant neocons and their understudies, the "liberal interventionists," who only differ regarding which excuses to use in justifying an invasion of Syria.
(Note: You can view every article as one long page if you sign up as an Advocate Member, or higher).