Reprinted from Mike Malloy Website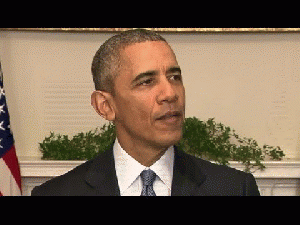 Is it something we can believe in, Truthseekers? Some are calling it Preisdent Obama's biggest accomplishment thus far, the President himself calls it the "best chance we have to save the planet," but what is the possibility that the recommendations of the Paris Climate Agreement will be implemented?
The "Save the planet" meme has always bugged me. We can't kill the planet, but we can make it impossible to sustain life. 2014 was the hottest year on record. Now 2015 will take its place. It's been over 70 degrees in Atlanta virtually every day in December, that's a good 15 degrees above normal. The 14 hottest years on record have occurred since 2000.

And the science-deniers will STILL claim that this trend has nothing at all to do with human activity. It's all just right as rain. Unless you're in California where it doesn't rain anymore, that is. Mother Jones has this report on the President's renewed optimism:
"More than seven years ago, Barack Obama told campaign supporters that one day, Americans would be able to tell their children that 'this was the moment when the rise of the oceans began to slow and our planet began to heal.'

"Saturday evening -- just hours after international leaders agreed to a historic deal to fight global warming -- Obama told the nation that the accord could represent 'a turning point for the world' and would help humanity 'delay or avoid some of the worst consequences of climate change.' The deal, known as the Paris Agreement, includes commitments from countries around the world to reduce their emissions and pledges from high-polluting, developed nations help help poorer countries transition to clean energy and adapt to climate change.

"Obama acknowledged that the Paris Agreement is far from sufficient to end the dangers posed by climate change. Negotiators pledged to limit warming to 'well below' 2 degrees Celsius or 3.6 degrees Fahrenheit. They also agreed and to 'pursue efforts' to limit the increase to 1.5 degrees Celsius.

"However, all of the emissions cuts promised by countries thus far won't come anywhere close to meeting those goals. Scientists estimate that these commitments would put the planet on course for 2.7 degrees Celsius of warming -- and that's only if countries actually follow through on them.

"'The problem's not solved because of this accord,' said Obama. 'But make no mistake, the Paris Agreement establishes the enduring framework the world needs to solve the climate crisis.'"
We've also had "framework" to provide universal health care. We've had "framework" to end poverty and hunger among our own citizens by creating a livable wage. We've had "framework" to repair failing infrastructure. "Framework" to improve public education and increase access to college education. "Framework" to end the prison industrial complex. "Framework" to stop the murder by gun of innocent children.
Pardon my sarcastic cynicism, but Obama gives a great speech. But the Republicans in power will never allow any follow-through. We need to be reminded of that more often.
Speaking of failed framework, it's the 3rd anniversary of the Sandy Hook massacre that slaughtered 20 six-year-olds and six adults and resulted in no action whatsoever by our elected leaders. Our society is sick, Truthseekers. We value guns more than children, oil more than clean air, corporations over workers, Big Pharma more than free health care, and mythology more than science.
No wonder Mother Earth is trying to shrug us off.