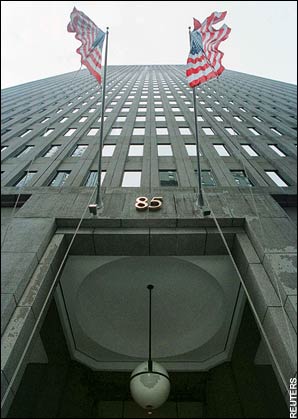 Just over a year after a wave of bailouts for financial institutions that the American people were told were "too big to fail," Wall Street's addiction to legalized greed and to crony capitalism continues. Worse, the White House and Congress are complicit in allowing this perversion of America's free market system to continue.
Today, Bloomberg reported that former Federal Reserve Chairman Alan Greenspan spoke to the Council on Foreign Relations and called for leaders to consider the breaking up of "too big to fail" banking institutions.
Those banks have an implicit subsidy allowing them to borrow at lower cost because lenders believe the government will always step in to guarantee their obligations. That squeezes out competition and creates a danger to the financial system, Greenspan told the Council on Foreign Relations in New York.
"If they're too big to fail, they're too big," Greenspan said today. "In 1911 we broke up Standard Oil -- so what happened? The individual parts became more valuable than the whole. Maybe that's what we need to do." "
"The former Fed chairman said while "just really arbitrarily breaking down organizations into various different sizes" goes against his philosophical leanings, something must be done to solve the too-big-to-fail issue.
"If you don't neutralize that, you're going to get a moribund group of obsolescent institutions which will be a big drain on the savings of the society," he said.
"Failure is an integral part, a necessary part of a market system," he said. "If you start focusing on those who should be shrinking, it undermines growing standards of living and can even bring them down."