Jimmy Savile -- Pollard Report Redactions And Cover Up | Merovee
(
Image
by
merovee.wordpress.com
)
Permission
Details
DMCA
Trump has reversed 40 years of nuclear de-escalation by tweeting his "Let there be an arms race," as the New Start Treaty is still reducing nuclear warhead, the process of decreasing nuclear risk of war has been re-enforced by the Nuclear Modernization Act, which provides for new methods of delivery (such as the 80 billion for new bombers that can reach Moscow and Beijing) and ungrading existing weapons. The plan was introduced and passed by Republicans, by 44 to 36 Dems (for) with only 13 (7 Democrats) voting against. The plan is estimated to cost a trillion dollars, and it serves to end the de-escalation process and begin anew, an arms race that will embolden hardliners in Russia, China, and every other nuclear power, as well as Iran, which just got rid of its nuclear weapons insfrastructure and now is being threatened by Trump favorites like John Bolton (Bomb Iran), whom Trump describes as "a good man."
Amazon.com: Darkness at Noon (Audible Audio Edition): Arthur ...
(
Image
by
amazon.com
)
Permission
Details
DMCA
He was likely not chosen as Secy of State because of opposition in Congress, and some even think because of his mustache, which Trump does not think looks the part.
Donald Trump rejected Secretary of State candidate John Bolton over his moustache, adviser reveals (independent.co)
"I watched him yesterday, actually, and he was very good in defending me in some of my views, and very, very strong. And I've always liked John Bolton. Well, we are thinking about it, Hugh. I will say that. We are thinking about it ( ie choosing him as Secy of State)."
Trump has praised Bolton before, calling him "a tough cookie," who "knows what he's talking about" in August 2015 and praised him as "terrific."
John Bolton
(
Image
by
Gage Skidmore
)
Permission
Details
DMCA
Good ideas but bad mustache. Trump likes his ideas (Bomb Iran).
Such bizarreness aside, the GOP voted months ago to ban the CBO from estimating the cost of this new escalation. Why? What do they fear? A public outcry? Questions about how will you pay for something that has no military justification (we can already blow up the entire planet 30 times)? Questions about how this will only provoke other nations to increase their nuclear capacity? Why would ignorance be preferred to a cost analysis?
- Advertisement -
Here, I think, is why the GOP thinks knowing less is better:
"Withholding information is the essence of tyranny. Control of the flow of information is the tool of the dictatorship." " Bruce Coville
"."The leading student of business propaganda, Australian social scientist Alex Carey, argues persuasively that "the 20th century has been characterized by three developments of great political importance: the growth of democracy, the growth of corporate power, and the growth of corporate propaganda as a means of protecting corporate power against democracy."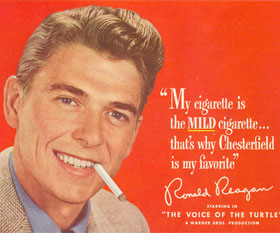 Before Becoming President, Ronald Reagan Was a Paid Cigarette Model
(
Image
by
forgottenhistoryblog.com
)
Permission
Details
DMCA
Tobacco companies hid the dangers of cigarettes; Exxon
hid the dangers of fossil fuel production. Big stars are
are used to tell Big Lies.
"Sins of omission are more dangerous than lies." George Orwell
"It is the responsibility of intellectuals to speak the truth and expose lies."
"- Noam Chomsky
Lies can be confronted and exposed; hidden information keeps us helpless.
Harvard EdCast: 20 Minutes with Noam Chomsky | Harvard Graduate ...
(
Image
by
gse.harvard.edu
)
Permission
Details
DMCA
"All over the place, from the popular culture to the propaganda system, there is constant pressure to make people feel that they are helpless, that the only role they can have is to ratify decisions and to consume."
"- Noam Chomsky
Given that government and the media is controlled by media oligarchs, the means of control is to control the media, which will, in a crisis (9/11, War on Iraq, Ukraine revolution, CW in Syria, humanitarian crisis in Libya), become the mouthpiece of the government, which is the mouthpiece of the corporate elites which control government.
"The more you can increase fear of drugs and crime, welfare mothers, immigrants and aliens, the more you control all the people. Noam Chomsky
Jim Morrison (the End): "Whoever controls the media, controls the mind."
Jim Morrison - Wikipedia
(
Image
by
en.wikipedia.org
)
Permission
Details
DMCA
The media is now 90% controlled by 5 corporations, all of whom argue but in the end defend and protect the same corporate interests that the corporations pay for in buying elections, politicians, laws, and policies. Whether 9/11 or the War on Iraq, no dissent is allowed by the corporate media, which either dictates or echoes the view of the government.
When the GOP prohibited the CDC from doing research on marijuana, it did so to ban information on which intelligent decisions can be formed. It did so to protect the drug industry, which funds them. When the GOP now bans the CBO from estimating the cost of the Nuclear Modernization bill they approved with a blank check, they goal is to make factual discussion and informed opinion, as expressed thru the media, impossible or marginalized. And to protect the profits of the corporations to which defense contracts mean the neo-liberal wet dream of transferring taxpayer wealth to private pockets, which in turn pay off the politicians who protect their profits and hire the generals who will return to government to dictate war policy (Flynn, Mattis, etc are all in the revolving door of military/defense/govt).
worlds-greatest-danger
(
Image
by
redfoxinict
)
Permission
Details
DMCA
In 1984, Big Brother proclaims the essence of all tyranny:
1984 - iPhone Background
(
Image
by
Patrick Hoesly
)
Permission
Details
DMCA
The strength of tyrants is in withholding information as much as in lying. As JFK said, in his speech The President and the Press:
The very word "secrecy" is repugnant in a free and open society; and we are as a people inherently and historically opposed to secret societies, to secret oaths and to secret proceedings. We decided long ago that the dangers of excessive and unwarranted concealment of pertinent facts far outweighed the dangers which are cited to justify it. "
Army Camouflage Uniform
(
Image
by
Wikipedia (commons.wikimedia.org)
)
Permission
Details
DMCA
Banning information is to the government what camouflage is to
the military: what you don't know makes you easier to deceive or kill.
The concealment of facts, whether about the CIA;s actual doubts about Saddam's' WMD programs, the lies of the government about 9/11, or the real benefits and risks of marijuana, as well as the real cost of a nuclear arms race, are all intended to defeat the democratic process and give the tyrants who conceal the information the means of controlling the public, whose support depends, then, on being left in the dark. This has led to criminal wars and millions of deaths. To assume it would do otherwise is to believe that
Ignorance is Strength and War is Peace.
Aggressive ignorance and disrespect
(
Image
by
hruassaan.com
)
Permission
Details
DMCA
(Article changed on December 27, 2016 at 15:49)
(Article changed on December 27, 2016 at 15:52)
(Article changed on December 27, 2016 at 15:53)
(Article changed on December 27, 2016 at 15:59)