Reprinted from Antiwar


Congress canoodles with Israeli spies to undermine Iran deal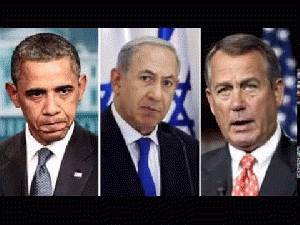 The spectacle of virtually the entire Senate GOP caucus mobilizing in support of a foreign power in order to drag us into war with Iran has certainly been instructive. Not since the Federalist party plotted with the British during the War of 1812 has an American fifth column been so open about their treason.
But isn't the "t"-word a bit hyperbolic? After all, don't all Americans, even the worst warmongers among us, have the right to free speech? Those members of Congress were merely expressing their opinion -- right?
"Soon after the U.S. and other major powers entered negotiations last year to curtail Iran's nuclear program, senior White House officials learned Israel was spying on the closed-door talks.

"The spying operation was part of a broader campaign by Israeli Prime Minister Benjamin Netanyahu's government to penetrate the negotiations and then help build a case against the emerging terms of the deal, current and former U.S. officials said. In addition to eavesdropping, Israel acquired information from confidential U.S. briefings, informants and diplomatic contacts in Europe, the officials said.

"The espionage didn't upset the White House as much as Israel's sharing of inside information with U.S. lawmakers and others to drain support from a high-stakes deal intended to limit Iran's nuclear program, current and former officials said."
To be clear: the Israelis penetrated our communications, and used other means -- including "informants" presumably inside the U.S. government -- to uncover details about the emerging deal with Iran, and then passed this information on, perhaps indirectly, to their congressional fifth column, including presidential aspirants Ted Cruz, Marco Rubio, and Rand Paul, all of whom then signed on to Sen. Tom Cotton's "open letter" to Tehran.
If this isn't treason, then the word has no meaning.
Speaker of the House John Boehner, who plotted with Israeli ambassador Ron Dermer behind the President's back to invite Netanyahu to address Congress, said he was "shocked" and "baffled" by the news. Not by the news they spied on us -- it's well known that the Jewish state is among the most aggressive foreign adversaries our counterintelligence agencies have to fend off -- but "by the fact that there were reports in this press article that information was being passed on from the Israelis to members of Congress. I'm not aware of that at all." What's baffling, however, is Boehner's behavior during this Israeli incursion onto American territory: why did he suddenly decide to go full wingnut and canoodle with the Israelis to bring Bibi to American shores? And how is it the Speaker has so little knowledge of what's going on right under his nose on Capitol Hill?
(Note: You can view every article as one long page if you sign up as an Advocate Member, or higher).