Reprinted from The Nation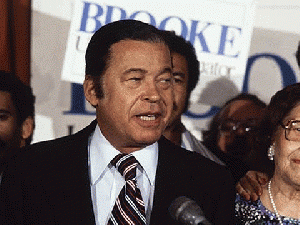 The passing of former Massachusetts Senator Edward Brooke III, at age 95, gave obituary writers and political commentators a rare opportunity -- perhaps one of the last -- to put together the words "liberal Republican." Brooke, who served as attorney general of Massachusetts before becoming the first African-American elected to the U.S. Senate by a popular vote, was an epic figure in the politics of the 1960s and 1970s.
With his ardent support for civil rights, faith in the ability of an active and engaged government to address economic and social challenges, and deep skepticism about the Vietnam War, he took the lead in a liberal Republican vanguard that included New York Mayor John Lindsay, New York Governor Nelson Rockefeller, New York Senator Jacob Javits, Michigan Governor George Romney, Maryland Senator Charles "Mac" Mathias, Michigan Congressman Don Riegle Jr., Oregon Senator Mark Hatfield, New Jersey Senator Clifford Case, New Jersey Congresswoman Millicent Fenwick, California Congressman Pete McCloskey and a young Ripon Society activist, Wisconsin legislator and future congressman named Tom Petri.
The list of liberal -- or at least liberal-leaning "moderates" -- in the Republican Party was once long and diverse. But as the party has veered further and further to the right, even politically-engaged Americans have begun to forget how influential those liberals were, and how close some of them came to changing their direction of their party and the course of history.
(Note: You can view every article as one long page if you sign up as an Advocate Member, or higher).