Damascus
One of the many gut-wrenching dimensions of the soon to be five-year Syrian crisis is that whenever one surveys the conflict on the ground and concludes that the maelstrom can't possibly get any worse, it plummets deeper into the abyss. The condition of people in Syria has never been worse in modern times.
This is also the case with the spreading cultural cleansing of our shared global heritage in Syria which this observer views as a precursor to ethnic cleansing. This scourge has been documented in detail by studies from the UN, EU, Archeologists, Syria's Directorate General of Museums and Antiquities (DGAM) and others who closely monitor the desecration, looting and destruction at archaeological sites. According to the Association for the Protection of Syrian Archaeology (APSA) and other surveys, more than 1/3 of Syria's 10,000 archeological sites are currently under the control of Da'ish (ISIS) who are looting them on an industrial scale for sale globally on the black market. It is not known with precision which or how many other Islamist nihilist militias are controlling other sites. A new report from the US Congress reports that 30,000 people have travelled, including 250 from the US, to join terror groups in the Middle East and Isis in particular, doubling the numbers of one year ago. "We are witnessing the largest global convergence of jihadists in history," the report warned.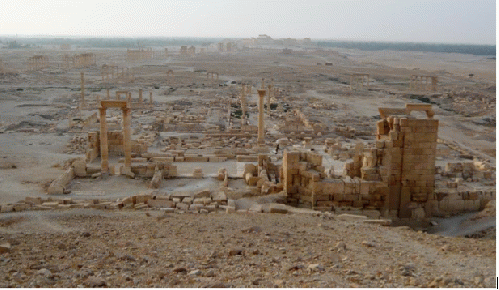 Palmyra early May 2015. Before the arrival of Da'ish (ISIS). As of early October 2015 it is not known precisely what has been spared.
(
Image
by FPLamb)
Details
DMCA
According to the Antiquities Coalition, raising just $1 million from illicit trafficking of historic artifact in Syria supplies the group with more than 11,000 AK-47 machine guns or 1,250 rocket launchers. This is one of the reasons why Satellite images are revealing that archaeological sites in Syria are increasingly dotted by thousands of illegal excavations.
It is recalled that the looting following the United States-led 2003 invasion of Iraq involved organized international gangs, sometimes with corrupt "Operation Iraqi Freedom" coalition military personnel involved that were contracted to raid the National Museum in Baghdad and Mosul Museum. Mosul Museum director Bernadette Hanna-Metti and Mosul Museum curator Saba al-Omari reported that radio carrying looters also targeted specific antiquities at Nimrud, some with "shopping lists" in hand. Site director Muzahim Mahmud reported that the looters "ignored everything else, went right to that frieze" of a winged man carrying a sponge and a holy plant, "and took it" in a customized looting operation, fulfilling "orders from a buyer."
The 18 statues that were intercepted as part of one lot in Jordan during 2004 were determined to be filling orders from dealers and within weeks of the looting of the National Museum in Baghdad, US. Customs intercepted an illicit shipment of 669 of its artifacts en route to an antiquities dealer in New York. But apart from police reports labeling these acts "looting to order", "theft to order", "stolen to order" or "commissioned theft" no one has even been charged with a crime. Going back to 2005, when al Qaeda was trafficking in looted antiquities, it was second as a source of funding only to kidnappings and ransom.
Similar cultural crimes are being committed today in Syria. It has been documented that Da'ish (ISIS), and Jabhat a-Nusra (al-Nusra Front) use WhatsApp and Skype (Parkinson, Albayrak, & Mavin, 2015), and some militia are using smartphones (Sogue, 2014) as well as employing social-media savvy experts around the world, often teenagers, to design and execute looted antiquities marketing programs.
(Note: You can view every article as one long page if you sign up as an Advocate Member, or higher).