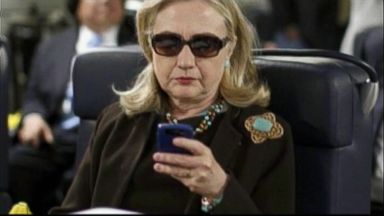 Hillary Clinton Asks State Department to Release Emails Video ...
(
Image
by
abcnews.go.com
)
Details
DMCA
FBI Director Comey has now announced his findings of the investigation of Hillary Clinton's email use as Secretary of State. While he, of course, recommended that no charges be brought against her, his findings were devastating to her politically. As such, they cry out to the superdelegates of the DNC to make an emergency determination, and flip their votes to Bernie Sanders ahead of the Democratic Convention, to avoid handing massive fodder to the Trump campaign.
First, it's important to note that Comey contradicted the standard lines used by Clinton's surrogates throughout this saga: that Clinton herself was never a target of the investigation. I think we can toss that one out from the get-go, as this was "an investigation of Secretary Clinton's use of a personal e-mail system during her time as Secretary of State."
Further, Clinton first claimed that she never sent or received classified information. She later changed that to having never sent or received information that was "marked" classified. However, Comey did away with that argument, saying:
"From the group of 30,000 e-mails returned to the State Department, 110 e-mails in 52 e-mail chains have been determined by the owning agency to contain classified information at the time they were sent or received. Eight of those chains contained information that was Top Secret at the time they were sent; 36 chains contained Secret information at the time; and eight contained Confidential information, which is the lowest level of classification."
and
"With respect to the thousands of e-mails we found that were not among those produced to State, agencies have concluded that three of those were classified at the time they were sent or received, one at the Secret level and two at the Confidential level."
But even if you quibble with the precise status of this classified information, Comey really gets to the heart of the matter - especially with respect to a candidate for the nation's highest office and leader of the "Free World" - with this:
(Note: You can view every article as one long page if you sign up as an Advocate Member, or higher).