From Consortium News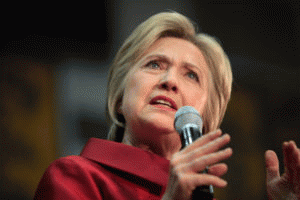 Former Secretary of State Hillary Clinton speaking with supporters at a campaign rally in Phoenix, Arizona, March 21, 2016.
(
Image
by
(Photo by Gage Skidmore)
)
Details
DMCA
Although lacking "actionable evidence of hacking," Hillary Clinton's campaign has decided to join the recount of votes from the presidential election in the state of Wisconsin that was launched by Jill Stein, the presidential candidate from the U.S. Green Party.
Marc Elias, the Clinton campaign counsel, said the campaign decided to take part in the recount to discover whether there was "outside interference" in the election results. He said the campaign had been inundated with messages from Clinton supporters to do "something, anything, to investigate claims that the election results were hacked and altered in a way to disadvantage Secretary Clinton," particularly in Wisconsin, Michigan, and Pennsylvania.
Donald Trump narrowly beat Democratic candidate Hillary Clinton in Wisconsin, Pennsylvania and Michigan, where the margin was only 11,612 votes, the closet presidential contest in that state's history.
Clinton would have to win all three states in the recount to receive 276 electoral votes to Trump's 260. A total of 270 votes are needed to win the presidency. Trump now leads 306 to 232. The electors will vote in their state capitals on Dec. 9. It is not clear if the three recounts would be finished by then.
"This election cycle was unique in the degree of foreign interference witnessed throughout the campaign: the U.S. government concluded that Russian state actors were behind the hacks of the Democratic National Committee and the personal email accounts of Hillary for America campaign officials," Elias wrote in an online message.
"We have quietly taken a number of steps in the last two weeks to rule in or out any possibility of outside interference in the vote tally in these critical battleground states," he said, adding that since the day after the election the campaign had lawyers and data scientists "combing over the results to spot anomalies that would suggest a hacked result."
But because the Clinton campaign "had not uncovered any actionable evidence of hacking or outside attempts to alter the voting technology, we had not planned to exercise this option ourselves." But now that Stein had initiated a recount in Wisconsin, "we intend to participate in order to ensure the process proceeds in a manner that is fair to all sides," Elias wrote.
Stein's Cash
Stein has raised $6 million in just three days to pay for recounts in Wisconsin, Michigan and Pennsylvania. She filed with Wisconsin on Friday, where officials said the recount would soon begin and plans to file in the other states next week.
Jill Stein
(
Image
by
forward.com
)
Details
DMCA
"If Jill Stein follows through as she has promised and pursues recounts in Pennsylvania and Michigan, we will take the same approach in those states as well," Elias said.
There is no evidence of prior coordination between Stein and the Clinton campaign in the recount effort. But Stein's call for the recounts in the three states that could reverse the results of the election in Clinton's favor raised a number of questions about her motives, which she responded to in an online video and several television interviews.
Stein said she is not activating the recounts to either help Clinton or hurt Trump but to ensure the reliability of the country's voting systems. She said she did not believe the recount would change the election's result.
"You wouldn't get into an airplane and wait for it to crash to decide you need quality assurance and a backup system," Stein told the PBS News Hour. "Our voting system is no less important and we're basically calling for a system to verify voting. We shouldn't have to show there's been a disaster in order to safeguard a very vulnerable voting system."
(Note: You can view every article as one long page if you sign up as an Advocate Member, or higher).