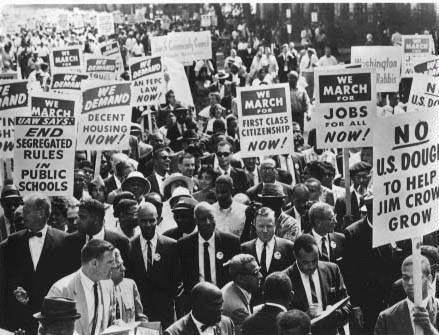 March On Washington for Jobs and Freedom

(

Image

by

learnnc.org

)

Details DMCA



In this long hot Summer of 2015 some activists fighting for civil rights and environmental protections in America have been resorting to civil disobedience in very obstructive ways to protest mistreatment of people and the environment, and they assert that "This is what Democracy looks like." But is it really Democratic? And, more importantly, is it effective? That is what we should consider.

The term Civil Disobedience is usually defined as it was advocated by Henry David Thoreau, and today the idea he shared could be summed up by saying that citizens should do whatever is necessary to stop their government from overruling their collective consciences or denying their rights or perpetrating wrongful acts or permitting injustices. If government does any of those things, citizens should try to stop it, even if they have to resort to civil disobedience.

When Thoreau wrote about that in 1849, he was motivated by his objection to the U.S. Government's failure to prohibit slavery, and to its waging an unjust war over a Mexican-American border. However, while that was the context in which he wrote, there was a wider and greater context as well, because Thoreau was actually expressing the same independent, democratic spirit that was expressed by America's Founders in 1776, perhaps most notably by Thomas Jefferson and John Adams.



Of course, both Jefferson and Adams were writing about much more than civil disobedience in 1776. By the time they declared that it was the right and duty of the people to alter and reform their government (and even to abolish it and establish new government if need be), the civil disobedience of Americans had already escalated to the point of revolution. So they wrote to justify it, and provide the rationale for it.

However, while today Americans need to alter and reform their government, civil disobedience need not escalate so far as revolution, and it won't escalate that far if we recognize and take the legal and peaceful path provided for us by the Constitution. And we may not even need to resort to civil disobedience if we do that, and learn the lessons of history.

Remember, it was in the independent, democratic spirit expressed by Jefferson and Adams that Martin Luther King, Jr. resorted to civil disobedience in the 1960s. But King assumed leadership of the Civil Rights movement not to start a revolution to overthrow the government. Rather, he assumed leadership to merely protest government's complicity in wrongdoing, and to help the voice of the people grow so loud and powerful that government would have to correct the terrible wrongs that it was either perpetrating or permitting.



The Reverend Doctor King resorted to civil disobedience to oppose racial apartheid, segregation, repression and oppression (and he later opposed the unjust and ill-advised war in Vietnam). But King's civil disobedience was non-violent. Its purpose was to speak truth to power honestly and frankly, regardless of the consequences. It was not designed or intended to provoke anger or retaliation. It simply asserted a collective demand for fairness and justice, by organizing boycotts, sit-ins and mass marches, and it refused to obey laws that were unfair and unjust.

Even before King became the leader of the Civil Rights movement, the spirit of the movement was reflected in its humble beginnings. For example, Rosa Parks politely but with righteous confidence refused to sit in the back of a bus in Montgomery, Alabama, in 1955. And in 1960 four black students politely but righteously and confidently dared to sit at a segregated lunch counter in a Woolworth's store in Greensboro.

That was civil disobedience at its best, because it didn't hurt anyone or even cause much inconvenience to anyone (except the protesters). It merely ignored traditional societal "norms" because they were racist and wrong. It didn't accept those norms, or the status quo.

More importantly, the spirit of that movement grew enormously because it was completely righteous. It was the right thing to do, and it was necessary. That's why the Civil Rights movement of the 1960s became a concerted movement that garnered immense support from millions of black and white people all over America. And because of that, it achieved much success.

For example, the 1963 Freedom March On Washington was attended by some 250,000 people who heard Dr. King's "I Have A Dream" speech, and the march, gathering and speech was so effective it pushed through the Civil Rights Act of 1964. which President Kennedy had been working on before he was assassinated. That Act outlawed discrimination based on race, color, religion, sex, or national origin, and it ended unequal application of voter registration requirements and racial segregation, in schools, at the workplace, and by facilities that served the general public.

Then, in 1965, when authorities in Alabama remained stubborn and defiant and refused to obey the laws in that Act, the Freedom Marches from Selma to Montgomery began. And, after a bloody beginning, they too succeeded, as much as was possible at the time.

At first, of course, the police in Selma reacted violently to the Freedom Marchers. There was a blood bath as passive, non-violent marchers were clubbed and beaten by police. But the Freedom Marchers persisted. They did not let rioting police stop them, and they succeeded because by then the whole world was watching by television. And as the Freedom Marchers gathered together at the steps of the State Capitol in Montgomery, Alabama, most of the people in the world applauded.

That was Civil Disobedience that made a difference. In fact, the whole Civil Rights movement of the 1960s made a difference because it produced many good outcomes. And as years went by it at least enabled many black Americans who were gifted with beauty or talent or skill or education to rise to positions of affluence, and ultimately even to positions of power.

New Obstacles Arise



(Note: You can view every article as one long page if you sign up as an Advocate Member, or higher).