Bobby Ramakant, Citizen News Service (CNS)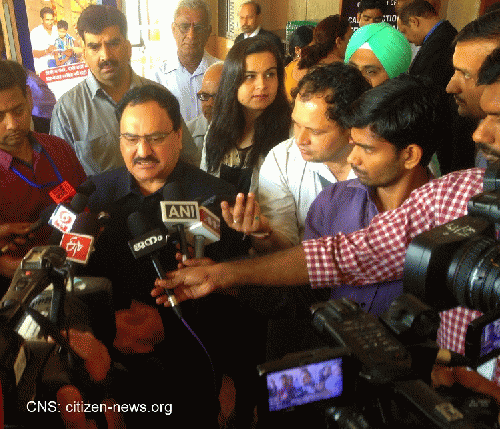 Indian Health Minister Nadda launches Call To Action to End TB
(
Image
by
Citizen News Service - CNS: citizen-news.org
)
Details
DMCA
(CNS): India has made impressive gains in the fight against tuberculosis (TB) but significant challenges still confront us in the path ahead to eliminate TB. The launch of 'Call To Action For A TB Free India' by Sri Jagat Prakash Nadda, Minister of Health and Family Welfare, Government of India, in Delhi on 23rd April 2015, is aimed to catalyse progress towards ending TB in India. "This TB-Free India campaign aims to unite existing and new stakeholders in the fight against TB and bring together our knowledge, resources and capacity to better equip us to beat TB," said Dr KS Sachdeva, Additional Director General, Central TB Division, Ministry of Health and Family Welfare (MoHFW), Government of India.
Silver lining: Progress in fight against TB
"We have cured almost 2 crore [20 million] patients from TB and 32 lakhs [3.2 million] lives have been saved -- this is not a small achievement by any account. But if we look at the task which is still unfinished that is also extremely significant. We still have almost 10 lakhs [1 million] patients who are yet not under our fold. A very close monitoring is required -- not just of the Revised National TB-Control Programme (RNTCP) but also of the private sector to ensure that TB cases are being diagnosed and treated as per the standards of TB care and guidelines," said Bhanu Pratap Sharma, Secretary Health, MoHFW of India.
Since the implementation of RNTCP, India has made more wins in its fight against TB: Services for drug-resistant TB and TB-HIV collaborative care have been scaled up and made available across the country; 70,000 MDR-TB patients and 2000 XDR-TB patients have been put on the standard treatment; Standards of TB Care in India have been developed, aligning diagnostic and treatment practices across all stakeholders; NIKSHAY -- a real-time case-based, web-based TB-surveillance system has been rolled out; the first ever and largest national drug resistance survey is already underway, among other things in India.
As momentum picks up, steep climb ahead
Jagat Prakash Nadda, Minister of Health and Family Welfare, said: "We must reach all patients, diagnose them early and provide them with correct and full treatment. We will do whatever is necessary to achieve our goals [envisioned in the Call to Action for TB-Free India]. Resources will not be a problem or a constraint. More important we will focus on innovation, which is required in our approach for universal coverage for TB. We will use mobile and telecommunication technology to provide a platform where people can call us on a toll-free number seeking help and guidance. Even a missed call will suffice. Our team will revert back and ensure that the person is covered by the programme and gets free accurate diagnosis and right treatment."
Nadda reiterated the commitment that MoHFW "Will ensure:
- 90% of coverage of BCG is achieved under mission 'Indradhanush';
- We reach the unreached -- our aim is to diagnose all TB cases and refer them to nearest public-health centre. For this purpose extensive use of point-of-care diagnostic kits will help achieve screening;
(Note: You can view every article as one long page if you sign up as an Advocate Member, or higher).