Black Lives Matter at Minneapolis Police Department - Justice for Jamar Clark
(
Image
by
Tony Webster
)
Details
DMCA
Why would white supremacists gun down Black Lives Matter protesters in Minneapolis ? Because white racists feel threatened by the unprecedented progress that the Black Lives Matter movement is making.
I am not a huge fan of the surveillance society. However, there's one aspect of Big Brother's video snooping that I really admire: accountability for racists.
For decades, people of color have protested the horrific abuses that they have experienced at the hands of sadistic cops. Middle class America paid little heed to those protests because it was difficult for Ozzie and Harriet to imagine that police could really be as barbaric as people of color made them out to be. Also, in any case of "he said she said," the public was more inclined to side with cops than the 'criminal elements' that had obvious motives to badmouth police.
Ozzie and Harriet got their first serious jolt when images of police beating Rodney Kinglit up TV screens in 1991. The King video provided indisputable evidence that, at least in one notable instance, cops could rightly be accused of using excessive force. Cops might claim that they were justified in savagely beating Rodney King, but for the first time inquiring minds could examine the details of a controversial arrest and draw their own conclusions. Since cops could still rely on being acquitted by all-white juries in the early 1990s, racist cops were in no immediate hurry to mend their ways, but the Rodney King debacle forecast a dramatic change in the weather for racism in America.
In the decades since, video has become ever more ubiquitous. The good news is that the vast majority of video footage seems to indicate that most cops follow the rules most of the time. Alarmingly, however, video evidence has also illustrated that the horror stories that people of color have told for decades are based on real events. Bad cops are real, and they inflict real harm on real people who have often committed no greater misdeed than "being black in public."
We've seen video of cops shooting children like Tamir Rice, and we have seen cops strangling men who are pleading for their lives like Eric Garner, and we have seen cops shooting men in the back as they flee for their lives like Walter Scott , and we have seen cops maliciously violating the civil rights of women like Sandra Bland , and we have seen cops dragging schoolgirls out of their desks and flinging them across classrooms , and we have seen many, many other video-recorded images of police caught in the act of sadistically abusing their power. Each and every one of these abuses has been indescribably horrible and they have all very real.
In the past, racist cops could murder people of color without fear of censure or sanction. Silenced by a bad cop's bullet, the dead were in no position to defend themselves. Typically, in the aftermath of a 'justifiable homicide' police departments issued press releases which asserted that the victim had it coming. Internal investigations invariably cleared the guilty parties of all wrongdoing -- even in circumstances where police slaughtered innocent people of color, like Amadou Diallo, in an utterly unjustifiable hail of forty-two bullets.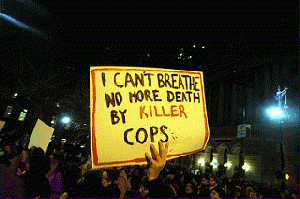 Eric Garner Protest 4th December 2014, Manhattan, NYC
(
Image
by
The All-Nite Images
)
Details
DMCA
In days gone by, cops routinely swept murder under the rug. but video has changed that dynamic. Even in situations where cops have permanently silenced their victims, we no longer need to accept a bad cop's story about a murder's presumptive justifiability. Instead, in the age of Internet streaming video the American public can examine the evidence for themselves. And, no surprise, the public often discovers that streaming video tells a much different tale than the stories bad cops would prefer to fabricate about their victims.
Lots of people are hostile to the Black Lives Matter movement. In a country that has always treated people of color like subhumans (3/5), it's antagonizing to deal with a protest movement which insists that Black Lives = White Lives. In an environment wherein video evidence increasingly reveals that everyday racism is often lethal for people of color, it is difficult to deny that white supremacy still makes a mockery of democracy in the 21st century.
Sadly, the shooting in Minneapolis is unlikely to be the last instance of violence that racists inflict on the Black Lives Matter movement. It won't be be easy, but the Black Lives Matter movement will continue gaining ground by peacefully fighting for the justice that people of color have so long been denied in the US. Success is assured, so long as Black Lives Matter protests remain assertively nonviolent, and in full view of as many all-seeing-eyes as possible.
Smile You Are On Camera
(
Image
by
IntelFreePress
)
Details
DMCA