Reprinted from Middle East Eye
Sheikh Raed Salah warns that outlawing of Islamic Movement is a prelude to wider assault on Palestinian rights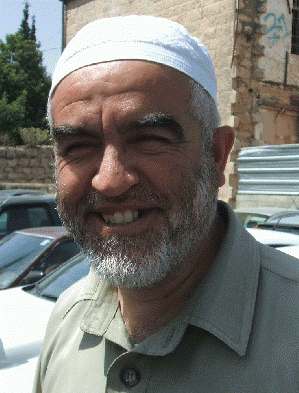 Raed Salah
(
Image
by
(From Wikimedia) User:Stay Human
, Author:
User:Stay Human
)
Details
Source
DMCA
UMM AL-FAHM, Israel -- In the tangle of back streets in the city of Umm al-Fahm, the three-storey building that until recently housed the headquarters of the northern Islamic Movement stands dark and empty, its front-door padlocked shut.
The movement's leader, Sheikh Raed Salah, has been forced to decamp to a large covered market on the outskirts of the city that has been hurriedly converted into an unlikely hub of political activity for Israel's Palestinian minority.
Tens of thousands of visitors have come to this protest tent in the past three weeks, since Israeli Prime Minister Benjamin Netanyahu invoked emergency laws -- bequeathed by the British Mandate authorities in Palestine 70 years ago -- to declare the movement an "illegal organization."
Salah told Middle East Eye that the move was "a declaration of war not just against our movement but against Islam and against the whole Palestinian community [in Israel]. Everyone feels targeted."
Yet despite this Salah, a charismatic figure who for many years served as the mayor of Umm al-Fahm, in Israel's north, does not appear to have been diminished by his eviction onto the streets.
Warnings from Israel's Shin Bet intelligence service that outlawing the movement would rally Israel's 1.6 million Palestinian citizens to Salah's side may be being realized even sooner than expected.
Technically anyone supporting the Islamic Movement, a political and religious movement that boasts more than 10,000 members, now risks being arrested and jailed. But it is still unclear how the ban will be enforced in practice.
Ofer Zalzberg, an Israeli analyst with the International Crisis Group, a conflict resolution think-tank based in Washington and Brussels, said the Shin Bet appeared still to be considering whether to implement the measure with a light or heavy touch.
"There is a concern about the wider effect on the Palestinian minority and the danger of radicalizing its membership," he said.
"We will fight"
Polls conducted before the ban showed that more than half of the Palestinian minority believed Salah's movement represented them, including many Palestinian Christians.
At a protest march in the city last weekend, leaders from across the political spectrum paid tribute to Salah and denounced the ban as a declaration of war on the entire Palestinian community, a fifth of Israel's population.
The positions of Salah's movement, the Israeli branch of the Muslim Brotherhood, may sound extreme to Israeli Jews. He refuses to engage with Israel as a Jewish state, does not participate in its national elections, and accuses Israel's leaders of engineering a takeover of the al-Aqsa mosque in Jerusalem.
But the sheikh does not advocate violence, and distances himself publicly from the struggle of Hamas, the movement's ideological twin ruling Gaza. Last year he told Middle East Eye: "Their struggle is different. They live under occupation."
In a sign of the current mood -- as well as a widespread fear that Israel's Palestinian political parties in the parliament are now in Netanyahu's sights -- the marchers called out: "We will not shut up. We are all with the Islamic Movement."
Salah reflects that mood of defiance. Seated in the protest tent, he tells MEE: "I am head of the northern Islamic Movement and will continue to be so, whatever Netanyahu declares. We will fight for this movement." Authorities have also taken aim at Salah personally, with an Israeli court in October sentencing him to 11 months in jail for inciting violence. He has appealed the verdict but says he could be imprisoned within days.
(Note: You can view every article as one long page if you sign up as an Advocate Member, or higher).