Aurora Juliana Ariel
(
Image
by
Aurora Juliana Ariel
)
Details
DMCA
How long do we remain unconscious as to our predicament in the world? Can we reclaim the Garden? Or do we continue surrendering to the Man, be he in the form of a politician or corporation? (This is inclusive of women like Hilary Clinton and Sarah Palin).

Consider the extinction rates. click here
It's frightening but true: Our planet is now in the midst of its sixth mass extinction of plants and animals -- the sixth wave of extinctions in the past half-billion years. We're currently experiencing the worst spate of species die-offs since the loss of the dinosaurs 65 million years ago. Although extinction is a natural phenomenon, it occurs at a natural "background" rate of about one to five species per year. Scientists estimate we're now losing species at 1,000 to 10,000 times the background rate, with literally dozens going extinct every day [1]. It could be a scary future indeed, with as many as 30 to 50 percent of all species possibly heading toward extinction by mid-century [2].

O' how many will look at the stats and say they are untrue and yet, in the same breath, give a thumbs up to science?
Dr. Aurora Ariel brings her dynamic vision in awakening our Sleeping Beauty, our Soul, and to bring that unconsciousness to light, i.e., consciousness. Her seductive kiss makes her a Father to inner change. It is by inner change that we can create a new world, one in which life thrives.
Aurora is here on this planet to impregnate us with a healthy, sustainable and love-filled future. She states, "Awaken Sleeping Beauty." (Yes, this is what the story is about, YOUR awakening!)

Let us bring light (manifestation) forth from the dark depths of our being (unmanifest, the world in potential). Aurora helps us to know ourselves, our present planetary equation. To change, we need to question what is within us. What is within you? As Christ said in the "Gospel of Thomas," "Bring forth that which is within you." In you are the eggs of the future. What lover do you wish to attract yourself to? Corporation and government or people like Aurora? The choice is ours. Who do we open ourselves up to?
Dr. Ariel in landmark discoveries from years of pioneering work in the psyche, has focused on a life altering healing system, and advanced healing protocols in neuroscience, psychology and health that she developed.
How much of the mess that we see in our world, ecologically, educationally, and politically a mirror to our word, our beliefs about the world. What if Nature is a mirror image to our inner world? How does our destruction of the planet mirror our mindsets? What are we co-creating?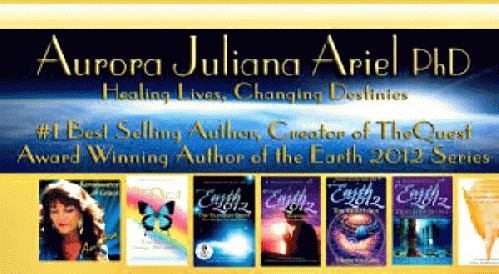 The Quest: Healing Lives, Changing Directions
(
Image
by
Aurora Juliana Ariel
)
Details
DMCA
As a doctor and scientist, author and musician, entrepreneur and producer, mystic and healer, Aurora Juliana Ariel is a Renaissance woman for the New Millennium. Aurora is the creator of The Quest, and award winning author of the Earth 2012-33 series. Aurora brings a profound understanding of the psyche and the tools to heal an ailing humanity. She has successfully healed conditions once thought incurable, irreversible or unchangeable, releasing countless individuals from life sentences of suffering.
Dr. Ariel is also a Kahuna in the Hawaiian Tradition and successor of Hawaiian Kahuna, Shaolin Grand Master Pang.
It is Aurora's great joy to offer Soul Remedy and Global Healing for Personal and Planetary Transformation at the end of the interview. Working closely with Divine Beings on Higher Realms, her Global Healing facilitates an unprecedented personal and planetary transformation that can include healing on every level.
Merry and I did an interview with Dr. Aurora Juliana Ariel. The url is: http://www.blogtalkradio.com/envision-this/2015/09/07/dr-aurora-juliana-ariel-offers-tools-to-heal-an-ailing-humanity

Aurora Juliana Ariel
(
Image
by
Aurora Juliana Ariel
)
Details
DMCA