Reprinted from Asia Times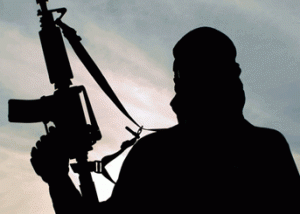 (
Image
by
Asia Times
)
Details
DMCA
>
They might as well have hauled David Letterman from retirement to do it.
Episode two of the Vienna charade -- sorry, the Syrian peace talks -- this Saturday comes with a show biz package; all 20 players on the table are supposed to come up with a definitive Syria terrorist list. As in who gets a seat to talk about prospective Syria unity in the future, and who qualifies for being bombed.
This is inbuilt -- Chinese box-style -- in a truly surrealist ploy; a purported Syria peace plan that should include a ceasefire between Damascus and some "opposition groups." As if ISIS/ISIL/Daesh goon squads would respect any ceasefire.
So imagine the frenzy at that Viennese table. One man's jihadi is another man's "freedom fighter." Not to mention that according to the Beltway ethos, anyone subscribing to "Assad must go" is a "moderate rebel."
The usual suspects -- US, Turkey, Saudi Arabia, Qatar -- have unsurprisingly pre-empted the move, fiercely defending their (moderate) Rebels With a Cause. These are the ones that would respect democratic elections in Syria; respect other religious groups; would be willing to negotiate with anybody; would respect a ceasefire, de-weaponize and abide by the political transition; and would never engage in global jihad. All of the above, of course, if you take them at face value.
Sultan Erdogan, "moderate rebel" pin-up
Turkish Sultan Erdogan is the undisputed protector saint of "moderate rebels." So let's see how some outfits praised his recent electoral landslide.
What passes for the Free Syrian Army (FSA) sent congratulations. Same for Khaled Khoja, chairman of the National Coalition for Syrian Revolutionary and Opposition Forces.
The Army of Conquest, which groups all sorts of goons, from hardcore jihadis to discreet Salafis, and is heavily weaponized via Saudi money said, "We are ardently awaiting the day of Assad's collapse and the building of brotherhood bridges between the people of Turkey and Syrians."
The Syrian branch of the Muslim Brotherhood -- totally supported by the ruling AKP, not to mention Qatar -- predictably praised the AKP and "the Turkish people."
All in all, around 15 opposition outfits hailed the Sultan. These will definitely not make the Top Ten terrorist list.
But Vienna, we got a problem. Many, if not the majority of these outfits, are striking "non-hostility pacts" with ISIS/ISIL/Daesh. Daesh will lead the terrorist list. In fact it may be THE terrorist list itself; Jabhat al-Nusra, a.k.a. al-Qaeda in Syria, are regarded as "moderate rebels" by Washington. What gives?
Meanwhile, as reported by Lebanon's Al Mayadeen, US military advisors are already training "moderate rebels" near Salma, in Latakia province, very close to Russia's air base.
For his part Muhammad Bazarbashi, the leader of the Army of Damascus outfit (3,000 fighters north of Aleppo), told the Anatolian News Agency they are ready to help Ankara fight PKK/PYD Kurds in Syria. Compare it with the fact PKK/PYD are side-by-side with the Americans in the fight to liberate Sinjar in Iraq.
So expect NATO member Turkey to forcefully defend outfits such as these in Vienna -- even if they go against American interests.
(Note: You can view every article as one long page if you sign up as an Advocate Member, or higher).