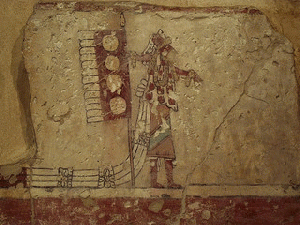 Frescos Olmecas MAX
(
Image
by
La Rebelión de los Tornillos
)
Details
DMCA
>
This book, entitled 1491, is one of a trilogy of books penned by Charles Mann. The books bracket 1492, the fateful year of "discovery." This book tells the story of what happened that year, the year before the European invasion. It is a revealing historical research travelogue -- overlain with, and guided by, a forensic-like Anthropological search for the truth about what actually happened.

It is a spirited search that literally leaves no stones unturned. It is thus a tribute to the author that the book is an even-handed and balanced report on about everything there is available to report on in the field of research on this issue. It is a report best characterized by the author's flair for getting out of the way of his own story, allowing the narrative to breath, and the data to speak for themselves: And boy what an interesting story they have to tell.
A quick and dirty summary of the book is that the most recently uncovered data, thoroughly massaged with an amazing compliment of modern research tools, concludes beyond a shadow of doubt, that the history we have been "force-fed" since Grade School, and that is best represented by "Holmburg's Mistake," is simply wrong.
For instance, the Americas were NOT unoccupied virgin lands, but often were well-managed lands cleared of forests and underbrush, populated by estimates that go as far as up to 100 million people. The data proves that distinct cultures of Indians went back for at least four millennia, and evidence exists that they may even have gone as far back as 30,000 years ago.
What the European invaders mistook for virgin lands was in fact the mere remnants, the remaining stragglers and the last flickers of a dying people, people who as a result of the mega-deaths caused by exposure to European transported diseases, had simply abandoned the lands allowing the forests to reclaim them. It was these reclaimed forests and these scattered groups of wandering survivors that the invaders saw.
In point of fact, before the invasion, the Americas had been well-managed for millennia, by, among other techniques, the continuous use of controlled "slash-and-burn" fires. And although this technique did put more stress on the environment by emitting more carbon into the air, it also renewed the soil.
The Indians were not, as Allan Holmburg's mistaken Cornell Phd thesis implied: "among the most uncultured and most backward peoples to ever walk the face of the earth." In fact, once researchers were able to move beyond the wandering stragglers that the early settlers had confronted, they found that the Indians were a varied group of people who lived and survived in cultures that respected nature as best they could for at least four millennia. Some succeeded brilliantly at it -- even beyond anything to be seen elsewhere in the rest of the world until at least a millennium or so later. Others failed at it, damaging the environment, and didn't survive.
As for cultural backwardness? Except for a pocket of culture in Renaissance Italy, Europe was still digging its way out of the Dark Ages. England, for instance, even within the monarchy, had not yet invented the bath and personal hygiene, On the other hand, Indians bathed daily and could not stand the stench of the body odor of the invaders. In one of the most colorful examples in the book, a Connecticut tribe so detested engaging up close and personal with the unhygienic invaders, that they traded with them by conveying goods back and forth across the Connecticut River by rope and pulley. To further show their disgust, the Indians across the river laughed and "mooned" the Settlers in a mocking insult as their way of ending the transactions.
Indians were taking daily bathes when Londoners were still throwing garbage into the streets from their kitchen windows, creating a cesspool for the breeding and proliferation of rats as well as an incubator for spreading diseases like small pox and the plague. It was England's own lax hygiene habits coupled with its extreme poverty, that were in large part responsible for both the flight to the "New World" and for the diseases, poverty and rats, they brought along with them.
But beyond hygiene, at least two millennia before Europe was even thought of as being a viable continent, Indians had experimented with, and succeeded at inventing modern forms of civic interactions, such as municipal governments and administrations, including their own forms of representative democracy and socialism. They lived in literally hundreds of well-run city states, flung across two continents from Canada to Chile.
Under government administration, they built large-scale monuments and infrastructure projects like dams, viaducts, irrigations waterways, roads and highways, engaged in collective farming, raised animals and plants, successfully bred a wide variety of plants; were the first to produce potatoes, tomatoes, cucumbers, melons, cassava, bananas, peach trees, maize, and engaged in both domestic and international trade. The Indians of Peru invented a soil compose that was 880 times as fertile as anything we have yet seen even today in modern agriculture. This potent form of dirt still remains a mystery and is still being intensely studied in universities across the globe.
And even though it took them two millennia to understand the full uses of metal, which they smelted and used only for ceremonial purposes, and the wheel, which they used only to make children's toys, and also failed to invent money, Indian cultures nevertheless did engage in Astronomy, using megaliths like Stonehenge to reckon the stars and the moon; invented the first calendars, and accounting practices. As well, they were the first to invent the zero, and bootstrapped the two into the invention of writing.
At "first contact," new uses of both metal and the wheel were re-introduced to the Americas, and this reintroduction proved to be a game changer. For Indian culture, these new uses were transformative, as it allowed them finally to see the importance of guns, and of even more importance, they could finally replace stone axes for iron ones. Trading with Settlers for metal goods like pots and pans and iron axes was so important that whole Indian communities moved closer to settler communities in order to be first in line to buy the Settlers' metal products. Wars were even instigated among Indians in order to control access to trade with Settlers.
As for conquest itself, this book clears up many matters previously shrouded in obscurity, or left as a mystery to history. For instance, the two most important allies of European conquest were not the superiority of European soldiers or their guns as we have been repeatedly told, but the much more silent allies that remained unknown and unknowable: diseases and demography.
Research shows that European diseases killed and removed Indians from the land so rapidly and in such large numbers that Settlers would take over their camps and villages lock-stock-and-barrel just as quickly as they died -- where upon the entrepreneurs sponsoring voyages that promoted imperial expansion, increased their promotion ads in order to "con" more and more poor and disgruntled Europeans to move to the Americas. This increase in numbers possessed a quality of its own. For within decades, the increased population had begun to take on a quality of its own, and helped those with the larger numbers to commandeer larger and larger swarths of land.
Larger numbers alone, invariably translated into both wealth and power for those who took over large tracts of land. Unfortunately, those that did so, were almost exclusively the landed gentry, among them were pirates and smugglers as well as ship-owning and ship-building corporate enterprises. Only rarely did an ordinary immigrant, seeking their proverbial pot of gold at the end of the rainbow, ended up with large parcels of land. Most ended up as indentured servants.
As but one example of how the phenomenon of catastrophic losses due to diseases worked in wars of conquest, research proves that, at a very minimum, it drastically changed the strategy of divide and conquer decisively in favor of the Settlers, as it made it infinitely easier for decimated tribes, acting out of pure desperation and self interest, to be willing to side with the Settlers in an effort to outmaneuver and therefore out-survive their tribal enemies.
There also was yet another not quite so silent ally to European conquest. It too was one that saved the North American Settlers from themselves -- i.e., from their own incompetence in survival techniques and their poor ability to wage war, as well from their own laziness and infighting. This ally was a plant, one of the many that Indians had learned to harvest and that quickly became a profitable item of trade between American Settlers and European tobacco markets.
That plant was called tobacco. And according to the latest research, at the time that tobacco was being introduced as the saving grace of North America's transatlantic trade (a trade that would eventually become second only to slavery), it was probably more a potent hallucinogen than one of today's more innocent habit-forming nicotine vehicles called cigarettes. The point being that only after Catholic Maryland and Protestant Virginia began to export tobacco in large amounts, was the survival of the colonies ensured.
In summary, the author's storyline centers on the academic debate that among many other things, demolished "Holmburg's Mistake." That debate is an academic "battle royal," that will simply titillate the reader to no end. But I would point out that it is a debate, the likes of which, we have not seen since Newton and Einstein squared-off to debate the true nature of the forces of gravity. And like in that battle, the differences between the sides in this one too lies in academic nuances, not in the main revised storylines. Here, importantly, and to their credit, both sides agree that "Holmburg's Mistake" can no longer stand as acceptable and respectable American History.
Representing one side of this debate is Dr. Betty Meggers of the Smithsonian Institute, who advances the rather contentious notion (that later research simply did not back up): that the Olmecs of Mexica, were the end point of the Native American cultural line, putting the oldest Indian culture back to being no older than about 15 hundred years old.
On the other side of this debate is Dr. Anna Roosevelt, of Yale University, who retraced, replicated and then went well beyond the research of Dr. Meggers and concluded that the true cultural history of Indians goes much further back, as far back as four millennia, and perhaps as far back as even beyond the era of the oldest city known to man, Sumer. As a result of Roosevelt's findings, she now believes that if we accept Meggers' rendition of Indian pre-history -- that is, that it began with the Olmecs -- then we will have simply replaced Holmberg's Mistake with a more sophisticated but slightly updated version of it. One that instead of cutting Indian cultural history off at the neck, cuts it off at the knees instead. But perhaps more importantly, she claims that Meggers theories obscure more than they reveal. The very fact that their true cultural history and contribution goes back at least four millennia and possibly as far back as 30,000 years makes it a second order crime to stop cultural exploration at the Olmecs. In any case, this debate is the headiest one now raging across the generations that now exists in academia. Five Stars