Articles Listed By Date
List By Popularity
Page 7 of 7 First Last Back Next View All
SHARE

Monday, October 28, 2013
Russell Brand, Lloyd Dobler, and Finding Your Inner Dorothy
While watching Russell Brand's BBC interview, it is not hard to imagine two families in Middle America, neighbors, watching separately in the comfort of their own homes as Russell Brand does his bit and each nod in lonely agreement. "Yes!", they are likely to say- "this Russell Brand fellow is right."
(4 comments) SHARE

Monday, October 28, 2013
Stephen Colbert and John Stewart Have Destroyed Satire -- Chris Hedges
Stephen Colbert, Stephen Colbert satire, Colbert Report, Daily Show, Jon Stewart, The Daily Show, Jon Stewart Satire, Satire, Comedy, Stephen Colbert and John Stewart Have Destroyed Satire , Chris Hedges, Acronym TV, Dennis Trainor Jr,
SHARE

Sunday, September 8, 2013
War in Syria Will Be Mission Creep Accomplished | Resistance Report 006
The horrific suffering of the Syrian people must end. The United States government should have our full support in doing what it can to help ease or end the suffering. However, granting President Obama authorization to wage war with Syria, (even if you call that war an intervention, a limited strike with no boots on the ground, or simply a strong message) will not end the suffering in Syria, it will increase it significantly.

(4 comments) SHARE

Wednesday, September 4, 2013
The Obama Deception On Syria: Debunking the Lies, Hubris, and Myopia In The March To War.
the United States is not on a humanitarian mission. Neither is it taking sides in a Syrian civil war. As horrific a dictator as Assad is, some of the rebel forces have direct links to Al-Qaeda and so are not so likely to advance US interests in the region were they to topple Assad. With that in mind, we will take a detailed look at the lies, hubris, and lack of vision in Obama's Syria deception speech of August 31.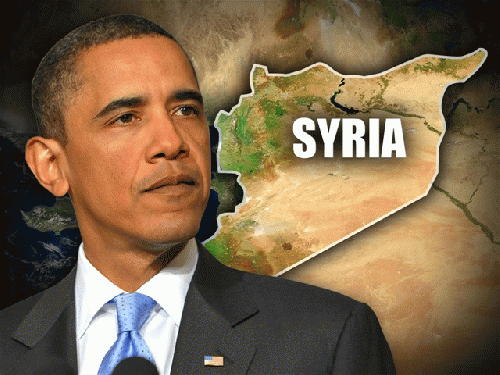 (8 comments) SHARE

Monday, September 2, 2013
Syrian Rebels Claim Saudi Prince Bandar Responsible For Chemical Weapons Attack
New evidence is surfacing about just who might be behind the chemical attacks, a credible view published by a journalist with 20 years middle East pointing to evidence that the Saudis could have supplied the Rebel forces with chemical weapons and, in the untrained hands of the rebels, the Chemical Weapons detonated in a tragic accident.
(3 comments) SHARE

Saturday, December 15, 2012
Elementary School Shooting Is Tragedy Made In The USA; 20 Children Killed. 6 Adults.
Twenty children started their morning as they always do- maybe they said goodbye to their parent with a loving hug, or maybe they yelled and screamed at Mom and Dad, or got yelled and screamed at (as is wont to happen from time to time in even the families with the perfect holiday postcards pictures).
(42 comments) SHARE

Friday, November 2, 2012
Michael Moore, Please Drop Your Support For Obama
Dennis Trainor, Jr, the writer and director of the critically acclaimed Occupy Wall Street documentary American Autumn: an Occudoc, has challenged the vocal Occupy supporter, Oscar and Emmy winning director Michael Moore over his pro-Obama stance this election season.