Articles Listed By Popularity
List By Date
(4 comments) SHARE

Thursday, November 8, 2012
Why a Natural Disaster Became a Social Disaster, and Why It Doesn't Have To Be That Way: Reflections on Hurricane Sandy
Why a Natural Disaster Became a Social Disaster, and Why It Doesn't Have To Be That Way: Reflections on Hurricane Sandy and the Constitution for the New Socialist Republic in North America (Draft Proposal)
SHARE

Tuesday, January 24, 2012
Vilifying Communism and Accommodating Imperialism: The Sham and Shame of Slavoj Zizek's "Honest Pessimism"
My polemic against the political philosophy of Slavoj Zizek is grounded in the events of the past year, from Egypt to the Occupy movements, which are opening new vistas and throwing up big issues for debate. I am arguing that Zizek's stance, despite his radical reputation, is actually harmful to the cause of revolution.
(1 comments) SHARE

Tuesday, August 7, 2012
Dangerous Mischaracterization In NDAA Ruling--And the Need to Resist Government Repression on the Right Basis
The struggle around the National Defense Authorization Act focuses up important issues, both in relation to the draconian thrust of this act and in terms of standards that should guide opposition. It is imperative that people oppose any and all moves to restrict and criminalize oppositional speech, association, and political activity--and not allow anyone or any one group to be singled out or targeted.
(2 comments) SHARE

Sunday, October 20, 2013
Nicholas Kristof's Ode to Imperialism...What Kind of World Is He Celebrating? What Kind of World Can Emancipate Humanity
Raymond Lotta responds to a recent article by New York Times columnist Nicholas Kristof titled "A Way of Life Is Ending. Thank Goodness," which paints a picture of Third World countries undergoing great positive changes due to the work of Western aid and philanthropic agencies and economic growth. Lotta criticizes Kristof's article as an outrageous, deceitful, and morally bankrupt ode to imperialism.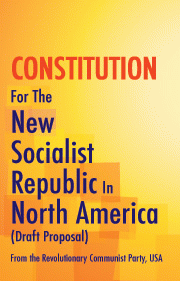 (7 comments) SHARE

Sunday, September 25, 2011
Two Constitutions, Two Futures
With an op-ed piece published in the September 22 Harvard Crimson and an Open Letter to the Harvard community, Raymond Lotta is kicking off a major effort to create a big splash at key college campuses around the Constitution for the New Socialist Republic in North America (Draft Proposal) from the Revolutionary Communist Party, USA.
(1 comments) SHARE

Monday, September 10, 2012
Statement Opposes Obama's Repressive Assault
More than 500 signatories have joined in a public statement "A Call To Stand Together To Oppose The Obama Administration's Dangerous Assault On Fundamental Rights." The immediate catalyst for the statement is a ruling in a case against the National Defense Authorization Act (NDAA), which included an erroneous and potentially harmful characterization of the Revolutionary Communist Party and its Chairman, Bob Avakian.