Articles Listed By Popularity List By Date
Page 1 of 2 First Back Next 2 View All
Sunday, December 24, 2017 (6 comments)

The Movement to Divest from Fossil Fuels Gains Momentum It's not that the fossil-fuel industry will go bankrupt overnight; its supporters, including Donald Trump and Vladimir Putin, will give it all the love they can. But the shift in the Zeitgeist has been dramatic.
Saturday, January 12, 2013 (7 comments)

Idle No More, Think Occupy With Deeper Roots I don't claim to know exactly what's going on with #IdleNoMore, the surging movement of indigenous activists that started late last year in Canada and is now spreading across the continent -- much of the action, from hunger strikes to road and rail blockades, is in scattered and remote places, and even as people around the world plan for solidarity actions on Friday.
Sunday, November 12, 2017 (1 comments)

We're not even close to being prepared for the rising waters For the 10,000 years of human civilization, we've been blessed with a relatively stable climate, and hence flooding has been an exceptional terror. As that blessing comes to an end with our reckless heating of the planet, the exceptional is becoming all too normal, as residents of Houston and South Florida and Puerto Rico found out already this fall.
Friday, July 20, 2012 (11 comments)

Global Warming's Terrifying New Math We're in the same position we've been in for a quarter-century: scientific warning followed by political inaction. Among scientists speaking off the record, disgusted candor is the rule. One senior scientist told me, "You know those new cigarette packs, where governments make them put a picture of someone with a hole in their throats? Gas pumps should have something like that."
Saturday, May 2, 2015 (8 comments)

Why the Planet Is Happy That Bernie Sanders Is Running for President Bernie Sanders isn't really running against Hillary Clinton. He's running against the Koch Brothers, the richest men on earth. They'll spend at least $900 million on the next election, and if Bernie Sanders catches fire they'll spend far more than that--because he's got their number. They know, in their heart of hearts, that there's two of them and hundreds of millions of us, and that's got to be a little scary.
Saturday, October 29, 2016 (5 comments)

Why Dakota Is the New Keystone Those heroes on the Standing Rock reservation, sometimes on horseback, have peacefully stood up to police dogs, pepper spray and the bizarre-looking militarized tanks and SWAT teams that are the stuff of modern policing. In coming weeks, activists will respond by gathering at the offices of banks funding the pipeline, and at the offices of the Army Corps of Engineers, for protest and civil disobedience.
Wednesday, March 11, 2015

Climate fight won't wait for Paris: vive la resistance if politicians want to lead, they need to stop new fossil fuel development now. A piece of paper explaining what should happen 20 years from now is easier for them to sell, but atmospheric chemistry is unimpressed. Hilary Clinton, to name one example, says the right things about the dangers of climate change, but she's backed Keystone from the start -- a pointless combination.
Saturday, April 4, 2015 (6 comments)

The Guardian Divests $1.2 Billion Fund From Fossil Fuels When the roll of honor for action on climate change is someday called, The Guardian's name will be high on the list. They've taken a bold step in joining the fight to keep fossil fuels in the ground, both through their journalism and their own investments.

Sunday, December 9, 2012 (13 comments)

Clinton's Environmental Failure It's been one of Washington's worst-kept secrets that Clinton wants the pipeline approved. And why not? Its builder, TransCanada, hired her old deputy campaign manager as its chief lobbyist and gave lobbying contracts to several of her big bundlers. Her rumored successor is just as involved -- Susan Rice has millions in stock in TransCanada and other Canadian energy companies.
Saturday, May 9, 2015 (5 comments)

The Next Decade Will Decide What the World Looks Like for Thousands of Decades to Come The next decade is decisive because trajectory counts for so much; if we bend it now, we may slide the car to a halt with just the front tires hanging off the cliff. But if we sail on for a few more years, it's pretty clear we're fast and furiously going airborne -- that's what happens when, say, Arctic permafrost starts to melt in earnest, releasing clouds of methane.
Saturday, June 16, 2018 (18 comments)

Big Oil CEOs needed a climate change reality check. The pope delivered It's odd to have the pope schooling energy executives on the math of carbon. But actually, no odder than NFL quarterbacks schooling politicians on racial injustice, or high school kids schooling a nation on the danger of guns. Good common sense speaks even more loudly when it comes from unexpected corners.
Sunday, September 20, 2015 (4 comments)

What Exxon Knew About Climate Change Exxon didn't just "know" about climate change: it conducted some of the original research. In the nineteen-seventies and eighties, the company employed top scientists who worked side by side with university researchers and the Department of Energy, even outfitting one of the company's tankers with special sensors and sending it on a cruise to gather CO2 readings over the ocean.
Thursday, February 23, 2017 (7 comments)

Is the Democratic party with the resistance? This weekend might tell Perez is from the ruling wing, the institutional party. He is closely identified with Barack Obama, who he worked for, and Hillary Clinton, who he supported. Ellison is from the movement wing. He is closely identified with Bernie Sanders. Indeed, he was one of the few members of Congress who actively supported his insurgent candidacy.
Thursday, July 10, 2014 (1 comments)

We Want People to Change Their Minds Word came recently that both the Philadelphia Quakers and the Unitarian General Assembly have decided to divest from fossil fuels. These historic institutions were helping to transform the political and moral landscape, redefining for our time what's right and wrong. Destroying the climate, they were saying, is incompatible with our evolving ethical sense.
Thursday, September 18, 2014

Two Silences and a Big Loud Noise at the People's Climate March For 25 years scientists have been explaining with careful precision the depth of our crisis. For 25 years economists and policy wonks have been explaining the various ways out of this crisis. And for 25 years they've been drowned out by the sound of money, a sound that has blocked the ears of our presidents and prime ministers and politburos.
Friday, July 3, 2015 (1 comments)

5 Reasons Environmentalists Distrust Hillary Clinton The banks backing Keystone, just to give one small example, have been regular and enormous patrons. It's not illegal, any of it, and it's not quite the same as the way the Koch brothers simply purchased the GOP, but it's not far enough away, either. Influence is ... influence.
Saturday, July 30, 2016 (13 comments)

Bill McKibben: The Real Work Begins Nov. 9 Our job is not to elect a savior. Our job is to elect someone we can effectively pressure. And as tough as the work of this election will be--the real work starts on Wednesday, Nov. 9. That's how it seems to me, anyway. There's plenty to be scared of this election season and plenty to hope for. And most of all there's plenty of work to be done.
Monday, November 3, 2014 (1 comments)

The IPCC is stern on climate change -- but it still underestimates the situation Breaking the power of the fossil fuel industry won't be easy, especially since it has to happen fast. It has to happen, in fact, before the carbon we've unleashed into the atmosphere breaks the planet. I'm not certain we'll win this fight -- but, thanks to the IPCC, no one will ever be able to say they weren't warned.
Friday, January 9, 2015 (3 comments)

Obama's Keystone veto threat is proof that climate activism works, no matter what the "insiders" say Keystone's not dead yet -- feckless Democrats in the Congress could make some kind of deal later this month or later this year, and the president could still yield down the road to the endlessly corrupt State Department bureaucracy that continues to push the pipeline -- but it's pretty amazing to see what happens when people organize.

Wednesday, December 18, 2013 (3 comments)

Obama and Climate Change: The Real Story Should Obama do the right thing on Keystone XL, a decision expected sometime in the next six months, he'll at least be able to tell other world leaders, "See, I've stopped a big project on climate grounds." That could, if he used real diplomatic pressure, help restart the international talks he has let lapse. He's got a few chances left to show some leadership.
Tuesday, January 24, 2017 (17 comments)

With the Rise of Trump, Is It Game Over for the Climate Fight? That galloping momentum of warming scares me. It should scare everyone; for a decade now it has threatened to take this crisis beyond the reach of politics. To catch up with the physics of climate change we'd need a truly stunning commitment to change, an all-out, planet-wide decision to push as hard as we've ever pushed to spread clean energy and shut down the dirty stuff.

Saturday, March 2, 2013 (7 comments)

Keystone XL: A Choice Between Big Oil or a Sustainable Planet With Secretary of State John Kerry half a world away and D.C. focused on the budget fight, the State Department released a new environmental impact statement for the pipeline. Like the last such report, it found that approving an 800,000 barrel-a-day fuse to one of the planet's biggest carbon bombs was "unlikely to have a substantial impact" on the tar sands or the climate.
Friday, August 8, 2014

Stand Up and March: You Are the People's Climate Movement It's been a nasty year in a lot of ways. We learned in April that the great ice sheets of the Antarctic have begun to melt. We've watched as huge wildfires have spread smoke across the continent. And we've seen the Koch brothers double down on their spending to control our politics. Which means the choice is ours.
Saturday, June 13, 2015 (4 comments)

McKibben to Obama: You still have time to be a climate champion -- but not much The sad part of this battle, for all of us, is that physics doesn't really care about political realities -- about how tough Congress has been, or for that matter how burned out and tired some of the rest us can get. Physics just cares about carbon. Reality reality trumps political reality.
Thursday, October 15, 2015 (4 comments)

Exxon's climate lie: "No corporation has ever done anything this big or bad" It seems crucial simply to say, for the record, the truth: this company had the singular capacity to change the course of world history for the better and instead it changed that course for the infinitely worse. In its greed Exxon helped -- more than any other institution -- to kill our planet.
Saturday, December 3, 2016 (8 comments)

How to save the planet from President Trump We may have to live in a hot world, but we don't have to live in a jackbooted one, and the more community we can preserve, the more resilient our communities will be. It's hard not to despair -- but then, it wasn't all that easy to be realistically hopeful about our climate even before Trump. This has always been a battle against great odds. They're just steeper now.
Friday, December 1, 2017 (2 comments)

Winning Slowly Is the Same as Losing By 2075 the world will be powered by solar panels and windmills -- free energy is a hard business proposition to beat. But on current trajectories, they'll light up a busted planet. The decisions we make in 2075 won't matter; indeed, the decisions we make in 2025 will matter much less than the ones we make in the next few years. The leverage is now.
Tuesday, June 28, 2016 (5 comments)

The Clinton Campaign Is Obstructing Change to the Democratic Platform The Sanders campaign has been about issues, issues, issues. I mean, the guy gives 90-minute speeches every day that are entirely about actual things that need to change. It seems weird in an American political context, which is normally about posturing and spin, but for many of us it's refreshing.
Wednesday, August 23, 2017 (1 comments)

Renewable Energy -- 100 Percent Solution the Trump administration is threatening to impose massive tariffs on solar panels coming into the United States. This could dramatically drive up the price of new U.S. solar installations, and two-thirds of the new arrays expected to come online over the next five years might never be built. The political battle for renewables will be hard-fought.
Saturday, August 6, 2016 (3 comments)

Embarrassing Photos of Me, Thanks to My Right-Wing Stalkers All kinds of odd things are appearing on right-wing corners of the web: out-of-context quotations from old books and articles apparently put on display to prove I'm a zealot, and photos from God knows who intended to make me out as a hypocrite (the plastic bags, for instance, and my travel by car, which, you know, burns gas). Mostly, they've just published those creepy videos, to remind me that I'm under surveillance.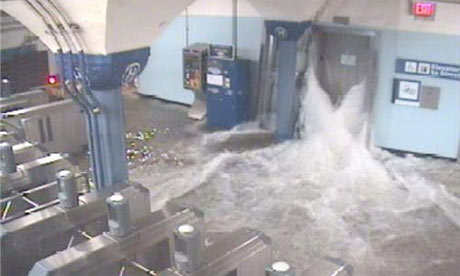 Tuesday, October 30, 2012 (1 comments)

Hurricane Sandy has drowned the New York I love New York is the city I love best, and I'm trying to imagine it from a distance tonight. The lurid, flash-lit instagram images of floating cars in Alphabet City or water pouring out of the East River into Dumbo, the reports of bridges to the Howard Beach submerging and facades falling off apartment houses -- it all stings. It's as horrible in its very different way as watching 9/11.

Friday, October 14, 2011 (5 comments)

Obama and the corruption of big oil Obama had mojo when he knew it wasn't about him, that it was about change. But when you promise change, you have to deliver. His last best opportunity may come with that Keystone Pipeline decision, which he can make entirely by himself, without our inane Congress being able to get in the way.
Monday, December 14, 2015 (7 comments)

Falling Short on Climate in Paris We need to build the movement even bigger in the coming years, so that the Paris agreement turns into a floor and not a ceiling for action. We'll be blocking pipelines, fighting new coal mines, urging divestment from fossil fuels -- trying, in short, to keep weakening the mighty industry that still stands in the way of real progress.
Sunday, April 22, 2018 (4 comments)

100% Renewable Energy is Within Our Reach We can't have a working nation or a world if we don't stop the climate from careening out of control. That's been clear for decades now, but what's been less clear is precisely what we should do about it. We have to switch off of coal, oil, and gas, and onto 100% wind, water, and sun energy sources.

Sunday, June 5, 2011 (2 comments)

Three Strikes and You're Hot: Time for Obama to Say No to the Fossil Fuel Wish List Canadian oil sands extraction is one of the biggest environmental disasters in history. Another big disaster in the works which promises to be another major blow to moderating global warming is the planned mining of the Powder River Basin of Montana and Wyoming, one of the world's richest deposits of coal.
Saturday, February 3, 2018 (1 comments)

We can battle climate change without Washington DC. Here's how The strategy that's been evolving for US climate action -- and for action in many other parts of the planet -- bypasses the central governments as much as possible. That's because the oil industry is strongest in national capitals -- that's where its money is most toxically powerful. But if frontal attack is therefore hard, its flanks are wide open. This fight is going aggressively local, and fast.
Thursday, September 8, 2016 (6 comments)

The oceans are heating up. That's a big problem on a blue planet We have, thanks to them, a vibrant and rising movement to defend the Earth. In North Dakota today, Native Americans are laying their bodies on the line to block a new oil pipeline across the Missouri river. They are calling themselves Water Protectors. We would do well, all of us, to take up the same avocation. Because we live on an ocean planet.
Sunday, November 15, 2015 (6 comments)

We Must Keep Brewing Gale-Force Winds to Shift The Political Landscape Don't expect President Obama (or President Clinton) to be out in the lead, and don't expect Congress to do a damn thing. The job of movements is to keep brewing up the gale-force winds that shifted our political landscape last week -- and to hope we can do it before hurricane-force winds, drought, flood and sea level rise shift our landscape.
Monday, August 15, 2016 (7 comments)

A World At War By most of the ways we measure wars, climate change is the real deal: Carbon and methane are seizing physical territory, sowing havoc and panic, racking up casualties, and even destabilizing governments. It's not that global warming is like a world war. It is a world war. it's a world war aimed at us all. And if we lose, we will be as decimated and helpless as the losers in every conflict.
Thursday, September 24, 2015 (3 comments)

With Clinton and the Pope on board, the climate movement has wind in its sails The pope's powerful encyclical last summer is a reminder to every politician of exactly which way the wind is now blowing. That wind is in the sails of the climate movement now, and so there will be more days like this to come. Whether they come in time to slow the planet's careening new physics is an open question, but at last the political and financial climate has begun to change almost as fast as the physical one.
Wednesday, November 12, 2014 (6 comments)

The Big Climate Deal: What It Is and What It Isn't It isn't a way for Obama to get off the hook on things like the Keystone pipeline. If he's serious about meeting these kinds of targets, then we need serious steps; the surest sign this is a talking point, not a serious commitment, would be to approve new pipelines or authorize new drilling. If you pledge sobriety and then buy a keg of beer, people are going to wonder.
Saturday, January 20, 2018 (3 comments)

The Resistance to Trump Will Be Local With the utter hostility to science on display in Washington, we're all working hard to persuade cities and states to uphold the Paris climate accord by committing to 100 percent renewable energy. The bizarreness of the president -- the ugliness of his politics and the poison of his personality -- may prompt many of us to start thinking about the problem of scale in our political life.
Thursday, December 8, 2016

Scott Pruitt, Donald Trump's choice to lead the EPA, is a literal stenographer for the oil and gas industry It goes without saying that Pruitt is a climate denier. Ivanka Trump may be holding court with Al Gore in the front parlor of Trump Tower, but in the back rooms the real power is being handed over to the oil industry. And it goes without saying that he'll continue to be a mouthpiece and a puppet at EPA, even though the entire point of the agency is to try and rein in pollution.
Tuesday, October 20, 2015

Exxon Knew Everything There Was to Know About Climate Change by the Mid-1980s -- and Denied It We know now that behind the scenes Exxon understood precisely what was going on, in public they feigned ignorance or worse. CEO Lee Raymond described global warming as "projections are based on completely unproven climate models, or, more often, on sheer speculation," and insisted -- in a key presentation to China's leading officials in 1997 -- that the globe was probably cooling.
Friday, January 26, 2018 (1 comments)

Three Strategies to Get to a Fossil-Free America The fossil-fuel industry doesn't hold all the high cards. We'll start playing our own aces for a Fossil-Free United States on January 31, when Bernie Sanders and an all-star lineup brought together by 350.org that includes everyone from indigenous activist Dallas Goldtooth to NAACP organizer Jacqui Patterson to star youth climate organizer Varshini Prakash lay out a coordinated plan for the year ahead.
Tuesday, July 6, 2010 (14 comments)

Want to Light up a Movement? Think Art, Engage the Heart Art, a good way to build a movement & change the world.
Monday, October 17, 2016 (1 comments)

Donald Trump Isn't the Only Enemy on the Ballot Trump is such an idiot that he's easy to spot; it looks as if there will be enough antibodies to protect the body politic from his poison. But forces like the Koch brothers are more insidious. They're what daily, undramatically diminishes our democracy. They're what turn people off to politics, convert them to cynicism (which I suspect is the Kochs' real goal).
Wednesday, October 31, 2012 (7 comments)

Sandy forces climate change on US election despite fossil fuel lobby It's not that our politicians didn't know about climate change: I've watched, for two decades, as the world's best scientists make the annual trek to Capitol Hill to lay out the latest data. It's that, as scary as those charts and graphs were, the fossil fuel industry was scarier still.
Saturday, November 19, 2016 (3 comments)

Donald Trump is Betting Against all Odds on Climate Change This year has been the hottest year recorded in modern history, smashing the record set in 2015, which smashed the record set in 2014. The extra heat has begun to steadily raise sea levels, to the point where some coastal U.S. cities already flood at high tide even in calm weather. Global sea ice levels are at record lows, and the oceans are 30 percent more acidic. And that's just so far.
Saturday, November 7, 2015 (2 comments)

Exxon, Keystone, and the Turn Against Fossil Fuels For years, the fossil-fuel industry has labored to sell the idea that a transition to renewable energy would necessarily be painfully slow -- that it would take decades before anything fundamental started to shift. Inevitability was their shield, but no longer. If we wanted to transform our energy supply, we clearly could, though it would require an enormous global effort.
Wednesday, March 23, 2016 (6 comments)

Global Warming's Terrifying New Chemistry It's possible that America's contribution to global warming increased during the Obama years. The methane story is utterly at odds with what we've been telling ourselves, not to mention what we've been telling the rest of the planet. It undercuts the promises we made at the climate talks in Paris. It's a disaster--and one that seems set to spread.
Saturday, June 3, 2017 (4 comments)

Trump's Stupid and Reckless Climate Decision People say, if all you have is a hammer, then every problem looks like a nail. We should be so lucky. President Trump has a hammer, but all he'll use it for is to smash things that others have built, as the world looks on in wonder and in fear.
Wednesday, August 9, 2017

Trump administration's solution to climate change: Ban the term In a bold new strategy unveiled on Monday in the Guardian, the U.S. Department of Agriculture -- guardians of the planet's richest farmlands -- has decided to combat the threat of global warming by forbidding the use of the words.
Friday, October 30, 2015 (1 comments)

Imagine If Exxon Had Told the Truth on Climate Change Of all the lies that Exxon leaders told about climate change, none may quite top the 1997 insistence that "it is highly unlikely that the temperature in the middle of the next century will be significantly affected whether policies are enacted now or 20 years from now." Exxon scientists knew that was wrong, and so did pretty much everyone else.
Saturday, January 23, 2016 (6 comments)

How to Stop the Fossil Fuel Industry From Wrecking Our World If you can't do fossil fuel, after all, you have to do something else -- sun, wind, conservation. This has to be our response to the living-dead future that the fossil fuel industry and its allied politicians imagine for our beleaguered world: no new fossil fuel infrastructure. None. The climate math is just too obvious.

Saturday, February 11, 2012 (1 comments)

Keystone XL: Time for the Senate to Show Some Courage The fight against Keystone XL has moved to Congress & your keyboard.
Wednesday, May 30, 2018 (1 comments)

Say hello to Justin Trudeau, the world's newest oil executive Justin Trudeau's government announced on Tuesday that it would nationalize the Kinder Morgan pipeline running from the tar sands of Alberta to the tidewater of British Columbia. It will fork over at least $4.5bn in Canadian taxpayers' money for the right to own a 60-year-old pipe that springs leaks regularly, and the right to push through a second pipeline on the same route -- a proposal that has provoked strong opposition.
Tuesday, August 30, 2016

After 525 years, it's time to actually listen to Native Americans The Army Corps of Engineers might back off. The president might decide, as he did with Keystone, that this pipeline would "exacerbate" climate change and hence should be reviewed more carefully. We might, after five centuries, actually listen to the only people who've ever successfully inhabited this continent for the long term.
Monday, May 21, 2018 (8 comments)

Hit Fossil Fuels Where It Hurts -- the Bottom Line The oil industry is slowly being cornered, like the tobacco industry before it. Just as they once promised to go "Smoke Free," towns across the country are now pledging to go "Fossil Free," banning new fossil-fuel projects and committing to 100 percent renewable energy for all.
Saturday, March 5, 2016 (4 comments)

The Mercury Doesn't Lie: We've Hit a Troubling Climate Change Milestone There is legislation pending in the House and Senate that would end new fossil fuel extraction on America's public lands. Senator Sanders has backed the law unequivocally; Secretary Clinton seemed to endorse it, and then last week seemed to waffle. Donald Trump has concentrated on the length of his fingers.

Saturday, January 7, 2017 (1 comments)

Democrats shouldn't squander their one advantage The Bernie Sanders energy won't disappear -- it's already powering the new civil rights movement and the fight for climate justice. But it will disappear from the Democratic Party if the party doesn't seize the opportunity that Ellison offers. It won't be the fault of the Russians or the FBI. And it may not come again.
Wednesday, September 13, 2017 (3 comments)

Stop talking right now about the threat of climate change. It's here; it's happening Leaving aside the earthquake, every one of these events jibes with what scientists and environmentalists have spent 30 fruitless years telling us to expect from global warming. (There's actually fairly convincing evidence that climate change is triggering more seismic activity, but there's no need to egg the pudding.)
Tuesday, January 26, 2016

The Zika virus foreshadows our dystopian climate future Spread by mosquitoes whose range inexorably expands as the climate warms, Zika causes mild flu-like symptoms. But pregnant women bitten by the wrong mosquito are liable to give birth to babies with shrunken heads. Brazil last year recorded 4,000 cases of this "microcephaly." As of today, authorities in Brazil, Colombia, Jamaica, El Salvador and Venezuela were urging women to avoid getting pregnant.

Monday, September 8, 2014 (2 comments)

McKibben to Obama: Fracking May Be Worse Than Burning Coal The importance of this debate has grown the more we've learned about methane -- and one of the things we've learned is how fast it acts. Unlike CO2, which can last in the atmosphere for a century or more, methane disappears relatively quickly. Which means that its power at trapping heat is concentrated in a very short burst. It's time to stop searching for a bridge and simply take the leap.
Saturday, April 13, 2013 (3 comments)

The Fossil Fuel Resistance After decades of scant organized response to climate change, a powerful movement is quickly emerging around the country and around the world, building on the work of scattered front-line organizers who've been fighting the fossil-fuel industry for decades. It has no great charismatic leader and no central organization; it battles on a thousand fronts. But taken together, it's now big enough to matter, and it's growing fast.
Saturday, February 2, 2013 (3 comments)

Bringing It All Back Home': How Vermont Can Lead on Localizing the Climate Fight Bill McKibben spoke to the legislators in the Vermont statehouse about climate change.

Wednesday, March 29, 2017 (4 comments)

America's deportation squads want to expel our neighbours. We are saying no Many of us have spent part of the past couple weeks trying to win the freedom of three of our neighbors -- Kike Balcazar, Zully Palacios and Alex Carrillo. They are undocumented immigrants, who came here to work on our farms, and were detained by the (aptly named) Ice, or Immigrations and Customs Enforcement, in New Hampshire, awaiting deportation.
Thursday, February 9, 2017 (1 comments)

Trump's Pipeline and America's Shame In this standoff, we have confronted our oldest and one of our most shameful stories. That shame will deepen now -- which may, once Trump is gone, allow us to move closer to real reconciliation. At any rate, we owe a great debt to the protesters, who have acted with a dignity conspicuously lacking in the Oval Office.
Sunday, August 23, 2015

Picturing the End of Fossil Fuels Even without understanding the science of climate change -- the horror that the carbon from that digger and that drill rig is driving -- you have a visceral sense that they're in the wrong moment, the wrong mood. The fight against Arctic oil and German coal will be long and hard.
Tuesday, July 12, 2016 (2 comments)

Why Bernie's Message Will Endure Clinton could decide to ignore the promises her team made. It will be up to the movement to enforce these promises -- but we're good at doing that, in no small part thanks to the lessons in relentlessness we've learned from Bernie. If she backslides once in office, the words of her platform will be printed on every sign and banner we carry for the next four years.
Saturday, September 24, 2016

Fighting Big Oil and Big Banks to Save Sacred Lands, Precious Water and Unraveling Climate If anyone has any doubts that civil disobedience can be useful, remember how the amazing activists at Standing Rock forced the federal government to blink, pausing construction earlier this month. Their nonviolent leadership has inspired all of us--and it should have sent a shiver down the spine of a few bankers.

Sunday, April 20, 2014

Bill McKibben: We Need to Win Not Delay the Keystone XL Pipeline Decision The climate fight can't be delayed. We need to keep building the movement, and we need to keep putting heat on leaders like President Obama until we win, not delay, the decision on the Keystone XL pipeline. Yesterday's DC decision just reinforces the message that if we stand together we will make a decisive difference.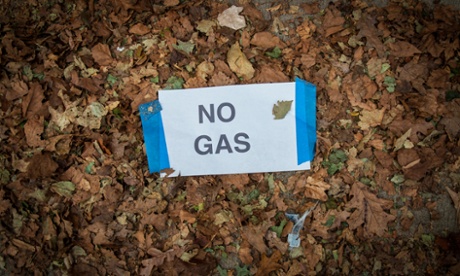 Sunday, June 2, 2013 (2 comments)

It's Time To Stop Investing In The Fossil Fuel Industry The fossil fuel industry should be turned into an energy industry: we have to take the hundred million dollars a day that Exxon spends on finding new oil, and have them spend it on solar panels instead. Which is why, for now, we have to divest those stocks.
Sunday, November 20, 2016

Trump's dilemma: to please his friends by trashing the Paris climate deal, or not? It's entirely possible Trump will send the Paris accords to the Senate for some kind of show vote, letting the entire Republican party take the heat for its climate-denying views. This would demonstrate weakness of a particularly childish sort -- the coat-holding boy who goads everyone else into a fight and steps back to watch.
Saturday, May 21, 2016 (5 comments)

Let's give up the climate change charade: Exxon won't change its stripes The Exxons of the world are not going to change their stripes, not voluntarily. It will be time for state treasurers and religious groups to join those students and frontline communities and climate scientists who are saying "No more." It will be time -- past time -- to get serious, divest and break free of fossil fuels once and for all.
Thursday, January 12, 2017

Rex Tillerson is big oil personified. The damage he can do is immense The disgrace is the long, slow reveal by investigative reporters that Exxon knew all about climate change as early as the late 1970s. In a rational world, Congress would be grilling Rex Tillerson about the company's conduct, not preparing to hand him the country's plum unelected job.

Thursday, August 4, 2011 (3 comments)

New pipeline to challenge Obama's promises There's real worry that the fix is in, especially since recently released WikiLeaks documents show American officials working with the tar sands companies to develop a strategy to "spin" reporters and win favorable press coverage. Still -- the ultimate decision will rest with President Obama. Hence the sit-ins. And the buttons.
Sunday, March 12, 2017 (3 comments)

College students should resist -- not silence -- their political foes Everyone involved needs to take it for the serious task it is, understanding that emotion is as much an enemy as a friend for activists. There's no easy version of activism, any more than there is of physics or French or the other tasks college students seriously engage in. In fact, protest is probably a subject, like first aid or how to use the fire extinguisher, that college freshmen should learn.
Friday, January 27, 2017 (2 comments)

A Bad Day For The Environment, With Many More To Come There is a new day dawning, and we're sure as hell not going to use any of that sunlight for energy. Instead, it's clear that we're about to witness the steady demolition, or attempted demolition, of the environmental protections that have been put in place over the past five decades.

Monday, January 9, 2012 (2 comments)

Armed With Naivete ...Congress's approval rating is now at 9%, which is another way of saying that everyone who's not a lobbyist hates them and what they're doing...
Thursday, November 19, 2015 (1 comments)

Bill McKibben's Letter to the Future This letter to the future by Bill McKibben is part of the Letters to the Future campaign, a national effort to encourage people from all walks of life to write six generations into the future about climate change. The campaign puts a spotlight on the importance of world leaders agreeing to a global climate treaty at COP21 in Paris.
Saturday, February 20, 2016

It's Not Just What Exxon Did, It's What It's Doing As bad as Exxon has been in the past, what it's doing now -- entirely legally -- is helping push the planet over the edge and into the biggest crisis in the entire span of the human story. What we need from Exxon is what they'll never give: a pledge to keep most of their reserves underground, an end to new exploration, and a promise to stay away from the political system.
Saturday, January 13, 2018 (2 comments)

Applaud Mayor de Blasio and NYC for Righteous Pension Divestment, Legal Fight Against Fossil-Fuel Companies Five years after Superstorm Sandy, Mayor de Blasio said that the city would follow through on earlier promises to divest its giant pension fund from coal, oil and gas companies -- and that it would take the biggest of those corporations to court to sue for damages. In other words: Earth's mightiest city is now in full-on battle with the planet's richest, most irresponsible industry.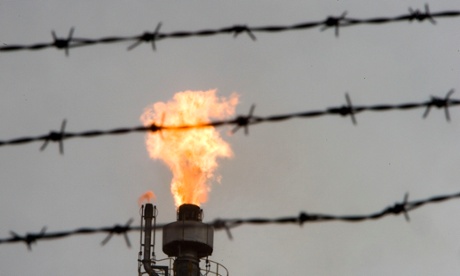 Friday, April 4, 2014

Exxon Mobil's response to climate change is consummate arrogance Exxon Mobil said that government restrictions that would force it to keep its reserves in the ground were "highly unlikely," and that they would not only dig them all up and burn them, but would continue to search for more gas and oil -- a search that currently consumes about $100 million of its investors' money every single day.
Tuesday, February 9, 2016 (6 comments)

Bill McKibben: Not Me. Us. Younger people and poorer people may sense an urgent need for change. I mean, we've just broken the planet's temperature record two years in a row. If you think that we need a leader who will push to change the way we see the world then it makes perfect sense to imagine Bernie as the realistic candidate, the one who will get things done.
Friday, May 6, 2016 (1 comments)

It's Time to Turn Up the Heat on Those Who Are Wrecking Planet Earth From one end of the planet to the other, people are taking greater risks this month. In one of the biggest coordinated civil disobedience actions the world has ever seen, frontline communities and climate scientists and indigenous people and faith leaders and just plain people who actually give a damn will be sitting down and sitting in and standing pat.

Wednesday, June 29, 2011 (2 comments)

If Brazil Has to Guard Its Rainforest, Why Does Canada/U.S. Get to Burn Its Tar Sands? Exploiting the tar sands is a crime, pure and simple -- and, given the stakes, it is one of the most staggering the world has ever seen.
Monday, December 5, 2016 (2 comments)

The victory at Standing Rock could mark a turning point This was not just one tribe: this was pretty much all of native North America. The flags of more than 200 Indian nations lined the rough dirt entrance road. Other Americans, drawn in part by a sense of shame at this part of our heritage, flooded in to help -- when the announcement came today, there were thousands of military veterans on hand.
Thursday, December 4, 2014

Stepping Down But Continuing Fight for Climate Justice Unless that end to coal and oil and gas comes swiftly, the damage from global warming will overwhelm us. Winning too slowly is the same as losing, so we have a crucial series of fights ahead: divestment, fracking, Keystone, and many others that we don't yet know about.
Tuesday, November 29, 2016

Standing Rock is the civil rights issue of our time -- let's act accordingly Representatives of more 200 Indian nations have gathered at the Standing Rock Sioux reservation in an effort to prevent construction of an oil pipeline that threatens the tribe's water supply, not to mention the planet's climate. It's a remarkable encampment, perhaps the greatest show of indigenous unity in the continent's history.
Wednesday, March 1, 2017 (3 comments)

The job at hand The losses we've suffered just in the past week, as the new EPA head started gutting water and air protections, makes me think of the earlier generations of activists who worked so hard to get these laws enacted. Last night I wanted to shout at the TV when, instead of mentioning climate change, Trump boasted about approving new pipelines.
Friday, November 6, 2015 (6 comments)

350.org -- President Obama Rejects Keystone XL. We Win. We just made history together. 4 years to the day after we surrounded the White House, President Obama has rejected the Presidential Permit for the Keystone XL tar sands pipeline! This is huge. A head of state has never rejected a major fossil fuel project because of its climate impacts before.
Monday, February 25, 2013 (2 comments)

The Case for Fossil-Fuel Divestment With Washington blocked, campuses are suddenly a front line in the climate fight -- a place to stand up to a status quo that is wrecking the planet. The campaign to demand divestment from fossil fuel stock emerged from nowhere in late fall to suddenly become the largest student movement in decades. It's where the action all of a sudden is.
Friday, March 24, 2017

No Keystone XL live strategy session Every new pipeline, frack well and coal port is being fought and fought hard. You've heard of some of these fights, like the Dakota Access pipeline, but there are now hundreds of them across the world. Keystone jump-started a whole new phase of the movement to keep fossil fuels in the ground.
Sunday, June 10, 2018 (2 comments)

Donald Trump is costing us one precious thing: time Climate change comes with a time limit. We don't have four years to waste ignoring it, not when Arctic sea ice is reaching new lows and temperatures are breaking records. Even if a new president someday takes up climate seriously, the carbon we're spewing now will still be in the atmosphere to haunt us over geological time. Time is the trouble.
Saturday, March 25, 2017 (2 comments)

Citizens Must Hold Government Accountable on Climate One way of dealing with those unpleasant climate truths is to stop paying attention. A spokesman for the White House said last week that the federal government was no longer going to "waste money" on climate research. Money to maintain even existing climate satellites is disappearing. NASA has been told to stop worrying about our home planet and focus on Mars.
Wednesday, August 21, 2013 (2 comments)

Leaderless Movements For A New Planet There are plenty of others who will arise in new moments, which is a good thing, since the physics of climate change means that the movement has to win some critical victories in the next few years but also last for generations. Rooftop by rooftop, we're aiming for a different world, one that runs on the renewable power that people produce themselves in their communities.
Sunday, May 13, 2012

The Koch-Stone XL Pipeline House leaders are busily trying to fasten automatic approval of the Keystone Pipeline, the biggest straw into the pipelines yet, onto a must-pass transportation bill. And the real power behind the drive for tar sands oil: the Koch Brothers.

Friday, October 28, 2011

#surround The White House To Stop Keystone Xl Maybe a bit of ring-around-the-Obama will change the president's tune. Something needs to.
Monday, November 2, 2015

TransCanada asks for KXL application "suspension" This is -- make no mistake -- a massive victory for people power. You emailed, you phoned, you marched, and in record numbers you went to jail. That's what it took to persuade the arrogant oil industry they simply couldn't prevail in their plan to pump the world's filthiest oil across the heart of the continent.
Friday, January 29, 2016

A Mosquito Net Descends Across the Americas Sometime in the last 10 days, a mosquito net has descended across the Americas. It is unlikely to cause armed conflict between great powers, but unless we are very lucky, the new divisions it creates are likely to linger, truncating and deforming relationships, and changing the way that rising generations view the world in which they live.

Thursday, January 19, 2012 (2 comments)

Obama's Denial of Keystone Permit Was a Welcome Win Against Big Oil When the president denied the permit for Keystone XL on Wednesday, he didn't just turn the usual balance of power upside down, he turned the conventional wisdom more or less on its head. There's in fact one reason to build the pipeline -- to make even more money for the richest industry on earth.
Sunday, May 26, 2013 (7 comments)

Keystone: What We Know Analysts said earlier this spring that in the wake of the KXL battle it's likely every new pipeline will face a battle. Tarsands barons like the Koch brothers still have all the money, and they've still got the odds in their favor. But the smart money has lost a few IQ points.
Thursday, May 10, 2018

Always Connect We will always need the perspective of outsiders, of unsocialized, uncredentialed non-experts, in order to see what plainly needs to be seen. Carson, Jacobs, Goodall, and Waters were and are geniuses, extraordinary spirits, remarkable souls -- just the kind of people rarely produced by the normal order of things.

Friday, April 5, 2013 (5 comments)

John Kerry's Fateful Decision on the Keystone Pipeline Cheap oil, once a boon, is now a bane. And yet the wealth of the industry makes it all but impossible to bring it to heel. By almost any definition, building a big new pipeline -- designed to last decades -- to the dirtiest oil on earth is a mistake. We know, that is, that the time has come to put the fossil-fuel era behind us.
Tuesday, October 29, 2013 (2 comments)

Speech by Sophie Prize Winner Bill McKibben The world's governments have all agreed that a rise of two degrees is the most that can be tolerated. It's doubtless too high a number: if one degree melts the Arctic, it's folly to see what two degrees will do. Our current trajectory heads us for a rise of 4 or 5 degrees. How to win the change we need, if reason alone will not prevail? Sometimes, we've found, we need to spend our bodies and go to jail in order to be heard.
Monday, August 31, 2015

The Turning Point Towards a Low-Carbon Future We're suddenly and decisively, in a one-way transition to a renewable future and the only question -- perhaps the most important question humans have ever faced -- is whether we can make that transition fast enough to save the planet.

Tuesday, April 2, 2013 (1 comments)

The Methane Beneath Our Feet Because of the grave threat methane poses to the climate, the dangers of natural gas leakages go well beyond the immediate risk of exploding manhole covers (though recent measurements in Washington, DC indicate that there is enough leaking gas to cause any cautious pedestrian a certain amount of worry).

Wednesday, May 25, 2011

A link between climate change and Joplin tornadoes? Never! It's very important to stay calm. If you got upset about any of this, you might forget how important it is not to disrupt the record profits of our fossil fuel companies. If worst ever did come to worst, it's reassuring to remember what the US Chamber of Commerce told the EPA in a recent filing: that there's no need to worry because "populations can acclimatize to warmer climates via a range of behavioral... adaptations."
Saturday, April 9, 2016

It's Time to Break Free From Fossil Fuels The transition to renewable energy is coming sooner and faster than anyone thought. Ninety percent of the new electricity generation installed last year was renewable, leading to two years running of flat -- though still too high -- global carbon emissions. It's likely that this fight is the biggest humanity will ever face.

Sunday, July 11, 2010 (1 comments)

Tell World Leaders to Go Solar! Those solar panels won't be enough solve climate change, obviously. But they'll send a strong symbolic message about what the future demand--and maybe our leaders will see how easy it is to start down a greener path. If they hammer in a solar panel, perhaps they'll feel more committed to hammering out some clean energy legislation.
Tuesday, October 5, 2010

BREAKING: Putting Solar on the White House! Just in time to give the Global Work Party a White House-sized boost, the Obama administration announced this morning that they are going to put solar panels on the First Family's living quarters, returning to a tradition begun by president Jimmy Carter and abandoned by Ronald Reagan.