Articles Listed By Date List By Popularity
Page 1 of 23 First Back Next 2 3 4 5 6 7 8 9 10 View All
Wednesday, January 2, 2019 (5 comments)

Five Weeks After Guardian's Viral Assange/Manafort Scoop, No Evidence Has Emerged -- Just Stonewalling That the Guardian story would be seen as an earth-shattering revelation, one that would bring massive amounts of traffic, attention, glory and revenue to the paper was obvious. And that's precisely how it was treated, as it instantly ricocheted around the media ecosystem with predictable viral speed.
Wednesday, December 19, 2018 (6 comments)

Texas Elementary School Pathologist Refused to Sign a Pro-Israel Oath, Mandatory in Many States -- so She Lost Her Job The child language specialist, Bahia Amawi, who has worked for the last nine years with developmentally disabled, autistic, and speech-impaired elementary school students in Austin, Texas, has been told that she can no longer work, after she refused to sign an oath vowing that she "does not" and "will not" engage in a boycott of Israel.
Friday, November 23, 2018 (2 comments)

Trump's Amoral Saudi Statement Is a Pure Expression of Decades-Old "U.S. Values" and Foreign Policy Orthodoxies Trump said, "the United States intends to remain a steadfast partner of Saudi Arabia to ensure the interests of our country." To justify his decision, Trump cited the fact that "Saudi Arabia is the largest oil producing nation in the world" and claimed that "of the $450 billion [the Saudis plan to spend with U.S. companies], $110 billion will be spent on the purchase of military equipment.
Saturday, November 17, 2018

As the Obama DOJ Concluded, Prosecution of Julian Assange for Publishing Documents Poses Grave Threats to Press Freedom THE TRUMP JUSTICE DEPARTMENT inadvertently revealed in a court filing that it has charged Julian Assange in a sealed indictment. The disclosure occurred through a remarkably amateurish cutting-and-pasting error in which prosecutors unintentionally used secret language from Assange's sealed charges in a document filed in an unrelated case.
Sunday, July 22, 2018 (11 comments)

Ecuador Will Imminently Withdraw Asylum for Julian Assange and Hand Him Over to the UK. What Comes Next? The withdrawal of asylum and physical ejection of Assange could come as early as this week. On Friday, RT reported that Ecuador was preparing to enter into such an agreement. It's likely that the UK will extradite Assange to the U.S., where top Trump officials have vowed to prosecute Assange and destroy WikiLeaks.
Monday, July 16, 2018 (8 comments)

A Spirited, Substantive Debate on the Trump-Putin Summit, Russia, and U.S. Politics There seems to be a growing recognition, one I certainly share, that Twitter is a uniquely poor, even destructive, medium for conducting complex political debates and should be avoided for those purposes.
Thursday, June 14, 2018 (2 comments)

Bay Area Muslim Leader Has Her Award Rescinded by Interfaith Group After Pro-Israel Activists Objected Zahra Billoo, executive director of the San Francisco chapter of the Council on American-Islamic Relations, or CAIR, has had an award rescinded by an interfaith group after pro-Israel activists vehemently objected to the award due to her criticisms of the Israeli government and various pro-Israel groups.
Tuesday, May 22, 2018 (17 comments)

FBI Informant Who Monitored Trump Campaign, Stefan Halper, Oversaw CIA Spying Operation in 1980 Presidential Election Over the past several weeks, House Republicans have been claiming that the FBI during the 2016 election used an operative to spy on the Trump campaign, and they triggered outrage within the FBI by trying to learn his identity.
Thursday, May 17, 2018 (1 comments)

Ecuador's Ex-President Rafael Correa Denounces Treatment of Julian Assange as "Torture" Assange has been confined to the embassy for almost six years, when Ecuador granted him asylum in August 2012. The grant of asylum was made on the grounds that Assange's extradition to Sweden for a sexual assault investigation would likely result in being sent to the U.S. for prosecution, where he could face the death penalty.
Friday, April 27, 2018

MSNBC's Joy Reid Claims Her Website Was Hacked, Bigoted Anti-LGBT Content Added, a Bizarre Story Liberal Outlets Ignore MSNBC WEEKEND HOST Joy-Ann Reid apologized last December for a series of homophobic blog posts she wrote from 2007 to 2009. In her apology, Reid insisted that she has some gay friends ("The LGBT community includes people whom I deeply love") and that her writings were "insensitive, tone deaf and dumb."
Wednesday, February 21, 2018 (29 comments)

Consensus Emerges: Russia Committed an "Act of War" Like Pearl Harbor and 9/11. Should the U.S. Response Be Similar? Since last week's indictments alleging that 13 Russian nationals and entities created fake social media accounts and sponsored political events to sow political discord in the U.S., something of a consensus has arisen in the political and media class (with some notable exceptions) that these actions not only constitute an "act of war" against the U.S., but one so grave that it is tantamount to Pearl Harbor and 9/11.
Wednesday, February 14, 2018 (1 comments)

Dutch Official Admits Lying About Meeting With Putin: Is Fake News Used by Russia or About Russia? Human nature craves a belief in an existential foreign threat because it confers a sense of purpose and cause, strengthens tribal unity and identity, permits scapegoating, shifts blame for maladies from internal to external causes, and (like religion) offers a simplifying theory for understanding a complex world.
Thursday, February 1, 2018 (7 comments)

In a Major Free Speech Victory, a Federal Court Strikes Down a Law that Punishes Supporters of Israel Boycott The Kansas federal court ruling that people cannot be punished by the U.S. government or state governments due to disapproval of their political activism and viewpoints -- even if the goal is to protect the Israeli government and its decadeslong illegal occupation from criticism and activism.
Friday, January 19, 2018 (6 comments)

Republicans Have Four Easy Ways to #ReleaseTheMemo--and Evidence. Not Doing So Will Prove Them to Be Shameless Frauds Social media last night and today have been flooded with inflammatory and quite dramatic claims now being made by congressional Republicans about a four-page memo alleging abuses of Foreign Intelligence Surveillance Act spying processes during the 2016 election.
Monday, January 15, 2018

Democrats Who Denounce Donald Trump as Lawless, Treasonous Authoritarian Voted to Give Him Vast Warrantless Spying Power That leading House Democrats (their minority leader and top Intelligence Committee member) united with Trump to support this bill and oppose reform amendments, was sufficient to cause enough Democrats to side with Trump and ensure passage of the bill. The Trump-favored bill ended up passing by a vote of 256-164.
Wednesday, January 10, 2018 (4 comments)

First France, Now Brazil Unveils Plan to Empower the Government to Censor the Internet in Name of Stopping "Fake News" Among the most confounding aspects of the Twitter announcement is that it is very difficult to identify any existing law that actually authorizes the federal police to exercise the powers they just announced they intend to wield, particularly over the internet. At least as of now, they are claiming for themselves one of the most extremist powers imaginable.
Saturday, December 30, 2017 (18 comments)

Facebook Says it is Deleting Accounts at the Direction of the U.S. and Israeli Governments What makes this censorship particularly consequential is that "96 percent of Palestinians said their primary use of Facebook was for following news." That means that Israeli officials have virtually unfettered control over a key communications forum of Palestinians.
Saturday, December 9, 2017 (3 comments)

The U.S. Media Yesterday Suffered its Most Humiliating Debacle in Ages: Now Refuses All Transparency Over What Happened It's hard to quantify exactly how many people were deceived -- filled with false news and propaganda -- by the CNN story. But thanks to Democratic-loyal journalists and operatives who decree every Trump/Russia claim to be true without seeing any evidence, it's certainly safe to say that many hundreds of thousands of people, almost certainly millions, were exposed to these false claims.
Sunday, November 5, 2017 (2 comments)

Four Viral Claims Spread by Journalists on Twitter in the Last Week Alone That are False One of the primary ways that democracy is degraded by platforms such as Facebook and Twitter is, for obvious reasons, typically ignored in such discussions: the way they are used by American journalists to endorse factually false claims that quickly spread and become viral, entrenched into narratives, and thus can never be adequately corrected.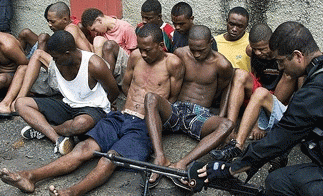 Wednesday, September 27, 2017 (1 comments)

Brazil's Latest Outbreak of Drug Gang Violence Highlights the Real Culprit: the War on Drugs Portugal has definitively won the argument on how ineffective, irrational, and counterproductive drug prohibition is. Portugal's clear success with decriminalization, compared to the tragic failures of countries, such as the U.S. (and Brazil), which continue to treat addiction as a criminal and moral problem rather than a health problem.