Articles Listed By Popularity List By Date
Page 1 of 5 First Back Next 2 3 4 5 View All
Monday, August 29, 2011 (91 comments)

Three Charts To Email To Your Right-Wing Brother-In-Law Your right-wing brother-in-law is plugged into the FOX-Limbaugh lie machine, and keeps sending you emails about "Obama spending" and "Obama deficits" and how the "Stimulus" just made things worse.

Thursday, May 16, 2013 (4 comments)

Upcoming Trans-Pacific Partnership Looks Like Corporate Takeover The Trans-Pacific Partnership, an expansion of the 2005 Trans-Pacific Strategic Economic Partnership Agreement, is being negotiated as we speak. As Yogi Berra said,"It's deja vu all over again." Is it another NAFTAesque corporate boondoggle, or will it turn out to be a real windfall for working families as its over 600 corporate promoters suggest?

Saturday, May 14, 2011 (6 comments)

Actually, "the Rich" Don't "Create Jobs," We Do When all the money goes to a few at the top everything breaks down. Taxing the people at the top and reinvesting the money into the democratic society is fundamental to keeping things going.
Friday, March 27, 2015 (4 comments)

Now We Know Why Huge TPP Trade Deal Is Kept Secret From The Public TPP is the largest trade agreement in history, involving more than 40 percent of the world's GDP. One way President Obama and the Chamber of Commerce sell TPP is by saying it will change everything and will rewrite the rules for doing business for the 21st century. But the changes give corporations vast new powers to overrule democratic governments.
Monday, December 7, 2015 (2 comments)

Does Clinton Really Oppose TPP? There Is A Test For That Many Democrats remain skeptical and do not accept that Clinton meant it when she said she opposes passage of TPP. They wonder if Clinton only came out against TPP for strategic political reasons -- to defuse Sanders and O'Malley and get union endorsements -- or is she committed to stopping it?
Saturday, June 6, 2015 (2 comments)

Will TPP Kill The Post Office? Negotiated in secret by corporate representatives, it is probable that the Trans-Pacific Partnership (TPP) is loaded with things the big corporations have snuck in. We already know from leaks that TPP contains provisions allowing companies to sue our government in "corporate courts" if they feel a law or regulation is cutting into their profits. What else is in there?

Sunday, August 12, 2012 (2 comments)

Huge Rally Demands A Second Bill of Rights For Americans Over 35,000 working people attended Saturday's Workers Stand For America rally in Philadelphia -- the birthplace of the Constitution and the Bill of Rights -- to demand an economy that works for all of us. This rally was called to support America's Second Bill of Rights, inspired by President Franklin Roosevelt's 1944 proposed economic Bill of Rights.
Thursday, December 10, 2015 (16 comments)

New Report Tallies Some Of The Cost Of The "Walmart Model" Economy The "Walmart model" has become the model of our economy. The billionaires that model creates use their wealth to bribe -- I mean, "influence" -- our government to keep things the way they are. It is time to take back our government from the billionaires, fix trade, fix taxes and fix wages.
Friday, December 4, 2015 (5 comments)

The Sanders Corporate Tax Reform Plan It turns out that Sanders does have a detailed corporate tax plan to pay for his infrastructure plan. He introduced the plan as a Senate bill shortly before announcing his run for the Democratic nomination for President. It is called the Corporate Tax Dodging Prevention Act.
Saturday, June 21, 2014 (1 comments)

Another Secret Pro-Corporate Trade Negotiation Is Leaked This is one more leak showing that the giant corporations and the billionaires behind them consider themselves powerful enough to just ignore governments, and are negotiating among themselves the rules for world corporate domination in the 21st century.
Saturday, January 17, 2015 (21 comments)

How To Avoid Another Job-Killing Trade Fiasco Like NAFTA With Fast Track, Congress agrees to pass the trade deal within 90 days of first seeing it, with no changes allowed. Obviously, this sets up a rigged process, in which the big corporations are able to launch into a full-scale PR campaign to apply maximum pressure. The intention is to keep the public from having a chance to analyze the consequences of signing the deal, and rallying opposition.

Friday, July 22, 2011 (9 comments)

The Hostage-Taking Just Keeps Coming - This Time The FAA Shuts Down Conservatives refuse to fund the FAA unless the Senate agrees to block airline and railroad unions from being able to organize. Result: the agency shuts down at midnight tonite.
Tuesday, August 26, 2014 (10 comments)

Will Republicans Block Action On Corporations Abandoning The U.S.? There is a wave of news about corporations using a technicality called an "inversion" to renounce their US "citizenship." An inversion is when a US company buys or merges with a non-US company, and then pretends it is no longer a US company. Today it's Burger King. Not long ago it was Walgreens.
Friday, February 17, 2017 (3 comments)

This Isn't Just Trump. This Is Who the Republicans Are. It's not just Trump, Republicans as a party are using Trump to engage in a general assault on protections from corruption, pollution, corporate fraud and financial scams. This is who they are. This is the end result of a decades-long effort by the corporate-and-billionaire-funded "conservative movement" to capture the Republican party, and through them to capture the country -- for profit.
Saturday, July 11, 2015 (5 comments)

Obama Administration Makes Malaysia Slavery Problem For TPP Disappear The fast-track authority legislation for the Trans-Pacific Partnership recently passed by Congress says we can't make "trade" agreements like TPP with countries that violate human rights. There is a report that to get around this rule the administration is going to declare the worst violators of human rights to be OK after all.

Friday, February 24, 2012 (2 comments)

You Should Know About The "99% Spring" The coalition is calling for a national convergence of training, education, and action between April 9 and 15 to: shape a collective vision of an economy that works for all Americans -- not just the wealthiest 1%; learn about the history and application of non-violent direct action; and put what we learn into direct action to expose the injustices of the moment and demand change from those responsible.

Monday, July 7, 2008 (4 comments)

The Spying Started Before September 11 -- That's The Whole Point In response to LA Times article, "A Good-Enough Spy Law," and its claim that telecom aided surveillance was in response to the aftermath of Sept. 11, writer Dave Johnson reminds us that this spying started shortly after Bush took office. A fact that the MSM can't seem to grasp.
Saturday, December 6, 2014 (10 comments)

Why Would Congress Approve A Trade Deal Before Reading It? The Obama administration is negotiating a huge trade deal. The President promises CEOs he will go against his own party to push its passage. To get this done the corporations are pushing Congress to pass something called Fast Track -- a process that essentially pre-approves trade agreements before Congress even reads the agreements for the first time.
Sunday, September 27, 2015 (6 comments)

Republicans Answer Pope With Bill Banning Govt From Protecting Climate With this bill Republicans are basically saying "This is our answer to you, Pope-guy." The bill bans government from even considering whether a project will contribute to climate change: "A lead agency may not use the social cost of carbon in the environmental review or environmental decision making process."
Friday, April 3, 2015 (5 comments)

Populism 2015: Citizens Insist On Trade Deals That Work For All Of Us cross the country a strong populist movement has gained momentum to stop more trade deals from making things worse. This is just one part of the populist movement that has grown since Occupy Wall Street in response to terrible inequality. Citizens and organizations are mobilizing in opposition to the way our country's rules have been rigged to the benefit of the 1 percent and against the interests of 99 percent of us.
Monday, August 31, 2015

What Bernie Sanders Has Already Won Regardless of the Democratic nominee, we will all need to work on making sure an anti-immigrant, anti-Social Security, pro-billionaire, pro-hate candidate doesn't get elected president and destroy the country. Look back at the 'W' Bush legacy of a country almost destroyed. Financial collapse, war, how many lives gone? This new "Trump" GOP is now much, much worse than the Bush era.
Tuesday, March 22, 2016 (7 comments)

Another Elite Gang-Up On Sanders: His Proposals Would Undo America Steven Pearlstein, in the ominously titled "What Bernie Sanders would do to America" at The Washington Post, warns that asking our government to do things like raising the minimum wage to $15, extending public education by four years, providing Medicare-for-All and especially paying for that by taxing corporations and extremely high-income individuals would "turn America into Denmark or Sweden."

Tuesday, February 13, 2007

How the "Pelosi 757" Lie Was Spread This article researches how - and why - the right spread the lie that Speaker Pelosi "demanded" use of a "luxury jet."
Saturday, April 25, 2015 (12 comments)

Obama Says Critics Of Trade Deal Sound Like Palin Touting Death Panels The President's alignment with Republicans, Wall Street, and corporate lobbying organizations like the Chamber of Commerce, and against progressives, labor, and almost all Democrats to push TPP is frustrating Democrats across the board.
Tuesday, March 17, 2015 (2 comments)

TPP Is Only Secret From You -- But Trust Us, It's Good For You Under the Constitution, Congress is supposed to set the terms, oversee the negotiations, carefully consider the results, allow the public time to analyze and weigh in. But now a secret trade agreement -- initiated and negotiated in a corporate-dominated process with other stakeholders excluded -- is kept from Congress. Times have changed. The Constitution and Congress are pests, gnats to be swatted aside.

Friday, February 9, 2007 (1 comments)

The Media Does Not Act In The Public Interest There is a reason the media does not act in the public interest.
Thursday, April 30, 2015 (2 comments)

Writing The New Rules For The 21st Century -- In Secret? With the fast track process We the People of the United States of America don't get to know what's in TPP until some time after Congress pre-approves it, and even our Congress won't get to seriously debate or amend it after we do get to see it. So too bad if we don't like it. Suck. On. That.

Tuesday, March 24, 2015 (1 comments)

Koch Network Takes On Export-Import Bank The Koch brothers do not believe that government should do anything at all, other than provide a military and protect private -- their -- property. They do not even believe our own government should help our own country's companies. They believe there is no "national" interest, only the interests of individual businesses -- and ultra-billionaires like themselves.
Wednesday, September 9, 2015 (47 comments)

Climate Denial Is Corruption, and the GOP Is Captured By It It is an astonishing spectacle. The Republican party is working to sabotage efforts to fight climate change and is doing this because the fossil-fuel industry -- and billionaires whose fortunes came from that industry -- funds so much of their messaging and campaign infrastructure, and their candidates. This is not ideology; it is flat-out corruption.
Tuesday, April 14, 2015 (4 comments)

The Fast Track Fight Begins In The Senate As the fast track fight enters the Congress, polls show that politicians will take a great risk by voting for fast track or TPP legislation. For example, one recent poll shows one senator's vote for fast track could bring a primary opponent.
Monday, March 9, 2015 (1 comments)

How Our Trade Policies Kill Jobs The U.S. is currently running a net trade deficit of over $500 billion dollars each year with our "trade partners." We have been running trade deficit every year since the late 1970s. We buy from them, but they don't reciprocate and buy from us, so the trade is out of balance -- way out of balance.
Tuesday, July 22, 2014

5 Giant Un-American Corporations Trying to Bolt U.S. to Avoid Taxes A number of American corporations are so fed up with the idea that they should pay their taxes that they are actually renouncing their U.S. citizenship. These corporations are "leaving" the U.S. to dodge taxes--but their executives, employees, offices, stores, customers etc. are still here. The only thing that is really leaving the country is the requirement to pay U.S. taxes.
Wednesday, March 9, 2016

Auto-Bailout Backfire: Does Sanders Have Antidote To Negative Politics? Clinton's attempt to mislead voters not only didn't work, it looks like it may have backfired and cost her votes in the primary itself. The voters Clinton was attempting to win over -- auto workers -- knew darn well that Bernie Sanders was on the side of auto workers and had been for a very long time. Michigan voters appear to have resented the attempt to mislead them.

Saturday, March 7, 2015 (2 comments)

Trade Deficit Drops To Enormous, Humongous Level In January Trade is supposed to be balanced. That is where the word "trade" comes from. But since the neo-liberal "free trade" pro-corporate ideology took hold in the late 1970s the US has consistently run a trade deficit every single year, and it just gets worse. This literally drains our economy, jobs, wages, factories, entire industries and our ability to make a living as a country.
Saturday, March 4, 2017 (3 comments)

Trump's Spectacle Misdirects Us From Our Government's Destruction The public is being misdirected by the spectacle thus far of Trump's presidency. While we recoil from his latest nasty tweet, count how many lies he put into a speech or wonder if the teleprompter will keep him from biting the head off a bat, Trump's loyalists are busy rushing to roll out his far-right agenda, destroying our government out from under us.
Tuesday, May 19, 2015 (2 comments)

Let The Public Read The Completed Parts Of The Trans-Pacific Partnership There is an easy way to settle disputes about what is in the TPP and what its consequences might be: let We the People see the text of the agreement and we can decide for ourselves. The president says that we can't see the text of the Trans-Pacific Partnership because it is still being negotiated. He says other countries will not "make their best offers" if the people in their countries can see what they are offering.

Friday, January 27, 2017

Labor Secretary Nominee Hit With 33 Labor-Violation Charges The company run by Andy Puzder, the nominee for Secretary of Labor, the department with the mission of promoting rights and higher wages for working people, was hit this week with 33 anti-worker charges.
Tuesday, February 9, 2016 (4 comments)

Is Clinton Bought By Wall Street? There Is A Test For That Clinton promises that the money will not influence her if she takes office, but voters are understandably skeptical. Voters have been betrayed again and again by people who have become known as "corporate Democrats." She is going to have to make it clear that she wants Wall Street influence over our government stopped and reversed, and she must join the front lines of the fight to stop it--or voters won't believe her.
Wednesday, February 25, 2015 (1 comments)

Obama's Trans-Pacific Partnership Promises Echo Clinton's On NAFTA TPP will be pushed through Congress using "fast track" trade promotion authority that allows Congress only 90 days to debate and conduct an up-or-down vote after it and the public first see the agreement. This does not give Congress and the public enough time to read and fully understand this enormous, complex agreement and especially not enough time to consider the ramifications on our economy and our working people.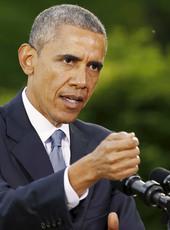 Saturday, May 16, 2015 (4 comments)

I'm Not Making This Up: Corporations Use Trade Deals To Attack U.S. Law Sen. Elizabeth Warren, legal scholars and others have been sounding the alarm about the secret TPP negotiations. They are warning that the ISDS provisions, as the New York Times put it, "would allow foreign corporations to sue the United States government for actions that undermine their investment 'expectations' and hurt their business, according to a classified document."

Friday, November 18, 2016 (4 comments)

Today's Broken Trump Promise: "I Won't Cut Medicare" When they say it "saves money" to privatize, the reason it "saves money" is the vouchers will not be enough to purchase an insurance policy that covers all the things that Medicare covers. It saves the government money by shifting the costs from the government to individuals.
Tuesday, July 18, 2017 (19 comments)

Progressives Should Focus On The Russia Story All the talk about Russia gives us the opportunity to tie Republican anti-government policies to the ways Russia hoped to benefit from their interference in our democracy. Russia helped put them there in an effort to hurt the country and Republican policies hurt the country.

Thursday, September 3, 2009 (10 comments)

Who Opposes American Manufacturing? Why do conservatives want to send our factories - and jobs - out of the country? Is it because they are receiving foreign funding?
Friday, November 28, 2014 (1 comments)

With Election Over, First Order Of Business Is $450B Corporate Tax Break The election is over. Congress is back in Washington. The first order of business after the election is to give big tax breaks to the corporations -- $450 billion worth. Fortunately, President Obama is trying to do something about this. He says he will veto this deal if it reaches his desk.
Saturday, August 20, 2016 (3 comments)

Is Making Corporations Pay Wages "Burdensome Government Regulation?" The Civil War and the Emancipation Proclamation established that employers in the United States have to pay wages. Conservatives have been fighting this ever since. The same Republican anti-worker complaint that "burdensome regulations" are hurting businesses applies to rules requiring employers to pay overtime, stop stealing tips, classifying workers as "independent contractors" and other forms of wage theft.
Saturday, May 14, 2016 (2 comments)

Is This The Return Of U.S. "Gunboat Diplomacy" Serving Corporations? Has the "Swiss" firm Novartis becomes the 21st-century version of United Fruit and ITT? At least they were "American" companies. This time the U.S. appears to be engaging in gunboat diplomacy in support of multinational corporations in general.

Friday, July 1, 2011 (6 comments)

The Not-So-Loyal Opposition ...it is looking more and more like Republicans are deliberately sabotaging efforts to recover the economy and create jobs, as a strategy to turn voters against President Obama in the coming elections.
Wednesday, August 20, 2014 (4 comments)

GOP Vows To Dismantle Or Shut Down Government If They Win Senate This is the Republican agenda, should they take the Senate. If the President tries to stop their effort to dismantle the government they will resort to their time-tested fall back position: just shut down the government. And, of course, blame anyone but themselves.
Tuesday, December 1, 2015

How The Clinton and Sanders Infrastructure Plans Measure Up Hillary Clinton's $275 billion infrastructure proposal appears to be some sort of signal to voters that she is to the right of and perhaps less "scary" than Sanders. But it is also a recipe for little, if any, incremental improvement at a time when the people and the country clearly need transformative reform.
Tuesday, May 12, 2015 (3 comments)

Fast Track Train Off Rails -- For Now Democrats in the U.S. Senate were able to successfully block the trade promotion authority "fast track" bill using a filibuster today. This is a very big setback for the pro-Trans-Pacific Partnership (TPP) forces, but is not a final defeat. The final vote was 52-45, with 60 votes needed to break the filibuster and move the bill forward to debate and an up-or-down vote.

Monday, May 4, 2015

Fast Track Bill Vote In Senate: Winter Is Coming How do you get a trade bill that sends jobs out of the country so that companies here can break unions, force wages down and trim benefits in order for a few already-wealthy executives and investors (Wall Street) to pocket the difference? The answer is to rig the rules of the game in advance. Fast track is that strategy.
Saturday, July 30, 2016 (2 comments)

Latest Senate Food Workers Victory Highlights Perils of Privatization Beyond impoverishing workers with low wages, there are even worse ways private corporate contractors "save money," such as cutting service, cutting quality, cutting corners, fighting unionization -- all of which hurt the public that is supposed to be served. Plus, because it is "run like a business," contracting corporations cut some of those corners by doing things like committing outright wage theft.
Sunday, April 19, 2015

Why CAF Is Opposing And Marching Against Fast-Track Trade Legislation Fast Track is part of a process that rigs our democracy and the global economy, resulting in trade deals that are written to benefit billionaires and giant multinational corporations at the expense of 99 percent of us. The flawed trade deals coming out of this rigged process have resulted in enormous and continuing trade deficits that drain our economy of jobs, devastate our communities and increase inequality.

Saturday, September 20, 2008 (4 comments)

THROW Them Out Don't Bail Them Out Everything I have read about this massive bailout proposal sounds like they're going to try to treat the symptoms of a sick and failed system instead of the causes and instead of reforming or replacing the failed system itself. Nothing I have heard addresses the CAUSES of the problems! I say THROW the system out and start building one that WORKS for US, don't bail the failed, corrupt system out.
Saturday, February 13, 2016 (22 comments)

Is Bernie Sanders Promising "Free Stuff" To Buy Votes? Conservatives claim that Sanders is trying to "buy votes" when he tells people they can have "free stuff" like free college tuition. But in a democracy, what does this mean? Politicians don't "give" things to the public; the public votes for representatives who are supposed to do what the public wants.

Thursday, November 25, 2010 (2 comments)

3 Things You Can Do to Keep the Deficit Fearmongers From Looting Social Security This is full-on Shock Doctrine, wait for an emergency like the terrible recession so people are in shock and want solutions, and then change everything so fast they can't respond while telling them how this is good for them.
Friday, April 24, 2015 (1 comments)

A "Path To Yes" On Trade, But Paul Ryan Blocks It Trade can work for all stakeholders and can be a tool to lift general prosperity, democracy, environmental protection and the general welfare on all sides of trade borders. But to do that would require beginning with a process that has those stakeholders at the table, with those issues as the objectives of the negotiations.
Sunday, September 13, 2015 (5 comments)

TPP Terms Are Even Worse For U.S. Than NAFTA? So how is this "renegotiation of NAFTA" going? TPP is secret, but we do know some things from leaks and the things we are learning are not good at all. For example, it appears that the U.S. auto and auto parts industry -- and the workers in those industries -- will be hit hard. NAFTA hit us hard; now it looks like TPP will hit us much, much harder.
Monday, August 24, 2015

The Democrat/Republican Presidential Candidate Divide On Social Security Democrats generally have a "we are all in this together" and "it takes a village" approach to taking care of each other, which includes the elderly. Republicans have a very different "each of us on our own" approach to society.

Sunday, August 1, 2010 (2 comments)

The Strengthen Social Security Campaign A coalition of 60 organizations has formed to fight the latest attempt to kill Social Security.
Saturday, August 27, 2016 (7 comments)

Groups Ask Clinton For "Unequivocal Statement" On Lame-Duck TPP Vote A number of progressive, labor and environmental groups sent a public letter to Clinton urging her "to make a clear, public, and unequivocal statement opposing any vote on the disastrous Trans-Pacific Partnership (TPP) in the post-election, 'lame-duck' session of Congress."
Thursday, July 23, 2015

Oak Flat: The Latest Land Grab From Native Americans On page 1,103 of the 1,648-page bill is a provision giving more than 2400 acres of land in Arizona's Tonto National Forest to Resolution Copper, which is part of London-based Rio Tinto and Melbourn-based BHP Billiton, giant mining companies. This was done by Arizona Republican Senators John McCain and Jeff Flake and Arizona Republican Rep. Paul Gosar.
Friday, October 23, 2015 (3 comments)

The Water Is Boiling Now And The Frog Doesn't Know It The gerrymandered-into-office Republican Congress is completely dysfunctional for governing, and instead of addressing the country's problems we got this: An 11-hour long hearing asking a former first lady, senator and Secretary of State, "Were you alone all night?" Republicans have fallen SO FAR down into a hole of their own propaganda machine that reality is lost completely for them.
Wednesday, March 28, 2012 (1 comments)

The Republican Budget is for Billionaires Behind a blizzard of fog and mirrors, the new Republican budget completes the ongoing shift of our government and our economy away from "we are in this together" democracy to a "you are on your own" system that is entirely for the benefit of a few at the top.
Saturday, July 16, 2016

Is TPP Really Dead? Don't Bet On It Those in the public who are aware of TPP and what it contains are opposed. It would be an insult to democracy to go ahead and hold a vote on TPP after the election, but before the new president and Congress are sworn in. But that never stopped Wall Street, the giant corporations and our paid-off elites before.

Thursday, November 4, 2010

A Look at the Military Budget through Social Security Eyes Republicans don't want to pay for Social Security because they are too busy getting rich on wars. Just think how many wars they could have with the trillions in the Social Security trust fund!

Saturday, July 2, 2016 (2 comments)

Exposing Trump's Trade Appeal To Working-Class Voters For What It Is Democrats must get this right. They have to stand up for working people and demand that our trade policies start helping people instead of hurting them. That starts with Clinton demanding that the president withdraw TPP from consideration by Congress. This is the best way to show the public that she is on their side.
Wednesday, September 14, 2016

Wednesday Is National Call-In Day To Stop the TPP Lobbyists, giant corporations and the president are twisting arms in Congress to round up votes to pass TPP after the election. But, stopping TPP is "entirely doable." Americans are furious about the influence corporations have over governments and the decisions that shape our daily lives -- and the TPP is a horrifying example of corporate influence gone wrong.
Thursday, December 18, 2014 (2 comments)

Trade Deal Promises vs. Realities Again and again we are promised jobs and economy gains from trade deals. Instead we get job losses and trade deficits. Next year the giant multinationals are going to try to sell us another trade deal by promising jobs and prosperity. And they're going to push fast track to grease the skids to get it passed.
Thursday, August 4, 2016 (1 comments)

Don't Be Fooled. TPP Is Still Very Much Alive. Help Kill It For Good We all need to stay aware, we need to stay organized and we need to understand that TPP isn't dead until it's actually dead. But we can win this. If we can keep TPP from coming up for a vote in the unaccountable lame-duck session of Congress that follows the election, it is unlikely to survive.
Monday, April 20, 2015

A Look At The Fast Track Bill Shows It's The Wrong Thing To Do We don't yet know what is in TPP because it is still secret and will remain so until shortly before the fast track process requires Congress to vote. The President says to trust him, it will be great and "progressive" and create lots of jobs and expand the economy. Great. But the history on our trade deals has been very bad -- especially those passed using fast track.
Wednesday, August 12, 2015 (2 comments)

What China's Currency Devaluation Means China has used currency manipulation as a form of subsidy for exports to cause things made there to cost less in world markets than things made elsewhere. China exports more and more; other countries are forced to import more and more. The resulting imbalance has thrown the world's economy out of whack, including causing massive job losses in the U.S.
Tuesday, September 6, 2016

Major Consumer Organizations Announce TPP Opposition Consumers Union, the advocacy arm of Consumer Reports, and the Consumer Federation of America, a coalition of 250 U.S. consumer organizations, both announced on Tuesday their opposition to the Trans-Pacific Partnership (TPP). The organizations sent joint letters to the House and the Senate.
Friday, June 12, 2015

A Look At The "Trade" Votes That Will Happen Today In the House After the TAA vote comes the fast-track TPA vote. If the fast-track process is approved, Congress will not be able to amend the TPP, whatever ends up being in it. Congress would be allowing itself only limited debate and would have to give it an up-or-down vote within a very limited timeframe, with no filibusters.
Monday, May 9, 2016 (5 comments)

Clinton Commits: No TPP, Fundamentally Rethink Trade Policies Hillary's position is now clearly on the side of those opposing not just TPP but the way our trade agreements have been used to move jobs out of the country, drive down wages and break what power working people once had in the economy. She has not left herself wiggle room on a TPP vote.
Tuesday, January 27, 2015

Protests As Trans-Pacific Partnership Talks Resume In New York TPP is a huge "trade" agreement, which will set the rules for 40 percent of the world's economy. It is being negotiated in secret. Corporate representatives are part of the process, stakeholders like environmental, consumer, labor, democracy, health and other groups are excluded from the negotiations.
Thursday, October 23, 2014 (7 comments)

Does Democracy Let "The Poor" Dominate? Many Republicans say that democracy makes people "dependent on government." The idea is that people (minorities in particular) are "takers" who vote for politicians who "give them free stuff" that the "makers" have to pay for. The poor are a "mob" of "takers" who will vote "goodies for themselves" and therefore need to be controlled and suppressed for their own good.
Friday, December 2, 2016 (1 comments)

Tea Leaf Reading Forecasts A Coming Assault On Working People This is not quite the crowd you would think would usher in a new age of good jobs with good wages and benefits for working people. The tea leaves -- and that's all we have from this already-secretive administration -- are telling us that things are going to be very, very bad for America's workers under a Donald "wages are too high" Trump administration.
Wednesday, September 30, 2015

You Knew The TPP Was Bad. But Here's How It Gets Even Worse Even if they exclude tobacco corporations from TPP, what about all the other things that corporations do that harm people and the environment, rip people off, use monopoly power to squeeze us, force our pay and benefits down and all the rest? The arguments over whether to exclude tobacco companies only tell us how bad this agreement will be for us.
Monday, January 4, 2016 (5 comments)

Debate Schedule Is Allowing GOP To Frame Election Narrative The last Democratic presidential debate was buried on a Saturday night up against the opening of Star Wars. It drew a fraction of earlier Republican debate audiences -- and even of the earlier Democratic debates. The next debate is scheduled, astonishingly, on a Sunday night, January 17, the middle day of a three-day weekend. But just in case that might still draw an audience, it is also up against NFL playoff games.
Tuesday, July 6, 2010

If You Feed Them They Breed -- And Other Dehumanizing Conservative Idiocy We Should Ignore The heartless stupidities of Republicans know no limits with their position that if you help someone down on their luck it makes them enjoy being down on their luck.

Saturday, October 15, 2016 (1 comments)

Sen. Warren Call For Removal Of SEC Chair For Refusing To Do Her Job Warren is right to ask for White's removal as chair. President Obama can give the country a parting gift by making an example of White, and perhaps other moves to finally regulate Wall Street. Perhaps even a prosecution or two of the executives at that bank that defrauded 2 million customers by opening unwanted accounts and charging fees?
Friday, July 8, 2016 (1 comments)

TPP In Democratic Party Platform Is A "Whose Side Are You On?" Moment It is clearly time for Democrats to decide and declare whether they are on the side of working people and the American middle class, or on the side of Wall Street, giant multinational corporations, the Chamber of Commerce and other corporate lobbying interests. The Democratic Party should go on the record and oppose the TPP.
Saturday, May 3, 2014 (8 comments)

Benghazi WTF? Speaker Boehner is setting up a Spanish inquisition special committee to "investigate" and deliver anti-Obama conclusions just in time for the election. Boehner said the committee will look into why the administration is "obstructing the truth about Benghazi."
Tuesday, May 17, 2016

This Week Is Infrastructure Week, But Every Week Should Be The Republican Party is ideologically locked into anti-tax, anti-spending and general anti-government policies. are committed to obstructing anything they consider to be "government spending" regardless of what it is for. (Unless, of course, it is for military adventures.) They say infrastructure money is really just "pandering to unions" or a "union bailout" or a "union payoff."
Thursday, November 26, 2015 (1 comments)

Now Vietnam Thumbs Nose At TPP's Unenforceable Labor Provisions TPP has special provisions for enforcement of provisions that benefit corporations, while the already weak labor, environmental and other provisions that protect other "stakeholders" get no special enforcement mechanisms. Corporations can bring their own cases to a special corporate court that sits above governments, where corporate attorneys adjudicate.
Monday, June 27, 2016 (2 comments)

Democratic Party Platform Committee Undermines Clinton On TPP It is hard to understand why Clinton supporters are blocking efforts to fight the TPP agreement. This hands the issue to Trump and reinforces his position that Clinton is only "pretending" to oppose the agreement. It appears that the party elite just don't understand the public's overwhelming opposition to TPP.
Tuesday, November 22, 2016 (1 comments)

Trump's Infrastructure "Plan" Is Really Just A Privatization Scam Trump's plan does not call for public investment in public infrastructure, nor does it call for hiring local construction companies using American suppliers and creating jobs for American union workers. Trump's plan is for the government to spend money giving tax breaks to giant, multinational corporations and calling it infrastructure investment.
Tuesday, December 9, 2014 (5 comments)

Trans-Pacific Trade Talks Resume With Almost No Media Coverage TPP is a massive agreement that sets up new rules for over 40 percent of the global economy. It will have profound effects on our jobs, our standard of living now and in the future and our ability to make a living as a country. Oddly, though, as of Monday morning you have to read about it in Japan Times because few-to-no U.S. media outlets are covering it.
Saturday, January 31, 2015 (1 comments)

Stop The Paul-Boxer Tax Holiday; It May Already Be A Job-Killer Congress gave corporations a repatriation tax holiday in 2004. The results were a disaster for the economy. Even worse, the previous tax holiday is the reason so many companies now move jobs and factories and profit centers out of the U.S. They do this to hide profits offshore, waiting for the next tax holiday. This currently costs the country jobs, factories -- and up to $700 billion in taxes due.
Friday, August 21, 2015 (2 comments)

Trump: Don't Make Corporations Pay Their Taxes we know why Republicans are always, always saying we need to cut taxes, cut government, cut wages, cut environmental protections, cut worker-safety protections, cut health inspections, cut programs for the elderly, cut services for the mentally disabled, cut every damn thing that makes lives better for We the People. "Because they don't want to pay the tax."

Sunday, November 7, 2010 (2 comments)

Tea Party Betrayed Already? Now that the election is over, we're all just waiting for what we think is coming, and asking: What will Tea Party members do when their politicians betray them?

Thursday, September 1, 2016 (2 comments)

BuzzFeed Exposes Corporate "Super Courts" That Can Overrule Government Corporations are pushing two new "trade" agreements -- one covering Pacific-area countries and one covering Atlantic-area countries -- that expand these corporate rights and move governments out of their way. The Pacific agreement is called the Trans-Pacific Partnership (TPP) and the Atlantic one is called the Trans-Atlantic Trade and Investment Partnership (TTIP).
Wednesday, July 8, 2015 (1 comments)

Enormous, Humongous May Trade Deficit Slows Economy The U.S. dollar is "strong" which means that things made in the U.S. cost more in international markets than things made in countries with "weak" currencies. A strong dollar is great for those who already have money and want to buy things like imports, but terrible for those who need to make money by selling things.
Thursday, October 22, 2015

Demands Increase For Investigating Exxon's Funding Of Climate Denial Look into almost any organization (or political party) promoting "limited government" and complaining about "burdensome government regulation" and you will find oil money. This is not ideology; this is corruption. This is giant corporations trying to keep the government from doing something about their dangerous, destructive products.
Saturday, October 29, 2016 (1 comments)

TPP "Partner" Jails Human Rights Blogger TPP advocates try to manufacture consent by telling us that the deal will improve human rights, labor rights and environmental protections. They also tell us it will bring jobs. Because that's what people want to hear. But it is not what will happen.
Friday, May 24, 2013 (6 comments)

Let's Tell Multinational Corporations To Just Pay Their Taxes Companies want a break letting them pay much lower taxes than they already owe to reward then for keeping the money out of the country away from their own shareholders! On top of that they want something called a "Territorial Tax" that lets them do this from now on with no taxes at all!
Thursday, June 18, 2015 (3 comments)

They Are Trying To Sneak Fast Track Past Us Again It looks like they are trying again, scheduling another vote without giving the pubic time to see what is going on. If this passes, they are pre-approving the secret Trans-Pacific Partnership (TPP) and future trade deals before We the People even know what is in them.
Wednesday, June 24, 2015 (2 comments)

Wall Street And Big Corporations Got What They Wanted -- This Time This wasn't just the corporations slipping something past the public with no regard to what the public wants; this was about pushing it through with the public engaged in opposition. Old corrupt system: sneaking it through; new corrupt system: pushing it through.
Friday, March 18, 2016 (3 comments)

Has The Election Finally Killed TPP And Corporate "Free Trade"? Politicians might say they oppose free trade in the campaign but turn around and help the big corporations at voters' expense after the election. His focus on fixing trade is one reason Donald Trump is doing so well and might clinch the Republican nomination. If Clinton becomes the Democratic nominee, she is going to need to do a better job proving to voters that she really means what she is saying about trade.
Wednesday, August 3, 2016

A Look At Clinton And Trump's Promises To Spend To Boost Economy Clinton's plan focuses on infrastructure and manufacturing, with a side dish of changing the way we do trade deals and ramping up enforcement of existing deals. Trump's plan focuses on undoing trade deals and applying tariffs, giving tax breaks to the wealthy and corporations, with a side dish of promises to improve infrastructure.

Tuesday, January 3, 2017

Trump Nominates Non-Free-Trader Robert Lighthizer to Trade Office Trumps appointments have been sending mixed signals and Trump has been giving the public very little information on what to expect from his administration (and refusing to hold press conferences). But at least so far his trade appointments give the appearance of lining up with his campaign promises.
Tuesday, November 24, 2015

Pfizer Buying Allergan So It Can Pretend To Be Irish In Tax Scam this deal is structured as an "inversion" designed to dodge U.S. taxes. Allergan (itself the product of a similar inversion) is headquartered in New Jersey but for tax reasons is incorporated in Ireland -- a tax haven. After the acquisition, Pfizer will keep its headquarters in New York but change its corporate address to Ireland.
Tuesday, August 25, 2015

Under Pressure To Finish TPP, Are They Giving Away More Jobs? To get TPP secured for the giant multinational corporations and their near-monopolies in certain areas the U.S. appears to have made a deal with Japan that guts American, Mexican and Canadian auto-parts industries. How many American jobs, factories, companies and industries will fall victim to this TPP rush job?
Monday, December 1, 2014 (8 comments)

Is The Democratic Party Relevant Anymore? Corporate, neo-liberal policies came to dominate our economy. "Free trade," anti-union, monopolistic anti-democracy policies have killed wage growth and government programs for regular, working people and regular, working people have responded by turning away from the party that was supposed to be watching out for them.
Monday, June 1, 2015

All Hands On Deck: House Fast Track Vote Expected This Week The problem here is that these deals are put together using a rigged negotiating process. Our trade negotiators tend to come out of giant, multinational corporations -- particularly from Wall Street -- and tend to return to them. The 600 "advisers" on the TPP are dominated by corporate representatives.
Tuesday, October 21, 2014 (3 comments)

Republicans Will Pass Worse NAFTA-Like Trade Deals If They Take Senate These "trade" deals will, if passed by Congress and signed by the president, cement a corporate right to profits above the rights of citizens to pass laws to protect our health, environment, wages, working conditions and anything else we might decide to do to make our lives better. These trade agreements place corporate rights above national sovereignty, and they do this behind a veil of secrecy.
Tuesday, August 23, 2016

Rock Against TPP Drawing Large Crowds The Trans-Pacific Partnership (TPP) is revving up for a vote in the "lame duck" session of Congress that follows the election, and the Rock Against the TPP Concert Tour is drawing large crowds. Awareness of TPP drives opposition, and Rock Against the TPP is doing its part to drive awareness.

Wednesday, November 9, 2016 (1 comments)

The Damage From Free Trade Helped Elect Trump Pick a former manufacturing area, and look at how that area voted in Tuesday's election. Key "swing" states like Pennsylvania, Ohio, Michigan and Wisconsin were hit hard by deindustrialization and little to nothing was done to help the people there. And they voted for Donald Trump because he promised to "fix" it.
Sunday, February 8, 2015 (3 comments)

A Comment On Public Investment, Jobs And Dreams We got here by cutting taxes for the rich, gutting government, deferring maintenance, and letting a few billionaires harvest our public wealth through privatization, etc. We'll get out of it by fixing the trade deficit, repairing our infrastructure, undoing policy mistakes that have continued since the Reagan era, and ending "trickle down" tax cuts.
Saturday, May 31, 2014 (8 comments)

Republican Strategy: Obstruct, Blame Democrats For Obstruction Republican strategy is to set the stage for the election by obstructing everything that could help the economy get better, as well as anything that might make our lives better. They understand that they just will not be held accountable for their obstruction. Then they campaign against Democrats because things are not getting better.
Tuesday, January 26, 2016 (4 comments)

What To Watch For Next In The Fight Against The TPP Corporate lobbyists might frame TPP as "a chance for U.S. companies to sell more goods abroad" because they have to say that in public. What they really mean is that TPP will encourage them to lay off even more U.S. workers, close even more U.S. factories and move even more production to countries with near-slave-labor conditions and no costly protections for the environment.
Saturday, September 20, 2014 (4 comments)

Full Employment Is More Than Possible. It Is Essential It is time to demand that our government create full employment. We were able to fight back against Social Security cuts. We were able to fight back against tax cuts for the rich and their corporations. We were able to fight for gay marriage and LGBT rights. We are fighting them on climate. We are fighting for women's pay and health. It is time to demand full employment, too.
Wednesday, November 25, 2015 (1 comments)

What Your Right-Wing Brother-In-Law Might Say Thursday This week you're heading home to spend quality time with your family. Of course, your right-wing brother-in-law (RWBIL) is going to be there, spouting off quotes from Trump and Rush and fully Foxified. Actual facts will not be present at this table and would not penetrate the Drudge-shield if they were, but conspiracy theories will abound. Brace yourself.
Tuesday, February 23, 2016 (17 comments)

The Sanders "Economic Plan" Controversy Our economy is currently resisting treacherous global economic conditions and those conditions, if anything, could plausibly argue for the U.S. to accelerate against the global headwinds to prevent us from joining other countries in an economic spiral downward. In fact, it is in the interest of the rest of the world for the U.S. to play this role. And that is exactly what Sanders' proposals do.
Friday, June 10, 2016 (4 comments)

Obama Endorses Clinton, Then Undermines Her On TPP The President's push for TPP undermines Democratic presumptive nominee Hillary Clinton's campaign. Clinton is opposed to the TPP, and opposed to bringing the TPP up for a vote in the "lame duck" congressional session that follows the election. And voters are certainly opposed as well.
Wednesday, June 10, 2015 (1 comments)

Last Chance For Clinton On Fast Track Clinton is making a political calculation, trying to stay on the fence between the donor/corporate/elite class and the "base" of working people and progressives trying to do something about the terrible inequality that is killing the middle class and our democracy. But this is an either/or line. You can't be on both sides of this dividing line.
Thursday, January 28, 2016 (2 comments)

Ford Leaves Japan and Indonesia, Blames the TPP Ford Motor Company announced this week that it will close all operations in Japan and Indonesia this year, because it sees "no reasonable path to profitability." Last year GM pulled out of Indonesia. What does it say that they are doing this with the Trans-Pacific Partnership (TPP) on the horizon?
Monday, February 23, 2015 (1 comments)

Protests This Week In Madison Against Surprise New Anti-Worker Laws Right-to-work laws require unions to represent all workers covered by a union contract, but lets those workers opt out of paying dues to the union. The idea is to weaken or even bankrupt the union. The union is required by the contract to provide services to the workers, including rent and employees for the union office, representation in disciplinary hearings and contract negotiators.

Thursday, March 19, 2009 (3 comments)

Stop Corporate Lobbying With Taxpayer Money Taxpayer dollars should not be used to influence our government. We, the People should be telling them what to do, not the other way around.
Tuesday, June 30, 2015 (1 comments)

In Tax Battles, "Competitiveness" Means Coercion We need money to maintain our infrastructure. Some of our elected officials, in their great (corporate-bought) wisdom, are suggesting that we give these companies "incentives" to "bring back" the profits with a "tax holiday" -- meaning let them pay a much lower (or no) rate.
Thursday, August 11, 2016 (3 comments)

Clinton Should Tell Obama To Withdraw TPP To Save Her Presidency Imagine if TPP does come up for a vote in the lame-duck session and passes. The public, particularly progressives, will certainly feel betrayed. It will also bolster the opposition, who will say, "I told you so" because of Trump's predictions of a betrayal on TPP. If that happens, it won't matter that Clinton has said she opposes TPP. People will feel she just said it to get votes.
Tuesday, June 16, 2015 (3 comments)

Sea Change: Citizens Beat Wall Street And Multinationals In Congress We have turned a corner. We stopped fast track (for now). Now that people are catching on, Wall Street and the CEOs will have to find another way around democracy to fast-track agreements that let them ship factories and jobs out of the country, weakening our economy and democracy.
Thursday, November 28, 2013

Food Stamps Cut Just In Time For Thanksgiving Food Stamps don't go to lazy "able-bodied" minorities who refuse to work. According to Feeding America, "76% of SNAP households included a child, an elderly person, or a disabled person. These vulnerable households receive 83% of all SNAP benefits."
Friday, December 20, 2013 (6 comments)

The Other Side Of Health Care Scare Stories Up to 129 million Americans with pre-existing conditions -- including up to 17 million children --will no longer have to worry about being denied health coverage or charged higher premiums because of their health status. Approximately 60 million Americans have gained expanded mental health and substance use disorder benefits and/or federal parity protections.
Tuesday, May 3, 2016 (4 comments)

Indiana's Carrier Factory Cuts Focused The "Trade" Election Issue The layoffs at the Indianapolis Carrier air conditioner factory have focused many people's feelings about our disastrous "trade" agreements that enable, even encourage, companies to move jobs and factories out of the country so that executives and Wall Street can pocket the wage and environmental-cost differential for themselves.
Saturday, September 26, 2015 (2 comments)

Jeb! Sticks Foot In It -- Again Jeb says the Pope should shut up because he isn't a scientist. He uses the stock phrase without checking if the Pope might actually be a scientist. He sets up the Pope's appeal to stop worshiping money, bring scammers and polluters under control and elevate people by proposing to unleash money and corporations on the people.

Tuesday, October 4, 2016

Corporate Tax "Shell Game" Report: $718 Billion Of Corporate Tax-Dodging "Multinational corporations' use of tax havens allows them to avoid an estimated $100 billion in federal income taxes each year," says a new report just released by Citizens for Tax Justice (CTJ), Institute on Taxation and Economic Policy (ITEP) and U.S. Public Interest Research Group Education Fund (U.S. PIRG). Congress -- for obviou$ rea$on$ -- refuses to stop this "deferral" loophole.
Tuesday, April 26, 2016

Warning: TPP Rearing Its Ugly Head They understand that the voters hate TPP, but the giant corporations want it, so they will try to push a vote after the election to "protect" politicians from the voters. And what the Chamber of Commerce "expects" of Congress usually happens.

Thursday, July 21, 2016 (3 comments)

Is Trump Changing His Tune On Trade? Hillary Clinton continues to state her opposition to TPP, a position she came to from seeing the positive reception Bernie Sanders received on this. On July 12, on stage with Sanders in New Hampshire, Clinton repeated her opposition to TPP, saying, "[W]e're going to say no to attacks on working families and no to bad trade deals and unfair trade practices, including the Trans-Pacific Partnership."
Friday, May 6, 2016

Korea Trade Data Shows The Potential For The TPP To Do Real Damage "Free trade" is not about "trade" at all. It is about Wall Street shareholders moving jobs out of the US to places where workers are exploited and governments let companies pollute. The countries where we send the jobs and factories do not "trade" with us. It is entirely about "lowering costs" so the workers there do not make enough to buy things made here.
Wednesday, May 25, 2016 (1 comments)

Republicans Demand Flint-Like Solution To Puerto Rico Debt Setting aside democratically elected governments and putting an unelected commission in charge sets a terrible precedent for Republican control in U.S. cities and states. The Republican state government did this in Michigan, setting up the Flint disaster. Now they are taking away self-government in Puerto Rico.
Wednesday, November 16, 2016 (1 comments)

TPP Is Dead. What Did We Learn From This Great Progressive Victory? We must insist that labor, environmental, consumer, LGBT, human rights, health and other "stakeholder" groups from each country have a seat at the table along with business interests. We must insist that it be demonstrated how any benefits outweigh costs.
Wednesday, September 17, 2014 (2 comments)

Senate Republicans Filibuster Equal Pay For Women (Again) To sum up, the Paycheck Fairness Act would put in place measures to ensure that women will be paid the same as men if they do the same work. The vote was 52-40 in favor, but it was killed because it was filibustered by Republicans. Among the few outlets that even bothered to report that the bill was before the Senate, few reported that there was a Republican filibuster to kill the effort.
Thursday, March 2, 2017 (8 comments)

Stop Trump's Privatization Agenda "Privatization" means taking public wealth and assets that benefit us all, and turning them over to the private sector, where only a few reap the reward. When you "privatize" a road or a bridge, people have to pay a toll to use it, so the new "owners" of the road can make a profit.
Saturday, October 25, 2014

David Brooks' Infrastructure Column Makes You Say "Oh My God!" Whenever people like David Brooks use their top perch among those who form America's opinions to inaccurately claim that "both parties" and "the political class" are failing to deliver essential government functions, not only are readers left poorly informed. They are left less able to apply pressure to their elected officials how and where it is needed.

Friday, March 2, 2012 (17 comments)

Free Trade or Democracy, Can't Have Both All forms of totalitarian governments, whether they emerge from socialism or capitalism, the left or the right, are irreconcilable to Democracy. China, with corporate America's support, is currently the best example of why.

Thursday, March 29, 2012

Every Progressive Should Know About The "Budget For All" The Congressional Progressive Caucus has put together a "Budget for All" that makes no cuts to Medicare, Medicaid, and Social Security benefits, and asks those who have benefited most from our economy to pay a sensible share. Every American should know about this budget. But the corporate news media sure isn't going to tell people.
Friday, July 17, 2015 (1 comments)

Student Loan Debt Will Be A Huge 2016 Campaign Issue While student debt can be as large as many mortgages, the lenders do not have to meet the same standards as other lenders. So a lot of people have been lured into a crushing debt situation by predatory lenders to pay for predatory "schools."
Saturday, March 26, 2016 (4 comments)

So MANY Op-Eds Pushing Corporate "Free Trade" Candidates should start "talking about" making a service-based economy "work for workers." With talk like that, no wonder voters are fed up with America's corporate-favoring trade policies that sending our jobs, wages and ability to make things -- including a decent living -- out of the country.
Wednesday, August 17, 2016 (1 comments)

New Clinton Transition Head Has Some TPP 'Splainin To Do Former Colorado Sen. Ken Salazar has been an outspoken supporter of the Trans-Pacific Partnership and works for a firm that lobbied for trade policy issues. Salazar was also a member of the pro-TPP corporate front-group "Progressive Coalition for American Jobs." Someone needs to ask Salazar and Clinton to explain what this says about Clinton's support/opposition to a lame-duck vote on TPP.
Friday, October 14, 2016

Small Businesses Speak Out Against Donald Trump's Tax Plan Donald Trump wants to dramatically cut taxes for the already-wealthy and their giant corporations. This would starve local communities of resources like teachers and infrastructure, while stacking the deck further against smaller, local businesses.
Thursday, April 24, 2014 (2 comments)

Democrats Who Move Right Lose Elections -- There Is No "Center" Polling shows that many "independents" are to the left of Democrats and many others are to the right of Republicans. They are not "in the middle" or "between" but rather are more likely to stay home and not vote for candidates who move "to the middle." Those independents to the right of Republicans are not going to vote for Democrats no matter how far "to the right" the Democratic candidate goes.
Thursday, April 3, 2014 (1 comments)

11 Ways The Ryan Budget Goes Against What Public Wants The new Ryan/Republican budget is out. It cuts $5.1 trillion from spending over 10 years on things that make our lives better, while reducing taxes on the wealthy and giant corporations, and increasing military spending by $483 billion over the same period. (Note that cutting things like health care actually just shifts the costs, because people still get sick.)
Tuesday, June 21, 2016 (2 comments)

Pounding On This Again, Begging For Infrastructure Investment There is no "cost" to the economy from fixing the infrastructure. With low interest rates, government gets the money to do it for free. The resulting economic and energy efficiency pays for it, and we all share in the increased prosperity. Not to mention all of the people who would be put to work doing the construction and maintenance, and all suppliers who would be getting a boost from the orders for supplies and parts.
Tuesday, December 23, 2014 (1 comments)

Holiday Bright Spots For Progressives Voters agree with Democrats on most issues. When you word the questions fairly, people want government to fight for them, raise wages, provide a good retirement, protect the environment, make workplaces safe and other items on the progressive policy agenda. They want Social Security expanded. They want help for the less fortunate.

Thursday, May 19, 2011 (2 comments)

See WHY Austerity Can't Reduce The Deficit Austerity -- cutting government benefits and services -- is not the path to fixing deficits. In fact, economists warn that trying to fix a sluggish economy by cutting government spending will just make things worse. Worse yet, this approach can have damaging effects that last into the future.
Thursday, September 29, 2016

The Missed Opportunity On Trade -- And What We Must Do Next The word "trade" has come to mean one thing in discussions about our current economy: moving American jobs to low-wage countries so investors and executives can pocket the wage differential while also using threats to move even more jobs as a mechanism to drive down wages inside this country. And the trade deals have been exposed as a mechanism for increasing corporate over government's ability to regulate.

Wednesday, December 23, 2015 (2 comments)

The Country Is Moving Left The polls show that the public supports the progressive position on many, many issues. Money in politics, education, trade, inequality, Social Security and Medicare, taking on the big banks -- you name it, across the board the public sees things the way progressives, not conservatives and their corporate/billionaire funders do.
Monday, January 9, 2017 (2 comments)

Postal Service Drops Staples Privatization Effort The Postal Service's experimental "pilot program" in privatizing the retail end of the USPS using Staples outlets has failed and ended. The "Grand Alliance to Save Our Postal Service" has forced the USPS to back off from partnering with Staples in their effort to privatize and undermine the wages and jobs of USPS employees.
Saturday, August 3, 2013 (2 comments)

Republicans Choose (More) Vacation Over Governing This week was put up or shut up time for Republicans. After decades demanding unspecified budget cuts they finally had to put their vote where their budget outline was. So what did they do? They are taking a 40th vote on repealing Obamacare and then heading home for five weeks vacation. This is who they are.
Monday, August 9, 2010 (1 comments)

Tax Cuts Are Theft Tax cuts are theft because they break a long-standing contract. The American Social Contract: We, the People built our democracy and the empowerment and protections it bestows. We built the infrastructure, schools and all of the public structures, laws, courts, monetary system, etc. that enable enterprise to prosper. That prosperity is the bounty of our democracy and by contract it is supposed to be shared and reinvested.
Saturday, March 12, 2016 (1 comments)

GOP Debate: Setting The Record Straight On Social Security The Social Security Trust Fund will increase to approximately $2.9 trillion at the end of 2019. Then it begins to draw on this fund and there is a potential funding shortfall in about 20 years. If nothing is changed the program would be forced to pay a bit less out to recipients. There are many proposals for fixing this, most do not involve future cuts in benefits.
Tuesday, March 14, 2017 (2 comments)

Should We Pay the Rich to Build Infrastructure, Then Pay Them to Use It? Trump's plan is to have We the People pay businesses, through tax breaks, to build infrastructure that they then own. Then they make us pay again through tolls and fees to use the infrastructure we just paid to build, if we want to use it. Nice work, if you're rich enough to get it.
Friday, July 22, 2016 (1 comments)

Ailes Out, Trump In Trump's candidacy is the direct and inevitable consequence of decades of Fox News pumping out its propaganda, hate and outright lies, every single day, conning its audience into supporting the agenda of an elite few.

Monday, November 26, 2012 (7 comments)

Saying 'Fiscal Cliff' Is Taking Sides The very term "fiscal cliff" misinforms and scares people. Some media outlets, like FOX News, exist to misinform and scare people. But responsible media outlets should try to help the public understand complicated issues, not help scare and misinform. Any journalist using the propaganda phrase "fiscal cliff" is taking the side of misinforming and scaring.
Monday, December 14, 2015 (1 comments)

Don't Be Misled; The TPP Is Still Coming Full Steam TPP will just make inequality worse, drive wages down and hurt the country's ability to make a living, among other negative effects. So we have done a lot, but there is a lot still to do. Do not be fooled into thinking that TPP has been delayed. All this means is that it will come back soon and be even worse than it already is.
Saturday, October 22, 2016 (2 comments)

Watch Out For The Coming Corporate Tax-Break Trickery Corporations used to shoulder 32 percent of the total tax burden. It has fallen to only 10 percent of the burden. That is a drop of two-thirds. See if you can guess who pays that two-thirds difference. (Hint: it isn't corporations or their wealthy owners. It is cuts to schools, infrastructure, health care and all the things that used to make our lives better. This is one part of the economic squeeze everyone feels.)
Thursday, September 22, 2016

Republicans "Working The Ref" With War On IRS It is the job of the IRS to look at whether groups applying for nonprofit status are actually political operations in disguise. The IRS' crime was including "conservative" organizations among those checked. (Never mind that groups labeling themselves "conservative" clearly implies they have a political mission.)
Tuesday, January 21, 2014 (2 comments)

8 Phony GOP Solutions for Poverty That Will Only Bring More Economic Pain On the 50th anniversary of the war on poverty, Republicans are whipping out "compassionate conservatism" again, in an attempt to rebrand themselves as something other than the harsh, anti-poor, anti-women, anti-minority, anti-gay, anti-everything wingnuts they have been showing us they are.
Friday, January 23, 2015 (1 comments)

Environmental Groups Denounce Fast Track Trade Process Trade negotiations are conducted in secret. Corporate representatives are part of the process, and the negotiators come from or expect to go into the corporate world. Stakeholders like environmental, consumer, labor, democracy, human rights, and other groups are excluded from the process. Once these agreements are finalized, a process known as "fast track" is used to push the agreement through.
Wednesday, June 1, 2016 (1 comments)

Lame Duck TPP Push Hands Trump A Powerful Issue Against Clinton Democrats need to persuade President Obama not to embarrass Clinton, and promise not to bring the TPP before Congress in the lame duck. If he doesn't pull back, Trump and "down-ballot" Republican candidates can rightly use the president's support of TPP as a hammer to pound Democrats.
Tuesday, May 24, 2016 (1 comments)

More Than 1500 Groups Write Congress: No TPP More than 1,500 environmental, labor, faith, consumer, LGBT, health, peace, business, social justice and other public interest organizations representing trade and democracy "stakeholders" sent a joint letter to Congress urging them to reject the Trans-Pacific Partnership (TPP).
Friday, December 16, 2016

"Corruption" Then And Now Media "coverage" of the 2016 campaign was almost entirely devoid of discussion of the important issues. Climate change? Housing policy? Instead it consisted of media coverage of anything Donald Trump said -- including repeatedly giving free time to air entire Trump rallies -- insinuations about the activities of the Clinton Foundation and insinuations that Clinton did something illegal with her emails.
Wednesday, February 5, 2014 (4 comments)

The Latest Lie: "Obamacare Kills 2 Million Jobs" They just lie. How many times have Republicans been caught just lying in an effort to trick the public into supporting their efforts to drive down wages and otherwise push the country's income and wealth from We the People to A Few Wealthy People? When do We the People -- and the supposedly "responsible" media -- say "enough is enough"?
Sunday, November 2, 2014

Tax-Dodging Deal Fails Thanks To Obama's Inversion Rules -- And Us Politicians often don't know about a problem -- never mind fix it -- unless people organize and make their feelings known. When you sign an online petition, send an email and especially donate to a cause, it can make a real difference. In the case of companies "renouncing their citizenship" in order to dodge their taxes, it really did work.
Sunday, June 30, 2013 (2 comments)

Republicans Moving From Obstruction To Outright Sabotage Republicans are moving into outright sabotaging things that government does for people, like the new health-care plan, with election plans to campaign on the failure of government to do things for people. Public knowledge and understanding is to Republicans like garlic is to vampires. Increased public knowledge and understanding get in the way of their agenda.
Saturday, September 19, 2015 (1 comments)

Sanders, Grijalva, Ellison, Rush Introduce Bills Banning Private Prisons Private prisons with a profit incentive to put more and more people in jail? Lobbyists exerting influence against releasing prisoners so their companies can make more money? Contracts requiring governments to imprison a certain number of people for a minimum amount of time? Sentences based on corporate greed? That is where we are as a country.
Wednesday, March 16, 2016 (1 comments)

Here's What Bernie Sanders Will Bring To The Democratic Convention Sanders has significant support from the progressive wing of the Democratic coalition. During the campaign, Clinton claimed she is a progressive. Sanders is in the position to hold her and the party to the substantive meaning of that claim. There are many things Sanders can use his considerable leverage to get for progressives and working people.
Tuesday, April 12, 2016 (1 comments)

Taking On Predatory Payday Lenders In Florida Debbie Wasserman Schultz has accepted tens-of-thousands of dollars in campaign contributions from these predators -- often within weeks of taking official actions to benefit the industry -- and is now working with radical conservatives to help gut the CFPB's efforts to stop the worst abuses of these payday lenders."
Monday, January 5, 2015

Republicans Announce Priority Is To Dance With The Ones That Brung 'Em The Keystone Pipeline will move "up to 830,000 barrels" each day of Canadian tar sands oil to a U.S. port so it can be sold to China and elsewhere. It uses eminent domain to seize land from ranchers, and crosses sacred Native American land. It creates only 35 permanent U.S. jobs.
Thursday, June 2, 2011 (2 comments)

Jobs Fix Deficits If the American Majority is much more concerned about jobs than deficits, will the Republican strategy of making things worse now to make things better for Republicans later really work?
Friday, March 29, 2013 (2 comments)

Surprising Studies Find DC Does What Wealthiest Want, Majority Opposes While politicians act almost exclusively in the interests of the wealthy, many of them believe that the public is behind them. But the public is not behind them, and the wealthy-favoring policies that governments at all levels are enacting are hurting 99% of us, and the economy.

Saturday, August 13, 2016

President Tells Congress TPP Is Coming Their Way. What Will Clinton Do? With Sanders pledging to do everything he can to stop a lame-duck vote on TPP, Clinton's statement of opposition, no matter how strong, will not be seen by TPP opponents as doing enough. At some point she has to break with President Obama and fight Bernie-style to stop it. That requires more than words. She hasn't yet called on Democrats to vote against TPP and didn't call on Obama to withdraw it.

Monday, February 26, 2007 (7 comments)

A Far Too Convenient $mear: Part One They're smearing Al Gore for using electricity - even though he pays extra for solar and wind energy.
Friday, April 8, 2016 (1 comments)

Panama Papers Expose Another Way Our Trade Agreements Fail Us "The silver lining in the Panama Papers scandal is that the world's attention is being focused on a global problem in which the wealthy and powerful act beyond the reach of law, playing by a different set of rules from the rest of us. Supporting legislation that supports more transparency would be a start.
Wednesday, March 29, 2017 (1 comments)

Did You Vote For Unfair Pay and Unsafe Workplaces? This Trump/Republican government does not care if companies that have "a satisfactory record of integrity and business ethics." In fact, repealing this rule signals to companies that it is OK to "save money" by stealing pay from employees, violating their civil rights and threatening their safety. This is the Republicans, not just Trump. This is who they are.
Saturday, May 28, 2016

Sanders, Brown Speak Out On Gunboat Diplomacy For Corporations Members of Congress are weighing in against the U.S. government's use of "gunboat diplomacy"-style intimidation of Colombia against that country allowing a generic version of an ultra-expensive cancer drug named Gleevec in order to protect the public's health.
Friday, November 1, 2013 (1 comments)

The Filibusters Aren't Stopping -- What Are You Going To Do About It? Senate Democrats, there have been over 400 filibusters. What are you going to do about it? We the People want to know. We thought we had elections. We thought things were decided and the country could finally move forward.
Tuesday, April 19, 2016 (1 comments)

Panama Trade Agreement: Was Tax Evasion The Point All Along? It is time to reform our country's entire trade policy process. The result of our trade policies so far are tax evasion; jobs shipped out of the country; companies empowered to threaten workers with moving their jobs out of the country, if they ask for raises and benefits; corporations granted special courts with which to overrule regulations and protections. The point of the game is helping the wealthy and corporations.
Saturday, July 27, 2013

Republicans Sabotaging, Not Governing -- This Is Who They Are Now Republicans are willing to shut down the government unless their demands are met. They are about sabotaging the program and sabotaging all of government to make that happen. Remember they were willing to destroy the world's economy unless their demands were met. Remember that they have actually shut down government to get what they want. This is who they are now.
Saturday, November 21, 2015 (1 comments)

Shouldn't Social Security Recipients Get A CEO-Sized Raise? This bill forces politicians to choose between seniors and CEOs. This needs to be publicly debated so people can see where their representatives and senators stand before the next election. This should be a no-brainer for Democratic politicians who are on the side of seniors, disabled veterans and others who are not CEOs. Ask your representative, senators and favorite presidential candidate: Which side are they on?
Tuesday, January 12, 2016 (2 comments)

Supreme Court Appears Ready To Bankrupt Public-Employee Unions Ordinary people can't lobby the Supreme Court, but together we can change the political and cultural climate that the Supreme Court operates in as it makes its ruling. We can send a message that working people do not accept an economy in which they cannot organize together to fight for fair wages, working conditions and the ability to do their jobs effectively.
Sunday, November 15, 2015 (2 comments)

This Postal Banking Petition Is Important We need a nonprofit "public option" for banking. If the USPS expanded into postal banking this would provide people with affordable, consumer-driven, basic financial services ranging from paycheck cashing and bill payment to savings accounts and small-dollar loans. Postal Banking Is A No-Brainer
Saturday, January 16, 2016 (6 comments)

Is The Sanders Campaign "Going Negative"? With the Republicans looking more and more like they are going to nominate Donald Trump, and with Ted Cruz running second it is vitally important to Democrats, the country and the world to win the November election. So will that take the old-style politics, or will the new issues-oriented politics take over? We will see between now and November and we had better be right.
Thursday, July 31, 2014 (1 comments)

Obama's "Fair Pay and Safe Workplaces Executive Order" President Obama's executive order cracks down on federal contractors who break hiring, health and safety, and wage laws. It also prohibits employers from requiring mandatory arbitration agreements with employees of federal contractors, in order that workers can get their day in an actual court instead of being forced to appear in front of an arbitrator picked and paid for.

Friday, December 2, 2016

The "Buy America" Trump Test The "Buy America" fight goes to the core of Trump's campaign promises to working-class voters. He promised to boost American manufacturing and American jobs. The corporations and billionaires that back the Republicans (and make up Trump's cabinet so far) want just the opposite.
Friday, December 11, 2015

GOP: TPP Doesn't Rig Rules, Destroy Sovereignty Enough TPP? Don't let these "conservative" politicians pretend they are for anything except rigging the rules for the giant corporations and billionaires that fund their campaigns, and hire them at lucrative, obscene reward-salaries after they leave office.

Thursday, May 31, 2007 (3 comments)

As Al Gore's Book Hits Number One, ExxonMobil's Front Group Attacks Gore's great book hits number one and another Exxon-funded front group smears him.
Friday, October 18, 2013 (1 comments)

Republicans Have Done Real Damage to the Economy What will the damage be next time, and how can we fight it? Yesterday's "deal" only puts off the fight for a few months. With more of this on the horizon, companies will be hesitant to hire or invest. Consumers will remain wary and distrustful. Republicans still have one power: the power to destroy. And they will use that power until we take it away from them.

Friday, November 4, 2016

Enormous, Humongous $36.4 September Trade Deficit Helps Trump In normal times a trade deficit of $36.4 billion in a single month would be met with outrage, headlines, speeches, torches and pitchforks. It represents a transfer of fulfillment of our economy's "demand" out of the country at a time when we need jobs here. More goods are coming in than are going out. Our economy has to borrow to make up the difference.
Wednesday, August 5, 2015 (2 comments)

When Trade Theories Confront The Real World, The Real World Wins Our country has an enormous, humongous trade deficit and has run continual trade deficits every single year since the late 1970s when "free markets" and "free trade" ideology came to dominate. This is because we follow an economic theory ideology, and other countries look at reality and adjust. So they win.

Friday, January 22, 2010 (1 comments)

How To End Corporate Domination Of Government - And Our Lives There is a way to stop companies from influencing our politics and our lives. Just make it clear that company funds must be used to operate the company.
Thursday, June 16, 2016 (1 comments)

Trump Running The Country Like A Business? Heaven Forbid The idea of making money off the public to make a very few people wealthy does not come up in our Constitution. This is the opposite of the purpose of government. Trump's experience running businesses would not translate well at all to running our government. Not well at all.
Thursday, May 29, 2014 (8 comments)