Articles Listed By Date List By Popularity

Page 1 of 4 First Back Next 2 3 4 View All

Wednesday, October 26, 2011

Argentina Gives 12 Ex-Officers Life Terms For Murder, Torture In 'Dirty War' The long arm of justice: A court sentenced a former navy spy known as "the Angel of Death" and 11 other former Argentine military and police officers to life in prison Wednesday for crimes against humanity committed during the 1976-83 military dictatorship.

Sunday, October 23, 2011 (1 comments)

Libya Celebrates Liberation: Oct 23, Day 1 Of A New Era Today, Oct 23, 2011, marked the dawn of a new era in Libya.

Tuesday, October 18, 2011 (2 comments)

"Thomas Jefferson" Strongly Supports Occupy Wall Street Our third president, Thomas Jefferson, through his most famous interpreter, the scholar and actor Clay Jenkinson, devotes an hour podcast to expound upon the Occupy Wall Street movement. You may be quite surprised as to his thoughts on protests, the elite and confronting corrupted government.

Saturday, October 15, 2011 (2 comments)

Occupy Protests Go Global: 951 Protests Worldwide and Counting Although it took American protesters awhile to catch up with protesters in the Middle East, North Africa and Europe this past year, now their own Occupy Wall Street movement has spread like a wave around the globe. There are some 950 plus reported protests going on around the world today, Saturday, Oct 15th.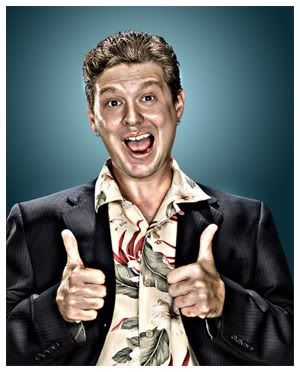 Friday, September 30, 2011 (3 comments)

Would You Buy a Used Car from Tony Blair? Senior political analyst Marwan Bishara of Al Jazeera ponders whether it is time for the world to punt Tony Blair into Outer Mongolia, far away from anything having to do with peace and justice in the Middle East.

Friday, September 23, 2011

Palestinians Submit Statehood Request to UN Friday Sept 23, 2011 has been a propitious day for the coming State of Palestine.

Wednesday, August 31, 2011 (8 comments)

Gaddafi Family Values (Updated) The storming of the Gaddafi family compound in Tripoli as well as the seizure of some of their other houses and properties by revolutionary forces have brought to light more than ever the opulence and decadence of their lifestyles, but now another term often used in reference to at least some of the Gaddafis is finding new emphasis: sadism.

Thursday, August 25, 2011 (15 comments)

The Hidden Things of Muammar Gaddafi For someone whose core vocabulary in public speeches and broadcasts often consists of nouns like "rats, vermin, snakes and cockroaches", all of whom hide in dark places or burrow underground, it is not surprising that Muammar Gaddafi and his regime have had a propensity for doing the same during his 42-year reign, both literally and figuratively.

Monday, August 22, 2011

Democracy Now on the Battle for Tripoli and the Collapse of the Gaddafi Regime Most of Amy Goodman's Monday, August 22, 2011 Democracy Now broadcast was devoted to news and discussion on the dramatic events in Tripoli and the end of the Gaddafi regime in Libya, including interviews with Robin Waudo, an International Red Cross spokesperson in Tripoli, Khaled Mattawa, an acclaimed Libyan poet and scholar, Fred Abrahams of Human Rights Watch and Professor Juan Cole, well-known blogger on the Arab World.

Tuesday, August 2, 2011 (1 comments)

The Arab Spring Transmutes into the Jewish Summer: Welcome to the July 14th Movement The forces that ignited revolutionary struggle and transformation in the Middle East and North Africa have now spread to Israel, as the common Israeli man and woman take to the streets also to confront the jaded powers that be in their country that are suffocating their rights, freedoms and economic well-being.

Friday, July 22, 2011 (30 comments)

The Youth of Libya, Finally Free to Speak Out As the suffocating era of Gaddafi in Libyan history continues toward its fiery denouement, the youth generation in Libya is now finding its own voice, music, ideas and art, freed from the chains of ideological conformity and political and social servility to an Orwellian state.

Thursday, July 14, 2011 (17 comments)

Rally/Demonstration Wars in Libya Although much has been said lately about pro-Gaddafi rallies in Tripoli, not much has said about pro-rebel rallies in the rest of Libya. What we have here are the "Rally Wars" of Summer.

Wednesday, July 13, 2011

Dahlia Wasfi and the Tragedy of Iraq, Part 4: Survival, Women's Rights and Death Squads This is the last in my series based on a two hour interview with Dr. Dahlia Wasfi on her experiences in and reflections on Iraq under the American occupation. Her final advice: End the occupation. Enough harm has been done.

Sunday, July 10, 2011

Latest News on and a Tribute to Facundo Cabral The latest news on and a musical tribute to slain musical artist and writer Facundo Cabral.
Friday, July 8, 2011

Saturday July 9th is the Birth of a New Nation - South Sudan South Sudan has just become the world's newest nation, the climax of a process made possible by the 2005 peace deal that ended a long and bloody civil war.
Thursday, July 7, 2011 (1 comments)

Dahlia Wasfi and the Tragedy of Iraq, Part 3: Becoming a Spokeswoman for Justice for Iraq Continuing with my long interview with Dr. Dahlia Wasfi on Iraq, she explains how she became a spokeswoman for justice there, and we begin to get into divide and conquer and the Salvador Option.

Friday, June 24, 2011 (2 comments)

The Indignant: Why Spain's Young People Took to the Streets * UPDATE In May a TV crew from Televisio de Catalunya filmed the vast social movement now taking place in Spain called, in English, the Indignants. Here is their look inside the movement, as well as some breaking news on a new marathon protest March walking from Barcelona to Madrid.

Wednesday, June 22, 2011 (21 comments)

Death Rains Down from Above on both Sides in Libya Death is raining down on both sides in Libya. Is there any way out of this conundrum?
Sunday, June 19, 2011 (5 comments)

OpEdNews Writer Nienaber Called it: Surge in Haiti Cholera Cases Happening Last year's cholera epidemic has returned with a passion, as al Jazeera reports in this dismaying video.

Thursday, June 16, 2011 (3 comments)

Kucinich and Turner Debate the War Powers Act, Amy Goodman Refs Today's June 16th Democracy Now! program took on a new hot item in the news, the debate as to whether Obama is in defiance of the War Powers Act regarding his decision to take part in implementing UN Chapter 7 Security Council Resolution 1973. Amy Goodman hosted an actual debate between Dennis Kucinich and Robert Turner.

Monday, June 13, 2011

Testimonies from the Voices the Syrian State is Trying to Silence Seeing beyond the fog of Syrian State propaganda and information repression through interviews with Syrian refugees and critics.

Friday, June 10, 2011 (5 comments)

Dr. Dahlia Wasfi and the Tragedy of Iraq, Part 2: We've Got Problems, We've Got Problems After various delays since my first article on prominent peace activist for Iraq, Dahlia Wasfi, I finally am in a position to share more of my interview with her to you as she explains the background that allowed the invasion of Iraq to happen: decades of stereotyping and dehumanizing Arabs and Moslems in America, something we are only now beginning to rise above against the backdrop of the Arab Spring.

Friday, June 10, 2011 (21 comments)

Brutal Gaddafi Army Bombardment of Misrata Outskirts: Scores Dead and Injured Gaddafi forces have launched their second heavy bombardment and ground assault on the outskirts of Misrata in only three days, resulting in heavy casualties with horrific injuries that have field clinics and Misrata's main hospital overflowing. Although Gaddafi's army is still able to inflict brutal casualties, in combat on the ground they lack the morale of rebel fighters, who have again repelled yet another assault.

Tuesday, May 31, 2011

UN Seeks Probe after Torture and Slaying of Syrian Boy UNICEF called on Syria on Tuesday to investigate reports of "horrific acts" of violence against children detained during the current wave of unrest in the Arab country. The call came after The New York Times reported on Monday that an online video showed a 13-year-old boy, arrested at a protest on April 29, who it said had been tortured, mutilated and killed before his body was returned to his family.

Sunday, May 29, 2011

Hundreds of Women Report Rapes by Gaddafi forces Charges that the Gaddafi regime is using mass rape as a weapon of war are increasing, and so is the evidence, which is being presented to the International Criminal Court.

Friday, May 27, 2011 (1 comments)

Congress Prostrates Itself Before the Golden Calf yet Again: Interview with Lawrence Wlikerson Congress's euphoric adoration of Right-wing Israeli zealot Benjamin Netanyahu the other days was a spectacle to behold alright. Well-known pundit Lawrence Wilkerson gives his take on what is clearly an irrational state of affairs in the American body-politic, one that puts American increasingly at odds with the rest of the world.

Monday, May 23, 2011

Aftermath of the Worst of the Misrata Siege The Siege of Misrata is waning finally after Gaddafi forces have been driven West, block by block and acre by acre in the last few weeks. But the regime has left behind a legacy of destruction against this major Libyan city hard to phantom.

Monday, May 23, 2011 (1 comments)

Revolutionary Songs of the Arab Awakening You cannot understand the revolutionary forces sweeping through the Middle East, North Africa and beyond if you cannot hear their songs, so listen up.

Friday, May 20, 2011

Reigning Chutzpah Champion Tries to Beard Obama in his Own Den! Time to Throw Down, Barack President Obama's media interview with Israeli Prime Minister Netanyahu was a battle of wills beneath the thin veneer of official decorum, which Netanyahu wasted no time in trampling over as he "took it to the President", who seemed content to take his "body blows". Round one will likely go to Netanyahu, but this is a fifteen-round fight.

Monday, May 16, 2011 (9 comments)

Syrian President "Papa Doc" Assad's Torture State The reactionary Syrian regime of Bashar Assad has embraced torture whole-heartedly in its attempt to crush the Arab Awakening in Syria. The rest of the world must take a stronger stand against this or live with the sordid consequences.

Saturday, May 14, 2011 (1 comments)

Syrian Revolution Reaches out, Adapts to Assad Regime Tactics Reports of the death of the Syrian Revolution are wildly exaggerated.
Thursday, May 12, 2011

Palestinian Poet Extraordinaire: Remi Kanazi Recites "Only as Equals" in Austin Keeping the poetic fires alive for Palestine: poet Remi Kanazi performs his powerful poem "Only as Equals" at Monkeywrench Books in Austin, Texas on 4/4/11.

Monday, May 9, 2011 (2 comments)

Human Rights Watch to Gaddafi Regime: End Indiscriminate Attacks in Western Mountain Towns Libyan government forces have launched what appear to be repeated indiscriminate attacks on mountain towns in western Libya, Human Rights Watch said today. Accounts from refugees who fled the conflict say the attacks are killing and injuring civilians and damaging civilian objects, including homes, mosques, and a school. Human Rights Watch called on Libyan forces to cease their indiscriminate attacks on civilian areas.

Sunday, May 8, 2011

Haitian Winter, Part Nine: the Iron Market's Interior Architecture After several disruptions, I am now finishing the tour of the resurrected Iron Market in Haiti, with a closeup look at more of the architecture.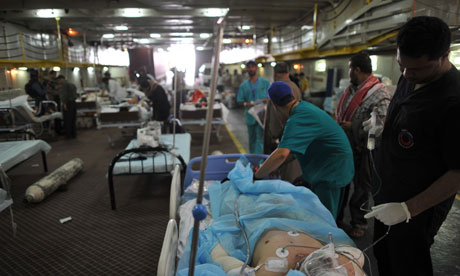 Wednesday, May 4, 2011

Gaddafi Forces Shell Port while "Red Star" Loading Wounded and Migrants Misrata has become a scene out of Kafka, humanity savagely under assault by humans now less than human, while being simultaneously betrayed by all too vacuous humans.
Monday, May 2, 2011 (2 comments)

BREAKING: Ding-Dong bin Laden Dead, Really, Really, Really Dead Bin Laden is dead officially, so now let's declare victory and get the Hell out of Central Asia.
Friday, April 29, 2011

Stories from the Gulf: Living with the Gulf Oil Disaster With an opening narration by Robert Redford, these powerful stories will wake you up about the dire situation in the Gulf.
Wednesday, April 27, 2011

Representatives of 61 Tribes from across Libya Call for Gaddafi to Step Down While trying to tell the world that all Lybians (except for the "rats", he decries) love him while simultaneously slaughtering thousands of them thus far, now we have yet another monkey wrench thrown into his propaganda machine: chiefs or reps from 61 Lybian tribes have signed a document asking him to step down, although some tribes are 100% behind their rep, others only partially, to be exact.
Monday, April 25, 2011 (1 comments)

Haitian Winter, Part 8: Hey, Sweet Micky! Let's Clean up Truttier and Haiti's Water As a new administration takes over in Haiti, let us hope that the first thing that Michel Martelly does is to address the catastrophic lack of clean drinking water in Haiti, which lack will continue you to drive poverty, sickness and particularly cholera.

Saturday, April 23, 2011 (2 comments)

Ancien Régime Dying, New World Painfully Rising in Syria Syria has crossed a clear line of violent authoritarian repression now. How will the situation in Syria evolve or devolve next?

Tuesday, April 19, 2011

Not so Happy First BP Oil Disaster Anniversary for the Gulf (Videos) This week is the anniversary of the worst environmental disaster in history, the BP oil catastrophe and coverup. BP, from the very moment disaster struck the Deepwater Horizon, began to act like a hit and run driver, and what they couldn't run from, they tried to cover up and buy out with all their billions, simultaneously launching a PR campaign to create a Potemkin Gulf, which, however, has nothing to do with reality.

Monday, April 18, 2011 (4 comments)

The Libyan "Stasi" of Muammar Gaddafi: Revolutionary Committee Files Recovered in Benghazi In Jan 1990 protesting Berliners recovered vast quantities of the Stasi secret police files revealing the grim realities within East Germany before they could all be destroyed. In late February of this year, protesters in Benghazi also recovered a good portion of the Revolutionary Committee secret files for Eastern Libya while THEY were in the process of being destroyed, revealing the grim realities of the Libyan state.

Sunday, April 17, 2011 (2 comments)

Dr. Dahlia Wasfi and the Tragedy of Iraq, Part 1: Interviewing Ross Caputi, a Marine in Fallujah Dahlia Wasfi MD, international speaker, author and human rights advocate on and for Iraq, was in Norfolk during the commemoration of the 8th anniversary of the American invasion of Iraq, along with her associate Ross Caputi, ex-Marine who had been in the Nov 2004 assault on Fallujah and later turned peace activist to protest the criminal nature of that war. By providence, one might say, I was able to interview them both.

Friday, April 15, 2011 (22 comments)

Channeling Rumsfeld/Bush/Cheney: Now the Gaddafi Regime is Firing Cluster Bombs into Misrata The New York Times and Human Rights Watch have revealed that the Gaddafi Regime is using cluster bombs indiscriminately in Misrata, weapons that over one hundred nations signed a treaty against in December, 2008. Unfortunately, this did not include countries like Russia, China, the United States, Israel and Libya.

Wednesday, April 13, 2011 (7 comments)

Ongoing Torment for Civilians as Misrata Becomes a Mini-Stalingrad On Tuesday Libyan government artillery bombarded Misrata yet again, the only major city in the western half of the country that remains under PARTIAL rebel control while suffering a 24/7 siege that is taking an awful toll on the population.
Monday, April 11, 2011

Haitian Winter, Part Seven: Arts and Artifacts of the Resurrected Iron Market I left you all off in Part Six last time, at the famous Iron Market in Port-au-Prince, Haiti, promising to return to take you on a little tour of the actual merchant vendors' halls. So today, we will visit the North hall, and step into the surrealistic world of Haitian art and culture.

Wednesday, April 6, 2011 (3 comments)

Who are the Rebels of Benghazi? An Interview with Reporter Jihan Hafiz Just who are Libyan rebels? To hear ideologues of both the Left and Right, they are tools of al Qaeda, a propaganda smear that Gaddafi also uses 24/7. Yet conspiracists and much of the Left also damn them as tools of the CIA and Western Imperialism, failing to note the contradiction of branding them as pawns of the West and enemies of the West at the same time. Meanwhile, reporter Jihan Hafiz, sheds real light on the rebels.
Sunday, April 3, 2011 (3 comments)

Misrata, a Sea of Misery at Gaddafi's Hands (Video Updates) The ancient city of Misrata, home to over half a million people when revolution in Libya broke out, is suffering grievously at the hands of the Gaddafi regime for going over to the rebel side, as Gaddafi continues to try to brutally subdue the population. The Turkish government, under cover of its own military contingent, has just brought scores of wounded out of the city on a makeshift hospital ship, the Ankara.

Saturday, April 2, 2011

Chess Games in Libya and London while Rebel Gov't and Army Solidify What is clear lately is that the Gaddafi regime is showing fissures, with more defections and a state or paranoia setting in against its own officials, while the rebel government is gaining more international recognition as, also, the rebel army, despite setbacks militarily, is slowly overcoming their lack of discipline and training.

Thursday, March 31, 2011

American Boots ARE on the Ground in Libya, Libyan-American Boots that is. Some Libyan Americans, not to mention Libyans in other countries, after seeing the horrors Muammar Gaddafi has been inflicting upon his own people, are returning to their homeland to join up with the rebels to liberate their country before it is too late, acts of real courage against a regime known to beat, torture and/or execute prisoners.

Thursday, March 31, 2011

More Defections from Gaddafi Inner Circle after Moussa Koussa - Plus, Secret Talks Not all Libyan officials are Mafia-type thugs. Some are smart and well-educated, indeed apparently smart enough to jump off a runaway freight-train heading for a cliff. Moussa Koussa is the biggest name to flee Gadafi, and now, apparently, there are more. Meanwhile, the Guardian UK states that there are secret talks going on between the Gaddafi regime and London, so what does that portend? Will the train divert itself?
Tuesday, March 29, 2011 (9 comments)

Gaddafi in History: From Populist Hero to Isolated Dictator If you are utterly confused by all the facts and factoids about Libya and Muammar Gaddafi being flung about, then here's a little historical context to add to your understanding.

Sunday, March 27, 2011 (1 comments)

Potemkin Tripoli Shows a Crack: Libyan Woman Says Gadhafi Forces Beat, Raped Her TRIPOLI -- A distraught Libyan woman stormed into a Tripoli hotel Saturday to tell foreign reporters that government troops raped her, setting off a brawl when hotel staff and government minders tried to detain her.

Thursday, March 24, 2011 (2 comments)

Ongoing Victims of the Ongoing Gaddafi War Machine (Videos) We are now seeing the strange phenomenon of some of the so-called Left and so-called Peace Movement both evade or even deny the ongoing slaughter of civilians by Gaddafi's brutal forces, some, furthermore, parroting his 24/7 propaganda machine with the frenzy of true believers, a propaganda mill on the level of the North Korean State if not actually much worse.
Thursday, March 24, 2011 (2 comments)

Haitian Winter, Part Six: Soaring into the Sun - the Grand New Iron Market Time to revisit the famous Iron Market in Port-au-Prince. When last I left it, it was a holy mess, but now, thanks to two guys with the same first name (plus a host of others as well), it is all but a holy shrine to the Phoenix-rising future of Haiti.
Monday, March 21, 2011 (1 comments)

Hezbollah Leader Nasrallah Speaks in Solidarity with the Arab Spring, Equates Gaddafi with Israel Nasrallah gives us a look at the Arab Spring through the eyes of the Shiite Islamic world. Nasrallah is in full solidarity with the aspirations of Arab peoples everywhere, heaping scorn on all tottering tyrannies, ridiculing allegations that any of these revolutions are Western-manufactured.

Sunday, March 20, 2011 (1 comments)

Richard Engel on Gaddafi's Options and Propaganda Richard Engel, chief correspondent for NBC, explains Gaddafi's strategic options as well as propaganda capabilities.
Saturday, March 19, 2011

Aristide returns to Haiti (Videos) Here is video documentation of Aristide's return to Haiti after seven long years. Crowds came out en masse to greet him.
Saturday, March 19, 2011

As Aristide Returns, Haitian Spring Arrives and With it, New Hope for the Haitian People (Photo-Essay) As Aristide returns to Haiti in tandem with Spring and the Vernal Equinox, does this signify new hope for the Haitian people?

Thursday, March 17, 2011 (7 comments)

LATEST UPDATE: Aristide has Landed! - Jean-Bertrande Aristide is in-Flight for Port-au-Prince Despite ongoing efforts by the White House and State Department to obstruct his return, exiled former president of Haiti, Jean-Bertrand Aristide, overthrown in a US-backed coup in 2004 and arguably still the most popular man in Haiti, is airborne and headed back to Port-au-Prince, accompanied by his wife Mildred, Hollywood star Danny Glover, Amy Goodman, co-producer and host of Democracy Now and other notable individuals.