Articles Listed By Date
List By Popularity
Page 2 of 2 First Last Back Next View All
(1 comments) SHARE

Sunday, January 8, 2012
Tomgram: Thomas Frank, Why the Tea Party Needs Mitt
Here comes Mitt Romney, the soul of American capitalism in the flesh. Look back over his career as a predator drone at Bain Capital: Isn't it the exact sort of background you always insist politicians ought to have? Isn't it the sort of titanic enterprise for which you lust, as you wave your copy of Atlas Shrugged in the air?
SHARE

Tuesday, December 20, 2011
Tomgram: Nick Turse, The Life and Death of American Drones
The recent losses of the Pentagon's robot Sentinel in Iran, the Reaper in the Seychelles, and the Predator in Kandahar, however, offer a window into a future in which the global skies will be filled with drones that may prove far less wondrous than Americans have been led to believe. The United States could turn out to be relying on a fleet of robots with wings of clay.
(1 comments) SHARE

Thursday, September 8, 2011
Noam Chomsky, The Imperial Mentality and 9/11
Perhaps the Bin Laden assassination was perceived by the administration as an "act of vengeance." And perhaps the rejection of the legal option of a trial reflects a difference between the moral culture of 1945 and today.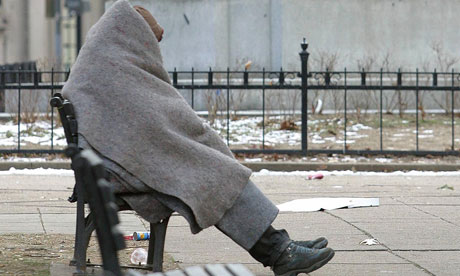 (1 comments) SHARE

Wednesday, August 10, 2011
On Americans (Not) Getting By (Again)
In defiance of all reason and compassion, the criminalization of poverty has actually intensified as the weakened economy generates ever more poverty. The number of ordinances against the publicly poor has been rising since 2006, along with the harassment of the poor for more "neutral" infractions like jaywalking, littering, or carrying an open container.
SHARE

Monday, August 8, 2011
The Secret War in 120 Countries
Growth has been exponential since September 11, 2001, as SOCOM's baseline budget almost tripled from $2.3 billion to $6.3 billion. If you add in funding for the wars in Iraq and Afghanistan, it has actually more than quadrupled to $9.8 billion in these years.
(1 comments) SHARE

Monday, November 1, 2010
William Astore: The New American Isolationism
Marked by a calculated estrangement from war's horrific realities and mercenary purposes, the new isolationism magically turns an historic term on its head, for it keeps us in wars, rather than out of them.
SHARE

Thursday, October 19, 2006
Tomgram: Robert Dreyfuss, Heck of a Job, Maliki!
In this piece, Dreyfuss, who first brought the swirling rumors in Baghdad (and Washington) about a coup d'etat that might end Iraqi Prime Minister Nouri al-Maliki's brief, disastrous reign to our attention, follows the latest twists and turns in the story, exploring just where a desperate White House and a desperate Iraqi government may be headed -- and the answer seems to be: over a cliff.