Articles Listed By Date
List By Popularity
(2 comments) SHARE

Wednesday, January 15, 2020
It Is Remarkable -- and Dangerous -- How Little Scrutiny Biden Has Received for Supporting Iraq War
Biden was chair of the Senate Foreign Relations Committee and has been criticized by leading analysts and weapons inspectors for the hearings he presided over that led to war.
(2 comments) SHARE

Friday, August 30, 2019
Film "Official Secrets" is the Tip of a Mammoth Iceberg
A new film depicting the whistleblower Katherine Gun, who tried to stop the Iraq invasion, is largely accurate, but the story is not over, says Sam Husseini.
SHARE

Saturday, January 5, 2019
Elizabeth Warren Nails Economy, Muddles Foreign Policy
It's imperative to criticize presumable progressive politicians and parse their words carefully. It might open the door to actual improvements in policy, writes Sam Husseini.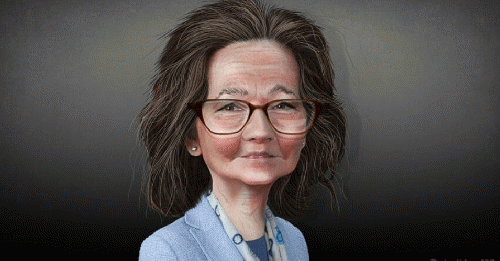 (2 comments) SHARE

Wednesday, May 9, 2018
Gina Haspel and Torture: Not Just Immoral, But a Tool for More War
Gina Haspel's hearing on Wednesday gives increased urgency to highlighting her record on torture and how torture has been "exploited." That is, how torture was used to create "intelligence" for select policies, including the initiation of war.
SHARE

Tuesday, August 22, 2017
The United States of Free Speech, Violence and Hypocrisy
Partisan establishment apparatchiks dominate media at virtually every level, with government facilitation. Google, Facebook, Twitter and others have effectively taken over much of the town square and are increasingly skewing what speech gets heard. Such is the nature of corporate power, backed by the state, right now.
(9 comments) SHARE

Wednesday, February 15, 2017
Progressives Pile on Flynn's Ouster
President Trump is so despised by progressives that many are rallying behind neocon-driven demands for a New McCarthyism to silence those who object to a costly and dangerous New Cold War, as Sam Husseini describes.
SHARE

Wednesday, August 31, 2016
Donald's Trump Visit to Mexico Is Not the Real Irony -- NAFTA Is
Trump -- and many other critics in the U.S. -- only talk about how NAFTA has hurt U.S. workers. Largely unacknowledged in the U.S. is how it has devastated Mexican family farms and small industry -- which leads to desperate migration from Mexico to the U.S. (along with the drug war). So, redoing NAFTA would actually help stem desperate migration that is the source of much of Trump's support.
(6 comments) SHARE

Friday, August 19, 2016
How a Question's Phrasing Hobbles Third Parties
By asking Americans who they expect to vote for rather than who they want to be President, pollsters skew the numbers in favor of major-party candidates and help exclude third-party challengers from crucial debates, notes Sam Husseini.
(10 comments) SHARE

Friday, April 22, 2016
After Sanders -- a Path to Electoral Revolution
Supporters of Bernie Sanders and others need to be looking for a path to meaningful social and political change in the likely event that he does not win the Democratic Party nomination.
(2 comments) SHARE

Monday, February 15, 2016
Pro-War GOP Boos Donald Trump
His bigoted comments about Mexicans and Muslims aside, billionaire Donald Trump actually makes some common sense when he talks about working with Russia, Iran and other powers to bring the Mideast wars to an end, rather than pushing for endless "regime change," Sam Husseini notes.
(17 comments) SHARE

Wednesday, December 16, 2015
In Defense of the Rise of Trump
Focusing on the negative aspects of his campaign has blinded people to the good -- and I don't mean good like, oh, the Democrat can beat this guy. I mean good like it's good that some of these issues are getting aired.
(2 comments) SHARE

Thursday, July 30, 2015
How #AllLivesMatter and #BlackLivesMatter Can Devalue Life
The last several months have seen a debate, at times heated, between the #BlackLivesMatter movement and those who respond with #AllLivesMatter. I think a lot of people -- perhaps not all -- who are using both tags are missing a larger point and opening themselves up to ultimately devaluing a lot of lives.