Articles Listed By Date
List By Popularity
(1 comments)
Tuesday, July 16, 2019
Newspeak at the Media Freedom Conference
This event is actually"creepy. Let's just look back at one of the four "main themes" of this conference: building trust in media and countering disinformation "Countering disinformation"? Well,that's just another word for censorship.
(21 comments)
Friday, July 5, 2019
Google Promising Real-Time Censorship
Google has changed their algorithm so that it actively suppresses "misinformation" when "bad events" are taking place. This is pretty big news if you're interested in free speech or the free flow of information. Nobody in the media treated it that way.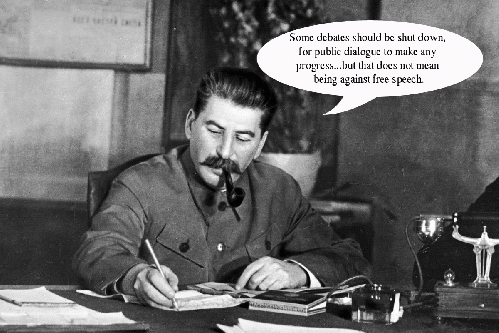 (3 comments)
Sunday, June 23, 2019
The Guardian Continues to Promote "Progressive" Censorship
There's a lot of talk about "free speech" being under threat these days, with reports of de-platforming at universities, academics losing their jobs because of their political opinions, artists and celebrities getting "cancelled" over an off-color joke, an even vaguely non-PC opinion, or just supporting Donald Trump.
(3 comments)
Saturday, June 8, 2019
YouTube's Latest Purge
YouTube has just announced they have changed their "community standards" to combat "extremist content" on their platform. This is just the latest step in the war against free speech online.
(3 comments)
Sunday, May 19, 2019
Leaked Report: Douma "Chemical Attack" Likely Staged
An apparent classified internal report from OPCW (Organisation for the Prohibition of Chemical Weapons) suggests that the Douma chemical attack which allegedly took place in April 2018 was in fact staged.