SHARE



Anis Shivani (View How Many People Read This)

I have 1 fans:

Become a Fan.
You'll get emails whenever I post articles on OpEdNews
Anis Shivani is the author of several critically acclaimed books of fiction, poetry, and criticism, including Anatolia and Other Stories (2009), Against the Workshop: Provocations, Polemics, Controversies (2011), The Fifth Lash and Other Stories (2012), My Tranquil War and Other Poems (2012), and Karachi Raj: A Novel (2015). Both Anatolia and Other Stories and The Fifth Lash and Other Stories were longlisted for the Frank O'Connor international short story award. Forthcoming books include Soraya: Sonnets and Literature in an Age of Globalization. Books in progress or recently finished include Death is a Festival: Poems, Plastic Realism: Neoliberalism in Recent American Fiction, and the novels A History of the Cat in Nine Chapters or Less, Abruzzi, 1936, and An Idiot's Guide to America. Anis's work appears in the Yale Review, Georgia Review, Boston Review, Iowa Review, Threepenny Review, Michigan Quarterly Review, Antioch Review, Southwest Review, Prairie Schooner, AGNI, Fence, Epoch, Boulevard, Pleiades, Denver Quarterly, Verse, Colorado Review, Quarterly West, New Letters, Subtropics, Times Literary Supplement, London Magazine, Meanjin, Fiddlehead, and other leading literary journals. Anis is a member of the National Book Critics Circle, and his reviews appear widely in newspapers and magazines such as the Huffington Post, Daily Beast, In These Times, Texas Observer, San Francisco Chronicle, Boston Globe, Austin American-Statesman, Kansas City Star, Pittsburgh Post-Gazette, St. Petersburg Times, Charlotte Observer, and many other outlets. Anis is the winner of a 2012 Pushcart Prize, was educated at Harvard College, and lives in Houston, Texas.
OpEdNews Member for 301 week(s) and 4 day(s)
10 Articles, 0 Quick Links, 4 Comments, 0 Diaries, 0 Polls
Articles Listed By Date
List By Popularity
(3 comments) SHARE

Thursday, October 17, 2019
Questions for Elizabeth Warren: Now that you're the frontrunner, we need to talk
First a Republican, then a neoliberal reformer, now a progressive. Elizabeth Warren is surging. But who is she?
SHARE

Friday, August 30, 2019
The Dream is Dead Not Just for Dreamers, But for All Americans
It is a truism that whatever starts off hurting immigrants eventually harms us all. On the other hand, if something benefits immigrants that too ends up helping all of us. When xenophobia hits a nation, this basic principle is forgotten, as a false us-versus-them dichotomy takes hold. A disturbing aspect of American exceptionalism is that this dichotomy keeps being presented as something virtuous;
(3 comments) SHARE

Friday, December 7, 2018
The Progress of Fascism Over the Last Twenty Years
Fascism is always a reaction against the (perceived or real) weaknesses of liberalism. My proposition is this: Fascism (in its current form) is the result of social dislocations caused by the present stage of globalization, manifested most strongly in the most globalized nation, the U.S. Social anxiety is being redirected to global militarist aspirations rather than idealization of a humane economic system.
(3 comments) SHARE

Friday, May 11, 2018
The Aesthetic Meaning of Trump's Wall
"Your door is shut against my tightened face / And I am sharp as steel with discontent." -- Claude McKay, "The White House"
(1 comments) SHARE

Sunday, June 18, 2017
Understanding contemporary white supremacy, part 2: How do we deal with this new form of an old phenomenon? - Salon.com
Our panel of scholars on what we get wrong about white supremacy, and whether persecuting racists does any good
SHARE

Sunday, April 2, 2017
Debating the big questions on immigration: What rights do immigrants have -- and is the president free to bar them?
Part one: A panel of experts debates immigrant rights, presidential powers and the dark lessons of history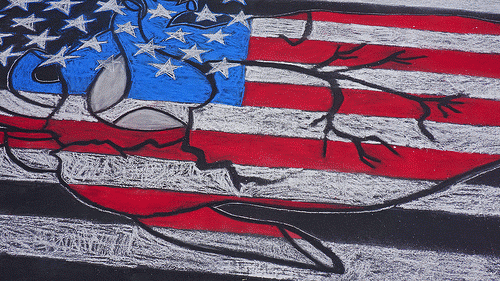 (2 comments) SHARE

Monday, February 27, 2017
America last: The case for moral disengagement from politics in the age of Trump
Ordinary liberal prescriptions have no chance of success under a regime that has moved into an overt fascist mode; Are there things that pass under the activist rubric today that are actually strengthening fascism rather than weakening it? If that is the case, then those activities must undergo severe scrutiny,
SHARE

Thursday, November 10, 2016
Is This the Death of the Democratic Party? The Death of the Liberal Media? And
Neoliberalism has gifted us with a serious regression to the past.
(3 comments) SHARE

Saturday, October 22, 2016
We Are Ignoring the Worst Dangers of Trumpism at Our Own Peril
We Are Ignoring the Worst Dangers of Trumpism at Our Own Peril. Trumpism is here to stay; what will the neoliberal elites do next?
(30 comments) SHARE

Tuesday, September 1, 2015
Fascist Trump, Neoliberal Hillary, and Progressive Bernie: Three Contrasting Performance Styles
Where does Donald Trump derive his demagogic style from? What are the sources, and what may we predict about his future electoral success based on past correlations? And how does his performance style compare to that of Hillary Clinton's and Bernie Sanders's? Is the vacuum of liberal policymaking--embodied in Clinton's campaign--responsible for the rise of Trump and other extremists? If so, how?