Articles Listed By Date List By Popularity
Page 1 of 4 First Back Next 2 3 4 View All
Friday, December 23, 2016 (3 comments)

"Snowden warned Americans of 'turnkey tyranny' that opens door to illegal search & seizures" Edward Snowden has responded to a damning House Intelligence report analyzing his life and possible motives for revealing NSA surveillance. According to the report, Snowden has been in contact with Russian intelligence agencies since his arrival in Moscow. Snowden denied the accusation, saying in a Tweet "they claim without evidence I'm in cahoots with Russian intel. Everyone knows this is false.
Monday, October 24, 2016 (2 comments)

"Who can guarantee Iraqi forces will not flee the Mosul battlefield -- again?" What is the guarantee that the crackerjack Iraqi forces will not once again run away. And who will be left? The thousand or so US forces there, some of them are going to get killed and this will become an election issue: why didn't we do more, is what they will say...
Monday, October 17, 2016 (3 comments)

"US media ignores Clinton stealing Democratic nomination, engages in Russia-bashing instead" During a news conference at the 2016 BRICS summit for five major emerging economies, Russian President Vladimir Putin discussed Washington's latest threat to launch a cyber-attack against Russia based on unsubstantiated claims that Russia had somehow interfered in the 2016 presidential election, which is already being called the most scandal-filled contest in American political history

Tuesday, October 4, 2016 (2 comments)

Assange: WikiLeaks will publish all US election docs by Nov. 8 Assange denied that any of WikiLeaks' publications are aimed at damaging the image of US presidential candidate Hillary Clinton, saying that some of his statements in this regard had been misquoted. He said the documents released or to be released by the organization "are revealing, but also the government/state reactions to the releases are revealing also."
Sunday, August 14, 2016 (2 comments)

"Ex-CIA Director's 'kill Russians in Syria' comment reveals neocon influence" Morell has proposed the US change tactics in Syria by targeting President Bashar Assad's allies, adding that killing Russians should be done covertly. Two former CIA officials turned whistleblowers, Ray McGovern and John Kiriakou, appeared on RT's "Watching the Hawks" program to give their analysis on the disturbing comments, as well as other tantalizing bits of information.
Monday, August 1, 2016 (6 comments)

"US foreign policy is a marketing strategy for selling weapons" -- Jill Stein As the two major US political parties have officially selected their nominees for president, Chris Hedges, host of RT's On Contact program, discussed with the Green Party candidate for president, Dr. Jill Stein, what could be an alternative way forward.
Tuesday, June 7, 2016 (7 comments)

Google involved with Clinton campaign, controls information flow -- Assange American tech giant Google is closely cooperating with Hillary Clinton's presidential campaign to promote the candidate, WikiLeaks founder Julian Assange said in a televised address to an international media forum. Assange believes that Democratic presidential candidate Hillary Clinton is predictable and will constitute a problem for freedom of speech in the US if elected.
Sunday, May 29, 2016

"Snowden's two goals -- alert people of mass spying, encourage future whistleblowers" These new revelations coming from John Crane, the former Assistant Inspector General at the Pentagon tell us in quite specific detail how high-up Pentagon officials repeatedly broke the law in their handling of Thomas Drake's whistleblowing case, including by withholding and destroying documents, and lying to a Federal judge and other clear crimes and felonies. So, that is really what has come to light this week.
Thursday, May 26, 2016 (2 comments)

"Anti-Trump protests do what US media failed to -- hold him accountable" Max Blumentyhal: Trump is calling for people's deportation and bringing people from the outside, primarily a white anti-immigrant audience to cheer him on. So, I think Trump should have expected this kind of response and in many ways these protesters are doing what the American media failed to do -- which is to hold Trump accountable.
Friday, March 11, 2016 (4 comments)

"US-led invasion of Libya opened up massive arsenals to terrorists" -- Chris Hedges The destruction of Libya, Iraq and Syria as unified states generated Islamist radical groups in the Middle East, which create havoc, said investigative journalist Chris Hedges. This was caused by the invasion of outside forces, he added.
Wednesday, February 24, 2016

"Obama must tell Turkey, Saudi Arabia & Israel enough is enough" -- former CIA officer Ray McGovern Vladimir Putin has much more influence over Syria's President Bashar Assad than the United States has over its allies in the region, and this could hinder the Syrian ceasefire, former CIA officer Ray McGovern told RT. "Moscow has much more influence over Assad than Obama has over the Turks or Saudis, and they have, let's face it, the fly in the ointment..."
Sunday, February 7, 2016 (6 comments)

"I'd bring back a hell of a lot worse than waterboarding" -- Trump at debates Trump in November said he does not care if torture doesn't work, because "they deserve it anyway." On Saturday, he continued in the same vein. "I'll tell you what, in the Middle East, we have people chopping the heads off Christians. We have people chopping the heads off many other people. We have things that we have never seen before. I'd bring back waterboarding and I'd bring back a hell of a lot worse than waterboarding."
Sunday, October 18, 2015 (16 comments)

"I would have stopped 9/11" says Trump. He's "pathetic" and "an actor," retorts Jeb Bush The spat between two leading GOP candidates has sunk to a new low, as Donald Trump and Jeb Bush spent the entire weekend throwing barbs at each other, with Bush forced to defend his family honor over 9/11. The feud heated up on Friday, when Trump appeared to imply that George W. Bush was at least partly at fault for the 2001 attacks that brought down the World Trade Center, as they happened on his watch.
Sunday, September 13, 2015

Ellsberg: Israel's persecution of nuke whistleblower Vanunu a relic of British colonialism After 18 years in prison, the man who exposed Israel's nuclear weapons program to the world, Mordechai Vanunu, remains restricted under obsolete principles contradicting the UN Charter on Human Rights. Daniel Ellsberg stressed that Israel must recognize, for its own good, what Vanunu did was right and come clean about the existence of its nuclear weapons program.
Monday, August 17, 2015

"Once a Gitmo detainee sets foot in the US, he acquires some rights!" US President Barack Obama does not have the courage to face the hardliners in the Defense Department who don't want to start a precedent by releasing one of the 116 prisoners at Guantanamo, Ray McGovern, a former CIA officer, told RT.
Sunday, July 19, 2015

Paul Craig Roberts: "MH17 crash used by US to break Russia's relationship with Europe" The crash of Malaysian Airlines Flight 17 has been used to enforce sanctions against Russia and is fundamental to Washington's efforts to break the Russia-Europe relationship, Paul Craig Roberts, former assistant secretary of the US Treasury, tells RT.
Tuesday, June 16, 2015 (5 comments)

"I have to work a lot harder" in Russia than at NSA -- Edward Snowden Snowden addressed the ethics of whistleblowing, reminding his audience that he never published a single document himself, but always worked alongside journalists. The involvement of reporters also allowed the employment of a system of checks and balances while making the revelations, he said.
Wednesday, May 13, 2015

Chelsea Manning rewrites the Espionage Act Former intelligence analyst Manning has drafted a 31-page bill to re-establish protections for freedom of speech and the press that have been challenged by the Justice Department. The bill would amend sections of the Freedom of Information Act, the Uniform Code of Military Justice, the Espionage Act, the Computer Fraud and Abuse Act, Federal Disclosure Rules for Journalists.
Thursday, April 30, 2015 (45 comments)

"My breathing mom was among corpses": Putin recalls his parents' WWII ordeal Vladimir Putin has written a column (something he very rarely does), recalling the stories of his parents who survived the hardships of the Leningrad blockade, his dead brother and World War II with very personal details.
Monday, April 13, 2015

RT premieres "Terminal F" Snowden documentary in Russia Two award-winning journalists have shed light on the story of NSA whistleblower Edward Snowden's journey to Hong Kong and Moscow, when his revelations on US government surveillance shook the world, in a new documentary presented in Moscow by RT.
Wednesday, April 8, 2015

Female Palestinian MP snatched by IDF, held without charge for 6 months Khalida Jarrar, 52, is a senior political leader of the left-wing Popular Front for the Liberation of Palestine (PFLP), a faction of the Palestine Liberation Organization. She was seized by a squad of some 50 IDF troops in the middle of the night last week, as they stormed into her house in Ramallah.
Friday, March 13, 2015 (3 comments)

"Most significant break between Germany and US since WWII" The Germans for the first time in 70 years now are sort of coming out of adolescence into adulthood and are willing to stand up to the US and say: "Look, our interests are not the same as yours. We don't want a war in Central Europe, and we're going to prevent it!" That translates into intelligence cooperation, as well.
Sunday, March 1, 2015

Venezuela imposes mandatory visas for all US citizens, bans for Bush & Cheney Venezuelan President Nicolas Maduro announced a new mandatory visa requirement for all Americans visiting the country. The leader also called to review and downsize the number of US embassy staff in Caracas. Also, George W. Bush, Dick Cheney and Republican Congress members Ileana Ros-Lehtinen, Robert Menendez, and Marco Rubio will be denied visas into the country. He labeled Bush and Cheney as "terrorists."
Tuesday, December 30, 2014 (7 comments)

Florida congressman barred from seeing classified sections of 9/11 inquiry - report A request by US Rep. Alan Grayson to access a portion of a 2002 congressional report on the Sept 11, 2001 attacks was denied by the House Intelligence Committee based on political reasons. Grayson's request pertains to 28 pages of Congress' Joint Inquiry that were ordered to be redacted by then-President George W. Bush.
Sunday, November 23, 2014 (4 comments)

Western sanctions are aimed at regime change in Russia -- Lavrov If the US pursues leadership not out of a false perception that it has a God-given burden to take responsibility for everybody, but by developing the skill to form a consensus, Moscow would be the first to back Washington. But now Washington is bullying other nations into toeing their line, and few dare to object publicly out of fear of reprisal, while complaining in private.
Wednesday, November 19, 2014 (1 comments)

Putin: "US wants to subdue Russia, but no one did or ever will" The US has no plans to humiliate Russia, but instead wants to subdue it, Russian President Vladimir Putin has said, adding that no one had ever succeeded in doing so -- and never will. The Russian leader said that history was not about to change, and that no one would manage to suppress the country.
Thursday, November 6, 2014 (2 comments)

"Anonymous to wake up US citizens" Are we being snooped on, are we being eavesdropped on? Of course we are. Is it against our constitution? Yes, it is against our constitution. But there are ways to encipher your communications and there are ways used by highly technical people like Anonymous to defeat surveillance or to counter-surveil and cause mischief.
Monday, October 27, 2014

FBI reportedly raids home of "Second Snowden" In "Citizen Four," a documentary about the Snowden saga currently being screened at select theaters in the US, Greenwald and fellow Intercept journalist Jeremy Scahill acknowledge that a new source has provided the reporters with information in the wake of the NSA leaks.
Monday, October 20, 2014 (2 comments)

US Army withheld promise from Germany that Ebola virus wouldn't be weaponized The United States has withheld assurances from Germany that the Ebola virus -- among other related diseases -- would not be weaponized in the event of Germany exporting it to the US Army Medical Research Institute for Infectious Diseases.
Saturday, September 13, 2014 (3 comments)

NSA denies whistleblower Snowden "raised concerns" in emails In response to a Freedom of Information request, the NSA denies that its former NSA contractor-turned whistleblower Edward Snowden ever raised concerns in emails to colleagues to his colleagues over the agency's surveillance work.

Thursday, August 7, 2014 (1 comments)

Obama authorizes airstrikes in Iraq "to protect US personnel" President Obama announced on Thursday that he has authorized the use of airstrikes in Iraq if they are necessary to protect American personnel. He also stated that humanitarian air drops have been made to help besieged religious minorities in the country.

Sunday, August 3, 2014 (2 comments)

Israel wiretapped Kerry's calls during peace talks Israeli agents were eavesdropping on US Secretary of State John Kerry as he was mediating last year's futile Middle East peace talks, German magazine Der Spiegel has revealed. The German magazine said the revelations could hurt already tense US-Israeli relations amid the ongoing offensive in the Gaza Strip.

Saturday, August 2, 2014 (4 comments)

"Here are the missiles!" US Congress passes emergency funding for Israel's Iron Dome Congress overwhelmingly approved an emergency measure on Friday to grant $225 million in additional revenue to Israel for the country's Iron Dome missile defense system. The package will put nearly a quarter of a billion dollars towards Israel's missile defense system, which is jointly built by US defense giant Raytheon.

Wednesday, July 30, 2014 (2 comments)

Bolivia declares Israel "terrorist state," scraps visa exemption agreement Bolivia has declared Israel to be a "terrorist state" and renounced a visa exemption agreement with the country in protest over the ongoing Israeli military offense in Gaza which already killed more than 1,300 dead and left over 7,000 wounded.

Sunday, July 20, 2014 (9 comments)

Malaysia MH17 crash: 10 questions Russia wants Ukraine to answer Russia's Deputy Defense Minister Anatoly Antonov has criticized Western countries for jumping to conclusions just "24 hours after the crash" while there is no evidence. Antonov said, "It seems to me that this is part of information warfare which has been started against the Russian Federation and armed forces."

Wednesday, July 16, 2014

Palestinians subjected to apartheid treatment The world is watching in horror as Israel is conducting the latest stage in its seemingly endless and relentless campaign of extermination aimed at the population of the Gaza strip. The majority of the mainstream media across the globe, in contrast, appears willfully unaware of the actual circumstances on the ground and publicly supports Israel's "right to defend itself."

Monday, July 14, 2014

Thousands of civilians flee Gaza, Palestinian death toll surpasses 160 Over the past 24 hours, UNRWA has opened a number of its schools as emergency shelters for Internally Displaced Persons (IDPs), the organization said on its website. Five shelters have been open in Gaza since 8 a.m. local time, and 2,000 people have already sought refuge.

Thursday, June 26, 2014 (6 comments)

Assange lawyers demand end to arrest warrant, release of evidence Julian Assange's lawyers are demanding Swedish prosecutors reveal texts from the woman in the "rape" scandal, currently hanging over the WikiLeaks founder. Changes in the law allow this and the defense team is appealing to cancel the arrest warrant.

Monday, June 23, 2014 (1 comments)

Russell Brand "Con-Dems" MSM blackout of 50,000-strong anti-austerity march Brand, best known for his work as an actor, comedian, television personality and self-effacing Messiah, has become a high-profile poster boy for the disaffected with his anti-system rants and calls for revolution. When asked if he still wanted a revolution to take place, Brand, who has predicted a "peaceful, effortless, joyful revolution," said, "Yes."

Sunday, June 22, 2014 (7 comments)

Mass graves filled with remains of immigrants discovered in Texas Anthropologists uncovered a series of mass graves filled with the human remains of immigrants stuffed into shopping and garbage bags in a county-owned section of a cemetery in South Texas. In those plots, they found the remains of multiple people instead of just one. Now, a local politician is calling for an inquiry.

Thursday, June 19, 2014

2 Russian journalists killed in Ukraine military shelling Kiev's army shelling near Lugansk, eastern Ukraine, took the lives of two Russian journalists -- Igor Kornelyuk and Anton Voloshin, who were filming refugees leaving the scene when a shell hit amidst their small group.
Sunday, June 8, 2014

Flight MH370 families start fund to uncover truth about vanished jet Not satisfied with the lack of progress being made on locating Malaysia Airlines Flight 370, relatives of passengers are planning to launch a $5 million fundraising campaign aimed at triggering another investigation. The campaign has been dubbed "Reward MH370: The Search for the Truth," and will officially launch on Monday through the crowd-funding website Indiegogo.
Saturday, May 31, 2014 (1 comments)

Snowden's latest interview corroborates good intentions, says attorney Current and former NSA officials have blasted Snowden for supposedly failing to take his complaints to his supervisors and instead leak so much information to the press. The US government published documents one day after Snowden's interview with NBC, though, indicating that the former contractor did, in fact, communicate some of his concerns to NSA bosses.
Thursday, May 22, 2014 (12 comments)

"World moving away from American financial hegemony" With the China-Russia deal conducted outside the dollar system we see the beginning of the de-dollarization and de-Americanization of the world, former assistant Secretary of the Treasury Paul Craig Roberts told RT.
Wednesday, May 21, 2014 (3 comments)

WikiLeaks ignores "deaths" warning, threatens to name NSA-targeted country When Greenwald defended his decision to publish the names of four countries where telephony metadata is collected by the NSA but withhold a fifth where content is recorded as well, WikiLeaks said it could be interpreted as meaning that the unknown country doesn't deserve to know they're being surveilled. Greenwald said The Intercept was "very convinced" it could lead to deaths. Later, WikiLeaks equated this as racism.
Tuesday, May 13, 2014 (2 comments)

Russia should ignore Washington's "new Cold War" Washington wants a Cold War; they need it. They've been defeated in Afghanistan, they were blocked from attacking Syria and Iran, so they've got to keep the military-security complex funded, because that's where an important part of their campaign contributions comes from.
Wednesday, May 7, 2014

Putin calls for end to Kiev's military op, postponing referendum in E. Ukraine President Vladimir Putin also said that Russia has withdrawn its troops from the Ukrainian border. "We have been told that our troops on the Ukrainian border are a concern -- we have withdrawn them. They are now not on Ukrainian territory, but at locations where they conduct regular drills at ranges," he said.

Friday, May 2, 2014 (2 comments)

Supreme Court refuses to stop indefinite detention of Americans under NDAA The United States Supreme Court this week effectively ended all efforts to overturn a controversial 2012 law that grants the government the power to indefinitely detain American citizens without due process. The high court said it won't weigh in on a challenge filed by Pulitzer Prize-winning journalist Chris Hedges and a bevy of co-plaintiffs against US President Barack Obama.

Thursday, May 1, 2014

BP pipeline sprays "oily mist" over 33 acres of Alaskan tundra Alaska state officials confirmed Wednesday that an oily mist sprung from a compromised oil pipeline and sprayed into the wind without stopping for at least two hours, covering 33 acres of the frozen snow field in the oil well's vicinity. The cause is still under investigation, according to the Associated Press, but officials know that the mist was made up of a mixture of gas, crude oil, and water.

Saturday, April 19, 2014 (2 comments)

"Letter to Jews" which Kerry cited, appears to be fake Following the four-side meeting on the Ukrainian crisis in Geneva on Wednesday, John Kerry lashed out at a letter that was allegedly sent to Jewish citizens in Ukraine's eastern town of Donetsk, asking them to register and report all their property, or be stripped of citizenship and face expulsion. The US appears to be relying on information from Kiev, while ignoring alternative points of view.

Thursday, April 17, 2014 (3 comments)

Snowden asks Putin LIVE: Does Russia intercept millions of citizens' data? President Vladimir Putin, after he was asked a surprise question by whistleblower Edward Snowden at his Q&A session, adding "our surveillance activities are strictly controlled by the law."President Vladimir Putin, after he was asked a surprise question by whistleblower Edward Snowden at his Q&A session, added "our surveillance activities are strictly controlled by the law."
Thursday, April 10, 2014

Obama administration wins Jefferson Muzzle award for restricting free press The United States Department of Justice and the White House Press Office are this year's top winners of a dubious award extended to those considered to be "responsible for some of the more egregious or ridiculous affronts to First Amendment principles."

Tuesday, April 8, 2014 (2 comments)

Nuke talks collapsing as US opposes Iran's pick for UN envoy Washington and Tehran are again at odds after the United States Senate voted this week to ban the Iranian diplomat nominated to serve as his country's ambassador to the United Nations from entering the US. The Republican-controlled House is expected to soon vote in favor of the ban as well, but the effort is being considered largely a symbolic one since only the White House is authorized to approve such sanctions.

Sunday, April 6, 2014

Metadata monitoring more intrusive than eavesdropping, Snowden and Greenwald warn Whistleblower Edward Snowden and journalist Glenn Greenwald joined forces via video link at an Amnesty International event in the US to speak to a packed hotel ballroom about the dangers of government metadata collection. Both stated that governmental collection of metadata--that is, monitoring timings of calls, to whom calls were made, and how long they lasted--is much more intrusive than listening in on calls directly.

Saturday, April 5, 2014

Relax and do some yoga, Moscow tells sanctions-waving US leaders The public part of the sanctions, which include travel bans and foreign assets freezes, targets Russian politicians and businessmen, who the US considers part of President Putin's inner circle. So far, sanctions have only managed to provoke sarcastic requests from Russian politicians, not included in the US blacklist, to add them as well.
Sunday, March 30, 2014 (2 comments)

Obama announces overhaul of NSA metadata collection The Obama administration is set to release a new proposal that would change the way the National Security Agency accesses consumers' phone data. Changes would include no longer allowing the NSA to store phone call "metadata," and would require the agency to access the data from phone company servers instead.

Wednesday, March 12, 2014 (4 comments)

US abandoned international law, abides by "law of the jungle" in Ukraine Western powers are following an agenda to partition the map of the European region under which a portion of the Black Sea territory will be under US domination, former vice president of the OSCE Parliamentary Assembly, Willy Wimmer, told RT.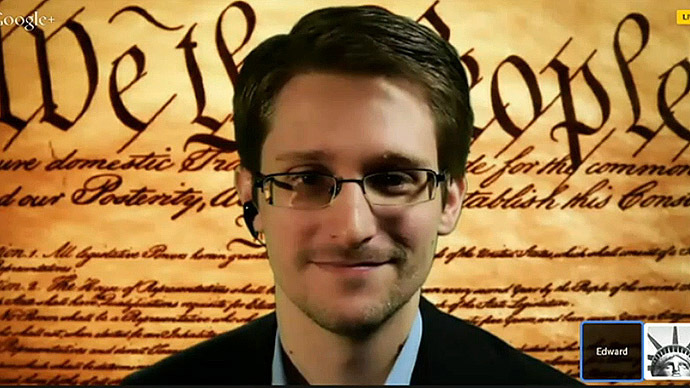 Tuesday, March 11, 2014

Snowden at SXSW: "The Constitution was being violated on a massive scale" Snowden -- speaking in front of a green screen digitally altered to display Article 1 of the US Constitution -- said he would "absolutely" disclose documents all over again, even though his actions thus far have branded him a fugitive and traitor by many. "I took an oath to support and defend the Constitution and I saw that the Constitution was being violated on a massive scale," he said.
Sunday, March 9, 2014

Ron Paul on Liz Wahl's claim: What RT reported was exactly what I said Former US Congressman Ron Paul responds to allegations voiced by the channel's ex-host Liz Wahl that RT censored his interview, in which he criticized foreign intervention in Ukraine. "I thought was very fair. I listened to the replay of the whole thing," Paul said on his official online channel on March 6. "I didn't think it was slanted in any way. I thought what they reported was exactly what I said," he added.

Saturday, March 1, 2014 (2 comments)

Limit surveillance to "terrorist communication," says outgoing NSA boss Alexander's testimony seemed to indicate that the scenario the administration is taking most seriously is leaving the trove metadata with the phone company, with the NSA only forcing the company to handover information about numbers thought to be involved in a web of terrorism.