Articles Listed By Date List By Popularity
Page 1 of 2 First Back Next 2 View All
Sunday, September 10, 2017 (8 comments)

Blaming Russia for America's Racist Crimes The NY Times tried to pin Black voter suppression in North Carolina on Russia -- which makes the newspaper an accomplice in the actual crime.
Saturday, July 22, 2017

Black Women in the Killing Fields A white woman from Australia was gunned down by militarized police in Minneapolis -- part of the collateral damage that flows from the U.S. mass Black incarceration regime. The intended targets are Black women like Charleena Lyles, killed by Seattle cops, last month. "Although Black women and girls make up only 13 percent of the U.S. female population, they account for 33 percent of all women killed by police."
Monday, June 19, 2017 (39 comments)

Why Bernie Sanders is an Imperialist Pig by BAR executive editor Glen Ford "War is not a side issue in the United States; it is the central political issue, on which all the others turn." Some think Bernie Sanders should run with the Peoples Party. But, "Sanders is a warmonger, not merely by association, but by virtue of his own positions."
Wednesday, June 7, 2017 (4 comments)

Ditch Both War Parties: Anti-War Coalition Maps Independent Course to Peace A Black Agenda Radio commentary by executive editor Glen Ford The Democrats claim their warmongering is justified by a manufactured Russian threat, while Donald Trump wants to turn the U.S. war machine on China and Iran.
Monday, May 22, 2017

Jeff Sessions, Eric Holder and Mass Black Incarceration -- Revisited and Revised Attorney General Jeff Session is a nightmare, but Eric Holder, his Black predecessor, was among those that opened the door to racial profiling, "pretext" traffic stops, and mandatory minimum sentences during the Clinton era.
Sunday, May 7, 2017 (1 comments)

Study Shows School Vouchers Hurt Students -- But Trump and DeVos Couldn't Care Less by BAR executive editor Glen Ford President Trump and Secretary of Education Betsy DeVos are old school "segregation academy" politicians with strong ideological investments in private school vouchers.
Friday, April 28, 2017 (3 comments)

Obama's New Job: Guardian of Official Lies Having spent eight years telling lies about who the U.S. was fighting in its so-called "War on Terror"...
Thursday, April 20, 2017 (6 comments)

Maxine Waters Loses Her Mind to "Anti-Russia Dementia" -- Like the Rest of the Black Caucus Not one Black member of Congress seems prepared to challenge the fraudulent U.S. pretext for bombing Syria -- or the war, itself. Maxine Waters is the saddest case. "Who knows how Maxine Waters would vote on Trump's air strike on Syria, since she is under the crazed delusion that Trump and Putin are in cahoots on the gassing and the retaliation?"
Sunday, April 2, 2017 (1 comments)

"Sanctuary Cities" and Black Community Control of the Police "Donald Trump's war against immigrants is a fascist-inspired offensive that is inseparable from his plans to forcefully pacify Black America." We must oppose Trump sending in the feds to lock up immigrants or to police the Black community. "Sanctuary is only possible when the cops are directly answerable to the people."
Friday, March 10, 2017 (17 comments)

Corporate Media Counting Cadence to Fascism The ruling class/War Party/corporate media campaign for regime change in Washington has moments of pure silliness, with grown men claiming that U.S. presidents don't have the power to wiretap people. Someone should have informed Dr. Martin Luther King. But, if self-described "progressives" can believe that the CIA is a benign, democratic institution, they can believe anything.
Monday, February 6, 2017 (6 comments)

If Americans Truly Cared About Muslims, They Would Stop Killing Them by the Millions BAR executive editor Glen Ford... Americans welcome only token numbers of people from countries devastated by U.S. wars of aggression. Donald Trump's current ban on travelers affects nations that were already targeted by President Obama
Sunday, January 15, 2017 (4 comments)

As the Democrats Press for War, the Left Must Demand Peace and Social Transformation The Democrats are whipping up war hysteria and "cynically seeking to harness people's well-founded fears of Trump's domestic policies in order to sabotage the possibility of a relaxation of international tensions." Some folks have taken the bait.
Wednesday, January 11, 2017 (6 comments)

Obama's Last Presidential Lies Nobody lies with the style and aplomb of Barack Hussein Obama, soon to be an ex-president of the United States. In his last address to the nation, Obama lied about his support for labor; economic and social justice for Black people; climate change and, of course, the rightwing Republican program that is his shameful legacy, Obamacare. Virtually everything the man says is a form of lie.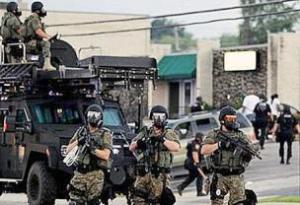 Monday, December 26, 2016 (70 comments)

The Democratic and Republican Paths to Fascism The masks have come off, revealing the face of fascism among the Democrats. With War Fascism supreme in one party, and White Supremacist Fascism at the helm in the other (also warlike) party, it appears that "the winner of the 2016 election was the bipartisan, multi-ethnic War Party." "For Black and brown folks and white progressives, there can be no alliance with either faction."
Thursday, September 15, 2016 (10 comments)

Clinton's Basket of "Deplorables" Hillary Clinton should include herself in her basket of "deplorables." She's got "racism" and "sexism" covered through her endorsement of mass Black incarceration and welfare "reform." Killing hundreds of thousands of Muslims in Syria surely qualifies as Islamophobia, and waging war on the world is the highest expression of xenophobia -- fear of foreigners. Put that woman in a basket!
Friday, July 1, 2016 (2 comments)

International House Negroes Defend European Union A Black Agenda Radio commentary by executive editor Glen Ford The international House Negro is a bi-product of 500 years of European plunder and conquest of the planet. When the European Union was threatened by the exit of Britain, "house Negroes of all colors on both sides of the Atlantic acted like their own worlds were coming to end."
Sunday, November 29, 2015 (1 comments)

No More American Thanksgivings "The core ideological content of the holiday serves to validate all that has since occurred on these shores -- a national consecration of the unspeakable, a balm and benediction for the victors, a blessing of the fruits of murder and kidnapping, and an implicit obligation to continue the seamless historical project in the present day."
Friday, November 20, 2015

"Black Lives Matter" Groups Hoping for a Big Payday This week, the billionaires that fund the Democratic Party and its satellite organizations will decide which of the "Black Lives Matter" groups will get paid to lead the Black "movement." The #BlackLivesMatter network and Campaign Zero are eminently qualified for funding, having "already been accorded the status and privileges of constituent Democratic Party organizations." Who else will make the corporate cut?
Monday, November 16, 2015 (1 comments)

This Ain't Your Grandfather's Civil Rights Movement Shaun King and others like to compare today's incipient movement to the civil rights era. But that's a mistake. Today's youth confront "a profoundly post-civil rights phenomenon": the Mass Black Incarceration State, a national project that was created as a response to the Civil Rights and Black Power Movements. Black folks in the early Sixties appealed to the feds for protection. The feds are the ones who will take you out.
Friday, October 30, 2015 (5 comments)

Garza vs. McKesson: The Great Debate Over How the Democratic Party Will Liberate Black People One side wants the Democrats to sponsor a town hall meeting on racial justice, the other prefers that the Party hold a Black issues oriented debate. Both #BlackLivesMatter and Campaign Zero have earned semi-official status as Democratic Party affiliates. The question is: Who is taking care of the "movement"?
Saturday, October 17, 2015 (19 comments)

#BlackLivesMatter: Chat Partners with Hillary The #BlackLivesMatter organization is now part of the 2016 Democratic Party election machinery, assuming its role as a power broker on behalf of Black people. It's a familiar historical pattern, except for the speed with which the transition has taken place. "The #BLM philosophy is that therapeutic dialogue with members of the power elite is politically more effective than the presentation of core demands."
Saturday, October 10, 2015 (1 comments)

Obama's Justice: Holder Fought Prisoner Release, Lynch Backtracks on Killer Cops President Obama and former Attorney General Eric Holder are given false credit for the pending release of 6,000 drug offenders, when in fact "the administration has fought tooth-and-nail to limit and slow the inmate release process."
Monday, September 28, 2015

Black Families Crushed By Prison and Death Mass incarceration and inner city violence have circumscribed Black women's mating prospects. "Among black male high school dropouts, 60 percent will be dead or incarcerated before the age of 35
Tuesday, September 22, 2015 (12 comments)

Police "Training" is the Problem: They are Trained to Oppress Blacks It is not lack of training that breeds killer cops, but the training, itself.
Saturday, September 12, 2015 (3 comments)

The Trumpocalypse: Democrats Rule Blacks by Fear Trump is a very useful man, to both the Democratic and Republican factions of the ruling corporate party. The "White Man's Party" (Republican) faction can blame excesses of hate on him, and the Democrats can make their case as the lesser evil. Black people will once again feel they have no choice in the matter. "It is fear of Republicans that holds Black people captive to the Democratic Party." That's why the party is a trap.
Wednesday, September 9, 2015 (1 comments)

Killed and Killer Cops Cops are crying that their lives are in danger from folks inflamed by "dangerous national rhetoric." But, "the statistics tell us there has been no rash of attacks on cops." Indeed, the numbers show that felonious deaths of police in the line of duty "are at historically low levels." The truth is, the cops are upset that their impunity from punishment is finally in question.
Saturday, September 5, 2015 (3 comments)

#BlackLivesMatter Hurts Democrats' Feelings #BlackLivesMatter organization this week rejected the endorsement of the Democratic National Committee, embarrassing top members of the party. However, the DNC resolution was a perfectly logical outcome of the #BlackLivesMatter strategy to make no substantive demands of presidential candidates." No demands on power, no threat. Why not endorse?
Saturday, August 15, 2015 (11 comments)

#BlackLivesMatter and the Democrats: How Disruption Can Lead to Collaboration The Democratic Party, like its Republican duopoly cousin, is a criminal enterprise, polluting the politics of Black America. Any sustained Black movement must, of necessity, be in opposition to the Democratic Party and its civic society annexes.
Monday, August 10, 2015

Poll Shows Black People Have Begun to Recover Their Senses on Race Relations Finally, Black perceptions of the actual racial situation in the United States are catching up with reality, after years of collective delusion under The First Black President.
Sunday, July 12, 2015

Black Self Determination Matters Black people finally realize they "need to find ways to protect themselves from the police agencies of the Mass Black Incarceration State." The problem is, getting the police off the community's back is often...illegal. "The U.S. system is full of 'checks' and 'balances' to keep the people in check and the rich men's books balanced."
Wednesday, July 1, 2015 (4 comments)

Both Major U.S. Parties are Plagues on Humanity Corporate parties have collaborated in knocking off countries targeted for regime change. They have both nurtured the jihadist international network that was created under presidents Carter and Reagan. And presidents Clinton, Bush and Obama are complicit in the capital crime of genocide in the Congo, where six million people have died. The presidential nominee of either party must be a ghoul, a fiend, or a banshee.
Friday, April 24, 2015 (3 comments)

Seeking Hillary's Favor: Dyson Attacks Cornel West Michael Eric Dyson has never produced even a few words of substantive critique of Pres Obama's wars, his "Grand Bargain" with the GOP, or his role in the economic collapse of Black America. Instead, Dyson has written a hit-piece on Dr. Cornel West. "The true purpose of his elongated smear of Dr. West is to demonstrate to Hillary Clinton's camp that Dyson remains a loyal Democratic Party operative who is available for service
Thursday, December 4, 2014 (3 comments)

The New Movement: Are We There Yet? The circumstances of struggle will be more difficult than any other that Black people and their allies have faced since Reconstruction was sold out by northern capital in 1877. However, the alternative is continuation of the Black Mass Incarceration State. In this vortex of struggle, the newborn movement will name itself, and choose its own leaders.
Wednesday, October 15, 2014 (12 comments)

Obama's Cynical, Stilted Response to Ebola vs. Cuba's Magnificent Mobilization Socialist Cuba sets the international pace in the battle against Ebola, just as it has in Haiti,

Friday, October 10, 2014 (4 comments)

How to Pay for a Free, Non-Racist Higher Education For-Profit Colleges Destroy the Lives of African Americans The dominos are falling in the for-profit college racket, a cauldron of corruption that has crushed the dreams of millions of African Americans in desperate search for tools to navigate their way through a racist, cut-throat capitalist society.
Saturday, May 17, 2014 (4 comments)

Kidnapped Girls Become Tools of U.S. Imperial Policy in Africa The "humanitarian" U.S. military occupation of Africa has been very successful, thus far. "The Chibok abductions have served the same U.S. foreign policy purposes as Joseph Kony sightings in central Africa." Imagine: the superpower that financed the genocide of six million in Congo, claims to be a defender of teenage girls and human rights on the continent.
Wednesday, March 26, 2014 (1 comments)

Obama: Putin-Baiter and Preventive Detainer the Americans behave as if everyone else's internal affairs are subject to Washington's approval -- a negation of international law and the real meaning of Obama's humanitarian military intervention doctrine, or R2P, Responsibility to Protect. Under the First Black President, U.S. non-recognition of international law has effectively achieved bipartisan acceptance.
Wednesday, March 12, 2014 (12 comments)

Obama's War Against Civilization National sovereignty has been replaced, in the Age of Obama, by an arbitrary "humanitarian" interventionist imperative that can only be exercised by the most powerful.
Wednesday, January 29, 2014 (7 comments)

American State of the Union: A Festival of Lies Before the nation and the world, President Obama pledges to take "action" against "economic inequality," while simultaneously holding secret negotiations on a Trans Pacific Partnership trade scheme that will quicken the pace of the global Race to the Bottom, deepening economic inequalities. "Lies of omission are even more despicable than the overt variety, because they hide.
Sunday, December 1, 2013
Obama's Ludicrous Afghanistan Declarations
News, analysis and commentary from the black left.

Thursday, September 19, 2013 (2 comments)

Black America More Pro-War Than Ever During President Obama's run-up to war with Syria, "African Americans were, for the first time in polling history, the most bellicose major ethnicity in the United States." How could such a political role-reversal come to pass? "The progressive, peace-seeking African American worldview is out of sync with the deep imperative to support the First Black President."
Friday, September 13, 2013 (2 comments)

Obama's Humiliating Defeat When presidents fail, it is a public spectacle. In his rush into unprovoked war against Syria, President Obama overplayed his hand. Shortly before he appeared on television on Tuesday, "Obama's handlers advised him that his political position was, for the time being, untenable." But he'll soon be back on the warpath, meaner and more aggressive than ever.
Thursday, June 27, 2013

The Obamas Do Africa President Obama claims he's off to Africa in search of trade. But the Chinese have eclipsed the U.S. in that arena by offering "far better terms of trade and investment than the Americans." Obama talks trade for public consumption, while the U.S. military locks Africa in a cage of steel.

Friday, February 8, 2013

Fleets of Drones Descend on Africa U.S. drone bases are multiplying on the African continent. Niger has just "given the green light to accepting American surveillance drones on its soil"; neighboring Burkina Faso already has one; two new drone facilities are opening in Ethiopia and the Seychelles; and UN peacekeepers in Congo want U.S. drones. Drones have terrorized Somalia from AFRICOM's base in Djibouti for the past seven years.

Thursday, February 7, 2013 (14 comments)

Obama and Co. Make Up the Law as They Kill The president's men drib and drab out their rationale for how President Obama decides which Earthlings live or die. A newly leaked "white paper" claims the president can transfer his killing authority to unnamed, unranked "informed, high level" officials. Thus, the people-killing process "is whatever the president or the nearest 'informed, high-level official of the U.S. government' says it is.

Thursday, January 24, 2013 (9 comments)

The White House Un-Reality Show Despite the fact that "it was Barack Obama who began the current austerity offensive in the weeks before delivering his first inaugural address," the president was allowed to pose as a champion of the social safety net. Having redefined war, he once again claims to be a peacemaker. "By cheering the inaugural speech, progressives are only encouraging Obama's gaming and mendacity."

Friday, January 18, 2013 (4 comments)

Don't You Dare Conflate MLK and Obama If Dr. King were alive today, there might be a Black president, but he or she would certainly not get MLK's support if he behaved like Barack Obama. Dr. King would oppose Obama's wars, "make Wall Street scream, and attempt to render the nation ungovernable under the dictatorship of the Lords of Capital."

Wednesday, January 9, 2013 (6 comments)

Obama's Steady Road to Austerity President Obama has been remarkably disciplined and focused in his four-year pursuit of a "grand austerity bargain" with the GOP. "With this month's agreement to make Bush's tax cuts permanent for 98 percent of the public, Obama and the Republicans' positions are closer than ever." It seems that soon, the axes may start to fall.

Thursday, December 20, 2012 (18 comments)

The Ultimate Logic of a Society Built on Mass Murder "A culture that celebrates the annihilation of whole peoples, casually and without guilt or introspection, is devoid of human values at its very core." Ultimately, such a society turns against itself. It's not a sudden madness, but a long history of mass murder come full circle.

Wednesday, December 19, 2012 (2 comments)

Obama's Historic Assault on Social Security After four years of maneuvering, President Obama finally has his White Whale, Social Security, within harpooning distance. "Obama has largely neutered Social Security's traditional congressional defenders, who know perfectly well what their president is up to, but will not directly oppose him."

Thursday, December 13, 2012 (2 comments)

China to be Number One in 2030 -- But Who Will be Top Gun? The U.S. and Europe produce less and less of what the world wants, and will be eclipsed by Asia by the year 2030, according to America's own National Intelligence Council. But the NATO allies account for 70 percent of the world's military budget. The task between now and 2030, is to prevent the decaying powers "from holding the productive forces and nations of the world hostage by force of arms.

Wednesday, December 5, 2012 (1 comments)

Massacre in Cleveland: Lynch Law Was Never Repealed America's "unwritten law" dictates that nothing unusual is happening when 13 cops shoot 137 bullets at an apparently unarmed Black couple in Cleveland, a Black-run city. Ida B. Wells, who fought and chronicled lynching at the turn of the 20th century, would feel horribly at home.

Wednesday, November 28, 2012 (8 comments)

Obama and GOP Play Tag Team on Entitlements Not only is the "fiscal cliff" a phony, manufactured issue, there is fundamental agreement between the White House and Republicans in Congress on how this game should end: with entitlements in tatters. "Austerity is the common language and goal of the talks."

Saturday, November 24, 2012 (2 comments)

Evacuate Guantanamo -- It Belongs to Cuba For more than 100 years, the United States has illegitimately occupied Cuban soil. "They turned one of Cuba's most precious natural resources, Guantanamo Bay, into a curse on the lips of the world."

Friday, November 23, 2012 (4 comments)

Obama's Mideast Policy Burns The U.S. believes it can manipulate jihadi fighters in a holy war against the West's enemies in the Muslim world. However, "Israel's murderous assault on Gaza threatens to unravel the Salafist-Qatari-Saudi-NATO axis, for one simple and irreducible reason: there is no place for the racist settler state in this post-Arab Spring equation."

Thursday, November 15, 2012 (4 comments)

Score at United Nations: Cuba 188 -- U.S. 3 The United States stands virtually alone in its crusade against Cuba, at the United Nations General Assembly and in western hemispheric forums. "Rather than isolating Cuba, the 52 year-long embargo has resulted in the isolation of the United States."

Thursday, November 15, 2012 (1 comments)

Obama's Second Term: Four More Years of Groundhog Days President Obama has nearly consummated his long courtship with the GOP, yet Black and labor leaders continue to pretend that he is a bulwark against austerity. In an even more nightmarish version of Groundhog Day, "the behavior of the Black and labor leadership actors remains the same, as the economic and political landscape crumbles around them."

Thursday, November 8, 2012

Victory! -- for the Non-Resistance The More Effective Evil has trounced those Republicans with evil intentions. Folks who never made a single demand of the corporate, war mongering Democrat think they are some kind of victors. "The non-resisters have won a non-victory against an unimpressive enemy," while Obama plots new atrocities.
Wednesday, October 24, 2012 (6 comments)

Obama and Romney: Brothers of the Same Imperial Lodge Monday's performance by the top presidential contenders turned out to be a grand consensus on foreign policy. "There is not one ray of daylight between the two." Since Obama and Romney have no substantive disagreements, the choice is simple: vote for -- or against -- the one you think is most competent at waging imperial war. Peace and the rule of law are not options, on either ticket. Welcome to the Imperial Hegemony Dome.
Thursday, October 18, 2012 (5 comments)

The Duopoly Debates Itself In the absence of effective popular resistance to the duopoly of money, the economic and social crisis fails to create a corresponding political crisis for the rulers. As a result, there is nothing important for them to debate.