Articles Listed By Date List By Popularity
Page 1 of 8 First Back Next 2 3 4 5 6 7 8 View All
Monday, April 17, 2017 (17 comments)

The Problem is Washington, Not North Korea Washington has never made any effort to conceal its contempt for North Korea. In the 64 years since the war ended, the US has done everything in its power to punish, humiliate and inflict pain on the Communist country. Washington has subjected the DPRK to starvation, prevented its government from accessing foreign capital and markets, strangled its economy with crippling economic sanctions...
Tuesday, March 28, 2017 (2 comments)

Ending Syria's Nightmare will Take Pressure From Below Washington is using the fight against ISIS as a pretext for capturing and holding territory in a critical, energy-rich area of the world. The plan to seize parts of East Syria for military bases and pipeline corridors fits neatly within this same basic strategy. But it also throws a wrench in Moscow's plan to restore the country's borders and put an end to the six year-long conflict.
Thursday, March 23, 2017 (8 comments)

Will Washington Risk WW3 to Block an Emerging EU-Russia Superstate A new global empire is gradually emerging in Central Asia, and while the transformative impact of economic integration has not yet been realized, US efforts to block the embryonic alliance are getting weaker and more desperate all the time. The hyperbolic propaganda about the alleged "Russia hacking" of the presidential election is just one example of this, while the arming of Nazi militants in Kiev is another.
Friday, March 17, 2017

Yellen's Effed up Attack on Working People, Sad The idea that the Fed is an impartial referee that serves the public by setting interest rates and regulating the financial system, is the nuttiest of all the conspiracy theories. The Fed is not only a creature of the banks, it is also the most destructive institution in the country today. Isn't it true that Donald Trump wouldn't be president today if it wasn't for the Fed? Think about it.

Wednesday, March 15, 2017 (4 comments)

Trump's Infrastructure Boondoggle The objective is to allow wealthy corporations to buy public assets at fire-sale prices so they can turn them into profit-generating enterprises. Trump is signaling to his pirate friends in Corporate America that he'll use his power as executive to find new outlets for profitable investment so they have some place to stick their mountain of money.
Saturday, March 11, 2017 (1 comments)

Stronger Economic Growth? Over My Dead Body, Says Janet Yellen The Fed would rather prick the massive asset-price bubble it has created and risk sending the financial system into a headlong plunge off a cliff, than allow perennially-strapped workers to garner even a farthing more for their daily drudgery. Class hatred remains the animating force that fuels all Central Bank policy decisions.
Wednesday, March 8, 2017 (4 comments)

The Trump Investigation: Essential Criminal Probe or Politically-Motivated Witch Hunt? If Trump is found guilty of illegal behavior in his connections with Russia, then he should be prosecuted to the full extent of the law. But if Obama or the DOJ abused their authority by using the Intelligence agencies and the media to conduct a politically-motivated witch hunt aimed at crushing a political rival and reversing the results of the election, then they should be held accountable.
Friday, March 3, 2017 (14 comments)

Trump Flip-Flops on Bubblemaking when Trump was running for office, stocks were headed for another thundering crash. But now that he's president, Happy Days Are Here Again. The question is: Which Trump do we believe? Are stocks in a bubble or not? Stocks aren't just in a bubble, they've completely detached from reality.
Friday, February 24, 2017 (3 comments)

McMaster Takes Charge: Trump Relinquishes Control of Foreign Policy Why has Trump put a Moscow-hating hawk like H.R. McMaster in a position where he'll be able to intensify the pressure on Russia, increase the provocations and, very likely, trigger a conflagration between the two nuclear-armed superpowers? Trump is signaling to his adversaries that he will cooperate in carrying out their strategic agenda provided they allow him to finish his term.
Wednesday, February 22, 2017 (38 comments)

Liberals Beware: Lie Down With Dogs, Get Up With Fleas Leftists should avoid the temptation of aligning themselves with groups and agencies that might help them achieve their short-term goal of removing Trump, but ultimately move them closer to a de facto 1984 lock-down police state. Misplaced support for the deep state Russophobes will only strengthen the national security state's stranglehold on power. That's not a path to victory, it's a path to annihilation.
Friday, February 17, 2017 (81 comments)

Blood in the Water: the Trump Revolution Ends in a Whimper The inexperienced Trump -- who naively believed that the president sets his own foreign policy -- has now learned that that's not the case. The Flynn slap-down, followed by blistering attacks in the media and threats of impeachment, have left Trump shaken to the core.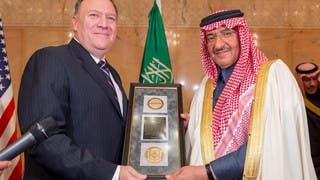 Tuesday, February 14, 2017 (3 comments)

Worst Joke Ever? U.S. Spy Chief Gives Saudi Prince Highest Award for "Fighting Terrorism" The evidence against Saudi Arabia is overwhelming and damning, and that's what makes Pompeo's performance in Riyadh so confusing. Why is the head of the CIA bestowing an award on a man who could undoubtedly identify some of the world's biggest terrorist donors, unless, of course, the CIA derives some benefit from the arrangement?
Saturday, February 11, 2017 (5 comments)

Trump's Deregulation Boondoggle; "One Shitty Deal" According to Trump, the benefits of ditching the rules far exceed the risks which, of course, will be shouldered exclusively by the blue collar working stiffs who naively supported Trump's bid for president thinking he had their best interests at heart. Hopefully, these people will realize that President Silverspoon has allied himself with the same thieving scoundrels who precipitated the 2008 financial crash.
Wednesday, February 8, 2017

Trump Plays Cat and Mouse with Iran Washington abhors any country that conducts its own independent foreign policy or resists US attempts to install its own puppet government. With Iran, the problems run even deeper since Iran sits on a vast ocean of oil and natural gas to which the western oil giants feel they are entitled.
Saturday, February 4, 2017 (7 comments)

The Berkeley Incident The masked rioters actually did Trump a favor. They created a justification for presidential intervention backed by the prospect of direct involvement. One can only wonder how many similar experiments will transpire before Trump puts his foot down and bans demonstrations altogether? Of course, that may very well be the objective.

Thursday, February 2, 2017 (19 comments)

How We the People Were Screwed by Obama's Bogus "Recovery" Neither Yellen nor McConnell can allow Trump to kick-start the economy, because stronger growth puts upward pressure on wages which lifts inflation and pushes up interest rates. Higher rates are the death knell for cheap money which is the secret ingredient that keeps the nation's wealth flowing upwards to the glorious 1 percent.
Saturday, January 28, 2017 (57 comments)

Game Over for Democrats? Ever since the election, the Dems have made no effort at course correction, no effort to reconnect with the millions of working people in the red states who used to vote Democrat but switched because they wanted change. No. The Democratic party doesn't have to be a place where progressive ideas go to die. But they'd better get it together fast or it's going to be Game over.

Thursday, January 26, 2017 (20 comments)

Double Standards: Where Were the Liberal Protesters During Obama's Wars? The United States has been at war for eight straight years under Obama, and during that time, there hasn't been one sizable antiwar march, demonstration or protest. Nothing. No one seems to care when an articulate bi-racial mandarin kills mostly people of color, but when a brash and outspoken real estate magnate takes over the reigns of power, then "watch out" because here come the protesters, all three million of them!
Thursday, January 19, 2017 (18 comments)

The Trump Speech That No One Heard Washington's plan for Russia is no different than its plan for Syria. Both countries will be chopped up into smaller bite-size enclaves eliminating the possibility of a strong nationalist government rising up and resisting Washington's relentless exploitation and repression. It's divide and conquer writ large.
Wednesday, January 18, 2017 (1 comments)

Chelsea Manning sentence commuted after seven years of brutal imprisonment The language of the commutation appears to rule out any future legal proceeding against Manning in either civilian or military courts, since it covers all 20 charges for which she was convicted and sentenced. Neither incoming President Donald Trump nor the Republican-controlled Congress has the legal power to overturn the commutation.
Tuesday, January 10, 2017 (3 comments)

US Intel Agencies Try to Strong-Arm Trump into War With Russia The big shots who run the country are trying to strong-arm "the Donald" into carrying their water so the depredations can continue and Central Asia can be transformed into a gigantic Washington-dominated corporate free-trade zone where the Big Money calls the shots and Capital reigns supreme.
Saturday, January 7, 2017 (1 comments)

The Trump Bubble Trump knows his so called "tax holiday" scam is a bunch of baloney. Why would companies expand their operations, hire more workers, and generate more product when consumer demand is still in the crapper seven years after the Great Recession? They're not going to do that. Trump knows his so called "tax holiday" scam is a bunch of baloney.
Thursday, December 29, 2016 (5 comments)

The Reason the Fed is Raising Rates, and Why It Won't Work The Fed created the incentives for this destructive behavior and they are the primary regulator of the entire financial system. They could stop this nonsense with just one appearance before Congress, but they choose not to. They'd rather keep the real economy in a permanent coma and blow up the financial system than lift a finger to stop Wall Street's reckless and relentless looting spree.
Thursday, December 22, 2016 (13 comments)

Trump's Economic Plan is a Betrayal of the People Who Voted for Him That's why Trump's supporters should be so disappointed, because they stood by him through the most vicious campaign in history and helped to shoehorn his sorry posterior into office. And now he has sold them down the river. Thanks a lot, Don.

Saturday, December 17, 2016 (8 comments)

Ah, So Putin Didn't Hack Those Emails After All The 'hacking story' has nothing to do with hacking and nothing to do with Russia. It's just another attempt by establishment elites to distort the facts in order to subvert the democratic process and overturn the election results. Isn't that what this is really all about, regime change in the USA?
Wednesday, December 14, 2016 (2 comments)

Former Texas governor who called for abolition of Energy Department to be Trump's energy secretary Perry is on record as a supporter of the complete elimination of the Department of Energy. It was the third of three federal departments he called for abolishing during a Republican presidential debate in 2011, the one whose name he forgot, leading to the widely ridiculed "Oops" moment that helped torpedo his campaign for the 2012 nomination.
Tuesday, December 13, 2016

The Corporate Media's Assault on Free Speech: an Interview with Jeffrey St. Clair Trump embraced almost every third rail in American politics and not only survived but thrived on it, like some super-villain in a Dark Horse comic. It's quite remarkable really. The MSM media has been dying for years and Trump's campaign emphasized just how feeble and politically impotent the Times and the Post, as well as the network and cable news outlets have become, at least for an outlier candidate like Trump.
Monday, December 12, 2016 (13 comments)

The Democrats "Russia Hacking" Campaign is Political Suicide People are afraid because things are getting worse not better. Their standards of living are slipping, they're worried about their retirement, their jobs, their health care, and the pile of debt their kids have accumulated to go to college. They've lost confidence in the media, the congress, the courts and the president who promised change but never lifted a finger for working people his entire time in office.
Thursday, December 8, 2016 (4 comments)

Rolling Back the Empire: Washington's Proxy-Army Faces Decisive Defeat in Aleppo This is the end of the line for the US-backed terrorists that have laid to waste much of the battered country and killed more than 400,000 people. And while Aleppo may not be the decisive turning point in the ongoing conflict, it does put all of the main population centers and industrial hubs back under regime control.
Sunday, November 27, 2016 (1 comments)

Trump's Economic Plan: This Isn't Going to Work Had Obama made any attempt to address wage stagnation, shrinking incomes, student debt, or widespread economic insecurity, Hillary Clinton would probably be president today. As it happens, the victory went to the anti-establishment outsider who promised a fundamental change in direction, Donald Trump.
Friday, November 18, 2016 (4 comments)

Trump Prepares to Takeover Fed There's a reason why 95 percent of all income gains in the last eight years have gone to the one percent, while working people have struggled just to put food on the table. Just like there's a reason why stocks have tripled in value in the last eight years while wages and incomes have stagnated and the economy has slowed to a crawl. It's the policy, stupid.

Tuesday, November 8, 2016 (7 comments)

Doomsday Election That's why everyone is so utterly dejected and depressed about the election, because instead of voting for a candidate they really want or admire, most people are simply voting for the candidate that either disgusts or scares the hell out of them the least. What kind of choice is that? The only thing that is certain is that, whoever wins, we lose.
Friday, November 4, 2016 (4 comments)

Memo to Comey: Keep Your Damn Hands Off Our Elections Comey is a renegade, a lone wolf who arbitrarily decided to abandon normal bureaucratic procedures in order to torpedo Clinton's prospects for election. The widespread belief that Comey is a "good man who made a bad decision" is nonsense. He is an extremely intelligent and competent attorney with a keen grasp of Beltway politics. He knew what he was doing and he did it anyway. It's absurd to make excuses for him.
Tuesday, November 1, 2016 (42 comments)

How Putin Derailed the West The assumption is that eventually, and with enough pressure, Putin will throw in the towel. But this is another miscalculation. Putin is not in Syria because he wants to be nor is he there because he values his friendship with Syrian President Bashar al Assad. That's not it at all. Putin is in Syria because he has no choice. Russia's national security is at stake.
Wednesday, October 19, 2016

Trump Unchained Do people know that there has never been a war that Hillary didn't support, a job-killing "free trade" bill she didn't back, or a civil liberties-eviscerating piece of legislation (Clinton voted for the original USA PATRIOT Act in 2001, as well as the revised version in 2006.) she wasn't eager to sign?
Wednesday, October 12, 2016 (12 comments)

Obama Stepped Back From Brink, Will Hillary? Washington likes to pick its own leaders, leaders who invariably serve the interests of its wealthy and powerful constituents, particularly Big Oil and Israel. That's how the system works. Everyone knows this already. Washington has toppled or attempted to topple more than 50 governments since the end of WW2. The US is a regime change franchise, Coups-R-Us.

Friday, October 7, 2016 (31 comments)

Pentagon Begins Low-Intensity, Stealth War in Syria Call it stealth warfare, call it poking the bear, call it whatever you'd like. The fact is, the Syrian war has entered a new and more dangerous phase increasing the chances of a catastrophic confrontation between the US and Russia. This is the brainchild of Pentagon warlord, Ash Carter, whose attack on a Syrian outpost killed 62 Syrian regulars putting a swift end to the fragile ceasefire agreement.
Sunday, October 2, 2016 (10 comments)

The Biggest Heist in Human History Not only do the plutocrats own half of everything on planet earth -- their share of the booty is actually increasing every year. Nice, eh? The point is, none of this is accidental. These outcomes are the direct result of policy, the Fed's policies. And the Fed is not alone either. This greatly-accelerated class war is a now global phenom.

Tuesday, September 27, 2016 (10 comments)

Putin Ups the Ante: Ceasefire Sabotage Triggers Major Offensive in Aleppo Samantha Power dispelled any doubt that either she or anyone else in the Obama administration cared at all about the people who lost their lives in the bombing raid. She also made it clear that she didn't care if the US had violated the terms of the ceasefire just two days before critical parts of the agreement were scheduled to be implemented.

Friday, September 23, 2016 (6 comments)

America's Racist Killer Cops: Why Stand for a Country That Can Gun You Down in Cold Blood? There's a large group of people living in this country whose rights have always been provisional and who've never gotten a fair shake, and that sure as heck hasn't changed since Obama got took office, in fact, the situation is worse than ever. When living under the American flag means that everyone is protected equally from killer cops, then I'll gladly stand for the national anthem. Until then, forget about it.

Tuesday, September 20, 2016 (14 comments)

Rogue Mission: Did the Pentagon Bomb Syrian Army to Kill Ceasefire Deal? Warhawk Supremo, Ash Carter, and his Russophobe colleagues want to intensify the conflict, expand America's military footprint in Syria, and confront Russia directly. They don't approve of the President's policy, so they're doing everything they can to torpedo the ceasefire deal. But why now, after all, the ceasefire began five days ago?
Thursday, September 15, 2016 (15 comments)

Assad's Death Warrant There is no difference between Bush's invasion of Iraq and Obama's invasion of Syria. The moral, ethical and legal issues are the same, the only difference is that Obama has been more successful in confusing the American people about what is really going on. And what's going on is regime change: "Assad must go."
Friday, September 9, 2016 (4 comments)

Stop the Fed Before it Kills Again Companies have all but abandoned the traditional practice of recycling earnings into factories, productivity or research and development. Instead, they're engaged in a protracted liquidation process where the creditworthiness of their companies is used to borrow as much money as possible from the bond market which is then divvied up among insatiable CEOs and their shareholders.
Friday, September 2, 2016 (18 comments)

Can We Please Get Rid of the Pledge? Many people think the Pledge is simply an affirmation of their respect for the flag, their love for the country, and their gratitude to the men and women who fought in America's wars. But that's not what it is. The Pledge is an attempt to impose conformity on the masses and compel them to click their heels and proclaim their devotion to the Fatherland.

Tuesday, August 30, 2016 (63 comments)

Three Cheers for Kaepernick: Is Sitting During the National Anthem an Acceptable Form of Protest? Does Kaepernick really deserve this outpouring of hated and vitriol? Isn't he just asking whether the values espoused in the National Anthem actually apply to African Americans or not? That's a fair question, isn't it? Think of it this way: Maybe this IS the "land of the free and the home of the brave" if you're white, but if you're black, not so much.
Thursday, August 25, 2016 (4 comments)

The Broken Chessboard: Brzezinski Gives Up on Empire Unfortunately, Brzezinski's more cautious approach is not likely to be followed by presidential-favorite Hillary Clinton who is a firm believer in imperial expansion through force of arms. It was Clinton who first introduced "pivot" to the strategic lexicon in a speech she gave in 2010 titled "America's Pacific Century."
Monday, August 8, 2016 (5 comments)

Washington Slapdown: Turkey Turns to Moscow for Help The Obama administration is still uncertain of how to proceed mainly because no one had expected that Erdogan would break with Washington, purge his enemies, pursue rapprochement with Moscow, Tehran and Damascus, and throw a wrench in Uncle Sam's plan for redrawing the map of the Middle East.
Wednesday, July 20, 2016 (4 comments)

The Coup in Turkey has Thrown a Wrench in Uncle Sam's "Pivot" Plan Putin and Erdogan have settled their differences and scheduled a meeting for the beginning of August. In other words, the first world leader Erdogan plans to meet after the coup is his new friend, Vladimir Putin. Is it starting to sound like Turkey may have slipped out of Washington's orbit and moved on to more reliable friends that will respect their interests?
Saturday, July 2, 2016 (5 comments)

Another Fed Fiasco: U.S. Bond Yields Fall to Record Lows Basically, bond yields are telling us all that there is no hope for the future, that what you see is what you get. There won't be an economic recovery because an economic recovery is not in the interests of the people who are getting rich off the current policy. So just suck it up and get used to it.
Saturday, June 25, 2016

Basta Ya, Brussels! British Voters Reject EU Corporate Slavestate Not only has the EU failed to live up to its promise of lifting all boats and widening prosperity, it has also transformed the region into a low-growth, high unemployment charnel house where bankers and their corporate allies siphon off the wealth of the weaker states to enrich high-flying speculators and voracious bondholders. And Britain is just the tip of the iceberg.
Friday, June 17, 2016 (3 comments)

Negative Rates, Plunging Yields and a "Fix" for the Economy If Obama rehired the 500,000 public sector employees who got their pink slips during the recession, then we'd have positive inflation in no-time-flat. But the bigwigs don't want that. They don't want full employment or higher wages or workers to a bigger share in the gains in production. Fixing the economy is the easy part. It's the politics that are tough.
Saturday, April 23, 2016 (6 comments)

The Strange Death of Hugo Chavez: an Interview with Eva Golinger There is a very strong possibility that President Chavez was assassinated. There were notorious and documented assassination attempts against him throughout his presidency. Numerous attempts on his life were thwarted by the Venezuelan intelligence agencies and particularly the counterintelligence unit of the Presidential Guard that was charged with discovering and impeding such threats.
Monday, April 18, 2016 (2 comments)

Blanket Student Debt Amnesty Now Congress knew what they were doing. They knew they were part of a big sting operation targeting credulous students who never guessed that their government was just a bunch of lousy shakedown artists. And now congress can pat themselves on the back for a job well done, for luring millions of millennials into a lifetime of indentured servitude.
Thursday, April 14, 2016 (57 comments)

Socialist Senator Explains the Difference Between Democrats and Republicans Long was a scrappy street fighter who liked confrontation and didn't mind getting his nose bloodied every now and then. He also liked winning, which is precisely what we need right now, someone who knows how to win and doesn't sweat the details. Leave that to the historians. Politics is bloodsport, not pattycake.
Saturday, April 9, 2016 (5 comments)

PEW Explains Who is Voting for Trump and Why A higher percentage of Trump supporters think they are getting screwed-over by an unfair system. They think "free trade" only benefits the rich, they think the government is unresponsive to their needs, they think the system is rigged, they think the economy stinks and they're really, really mad.
Wednesday, April 6, 2016 (6 comments)

The "Gig Economy"; Another Vicious Attack on Ordinary Working Slobs Create a bubble with easy money and low rates. Burst the bubble and precipitate a crisis. Impose excruciating belt-tightening measures that restructure the workforce, privatize public assets and transfers more of the national wealth to the parasites at the top of the foodchain, the mighty one percent. Wash, rinse, repeat.
Friday, March 18, 2016 (1 comments)

Subprime Auto Loans: the Next Shoe to Drop? You know what comes next, don't you? The delinquencies start piling up, the finance companies begin to creak and groan, the banks and other counterparties hastily sell off assets to try to stay afloat, and, finally, the Fed rides to the rescue with another batch of emergency loans to prevent the whole wobbly, over-leveraged system from crashing to earth.
Tuesday, March 15, 2016

Draghi's Giant Giveaway; More Handouts for Wall Street Draghi and his ilk want unemployment to remain high in order to keep inflation low. As long as inflation stays low, Draghi can continue to provide cheap money to his crooked friends on Wall Street, which is the real objective. What this tells us is that Draghi's QE is not really "stimulus" at all, but a form of upward distribution concealed behind public relations sloganeering.
Thursday, March 10, 2016 (1 comments)

A Warning From the B.I.S.: the Calm Before the Storm? Profits are down and stocks are in trouble. Is it any wonder why the BIS is running around with its hair on fire? Also, corporate earnings have dropped for two straight quarters which is a sign that the economy is headed for a slump.
Monday, February 29, 2016 (1 comments)

Wall Street's Savage Reckoning: Clouds Gather Over G-20 Summit Now that monetary policy is kaput, fiscal stimulus is the only game in town. That's just the way it is. Either the finance ministers accept that fact and push for additional government spending on infrastructure programs and the like, or stocks and profits are going to face a savage reckoning. It's that simple.