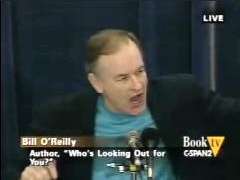 Can You Tell The Difference?
(UPDATE BELOW)
All you far-left, hate-smear sites and networks and newspapers in bed with the fascist, far-left loon, hate-smear sites...Just Stop It!
Sure, Bill said he "couldn't get over the fact" that there was no difference between Harlem's, black-run, Sylvia's, and other restaurants, but you just don't understand that Sylvia's is run by people who aren't white, or even Asian.
"It's not like I said that there were nappy-headed hos there," said Bill, I just said that it was like going into an Italian restaurant in an all-white suburb in the sense of people were sitting there, and they were ordering and having fun. That there wasn't any kind of craziness at all.
"When I said 'I couldn't get over the fact,' that an African-American restaurant was the same as a regular restaurant, I wasn't saying that I was surprised about the sameness, I was just saying that I could actually order veal Parmesan with the colored food."
"Of course I was surprised, just as surprised as I when I found that there was no difference between 'Roots' and 'Cultural Warrior'. James Baldwin, me, try to tell us apart. That's not racist, Folks™, that's just plain playing the white keys and the Harlem keys at the same time."
"And when I said that a lot of Americans didn't know that blacks wear tuxedos like the black musicians at Anita Baker's concert, I just meant that all blacks don't have bones in their noses".
It you need any more proof that Bill isn't racist, how do you explain that he brought Fox's Juan Williams on the Factor, a real black, to back up his pro-black views.
"I also know Japs who drive well, Kikes who aren't cheap and Whops who aren't members of the Mafia," said Bill. "If the far-left Nazi media wants to use that to turn me into a bigot then so be it."
So, please, leave the poor man alone. He's just trying to bring us together so we can eat in any minority's restaurant without worry about be killed. If that's racist, maybe better we eat at home.
UPDATE: THIS JUST KEEPS GETTING BETTER: O'Reilly Says "Biden Will Never Compliment A Black Man Again In His Life"
From this morning's Factor: Continuing his defense of his surprise that a black restaurant in Harlewm seemed just like any other restaurant, today Bill O'Reilly told his listeners that he meant that he was "surprised" by the black restaurant NOT because it was different than white restaurants, but that it was not "marketed in a way that it would draw a cetain clientele."
COME ON, Bill. Do you think the Folks fell off the Fox News wagon? And how would you have thought they would marketing to their clientele, Bill?

Then he says that "CNN is a corrupt opeation" and that he "he can prove it in a provable way."
"They knew it was false (because O'Reilly told them it was) and they still went with the story."
In the very next sentence he said that he's never had a problem with CNN. So, Bill, is their corruption then based on what they did you you yesterday?
(Note: You can view every article as one long page if you sign up as an Advocate Member, or higher).