Reprinted from Mondoweiss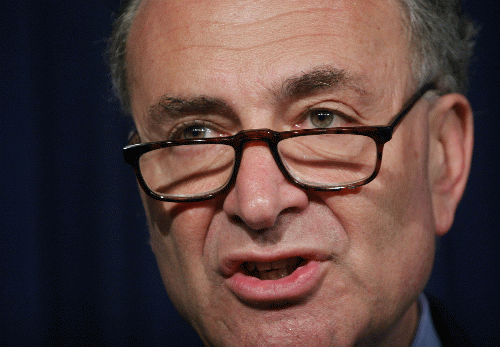 (
Image
by
Mondoweiss
)
Details
DMCA
>
NY Senator Charles Schumer told a New York Jewish audience a week ago that the U.S. and Israel have very different interests re a possible Iran deal and as a senator representing Americans, he may determine that the deal is in his country's best interest. In a remarkably frank discussion of dual loyalty, he said his concern for Israel comes second.
"I have to do what's right for the United States first of all, and Eretz Yisrael [the land of Israel] second."
Schumer says his opposition to the deal has made President Obama "mad," but then suggested he's going to come around. He told the Jewish group that a military strike on Iran may not work, and could cause the deaths of "tens of thousands" of Israelis. A deal will give the United States greater control over Iran's program than it would have without a deal.
People have been watching Schumer's response to the Iran deal closely, because the powerful senator has, atypically, been very quiet about the matter. Though he has opposed Obama's actions, with the support of the rightwing Israel lobby, his acceptance of the deal could bring a lot of the pro-Israel faction in the American Congress on board. In the speech the senator spoke of himself as a guardian of Israel -- "someone who tries to be a shomer Israel" -- and said it was one of the most "momentous" decisions of his political life.
He has consulted closely with Israeli leaders, including Prime Minister Netanyahu and opposition leader Isaac Herzog, as well as getting five hours of briefings from Secretary of State John Kerry and Under Secretary Wendy Sherman.
The story was first reported in Haaretz. "In speech to Orthodox Union, one of the most pro-Israel Democrats seems to be gearing up to back Obama in abandoning the military option on Iran."
Schumer was open about the issue of dual loyalty. He said that he wanted to speak bluntly to the Jews in the room ("tachlis") but that because the speech is being recorded, he was going to be more nuanced. "Some things should be said in the mishpocheh," he said. He went on to explain the difference between the American interest and a Jewish interest (or the interest of "many" Jews, as Schumer explains). If President Obama or the average American thinks there's a 95 percent chance that the deal is good, they'll sign off on it; but Jews, almost all of whom support Israel, won't find a 5 percent margin comforting. So this is a case, Schumer says, where American interests and Jewish interests are dissimilar-- "there is a basic difference in viewpoint"-- which is why it's been such a difficult question for him.
The worst case is that Iran would get a nuclear weapon, because it might use it against Israel:
"If God forbid, a nuclear weapon were to be exploded over Jerusalem" a million would die and everyone else would leave, so the millennium old dream of the Jewish people to have a homeland in Eretz Israel, now 67 years old, would be gone."
But the threat to the U.S. from an Iranian nuke is "not an existential one." But it would change the balance of power. The odds are all too high that the Sunni nations would want to get a nuclear weapon, and they have a willing seller in Pakistan.
"Now the next worst situation is a military strike against Iran. Why?"
First, it's not clear that it would be successful. Second, Iranians would direct terror attacks against the US and Israel. And at the minimum they'd direct Hezbollah to send 10s of thousands of rockets into Israel.
"The odds are tens of thousands of Israelis could die."
Schumer moved on to the idea of a deal and acknowledged that Jews and organized Jewish groups are leading the opposition to a deal. "Why doesn't the world see this the way we see it?" he asked. Well, let's say the agreement has a 95 percent chance of assuring that Iran won't have nuclear weapons.
(Note: You can view every article as one long page if you sign up as an Advocate Member, or higher).