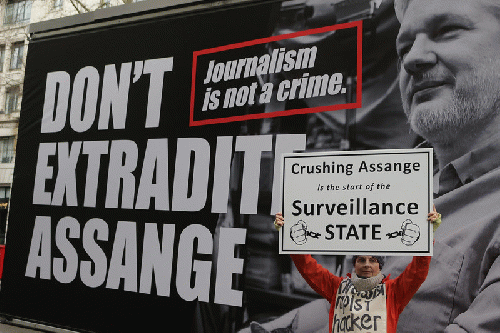 Don't extradite Assange march, central London 22nd February 2020.
(
Image
by (Credit: Steve Eason/ Flickr))
Details
DMCA
Woolwich Crown Court is designed to impose the power of the state. Normal courts in this country are public buildings, deliberately placed by our ancestors right in the center of towns, almost always just up a few steps from a main street. The major purpose of their positioning and of their architecture was to facilitate public access in the belief that it is vital that justice can be seen by the public.
Woolwich Crown Court, which hosts Belmarsh Magistrates Court, is built on totally the opposite principle. It is designed with no other purpose than to exclude the public. Attached to a prison on a windswept marsh far from any normal social center, an island accessible only through navigating a maze of dual carriageways, the entire location and architecture of the building is predicated on preventing public access. It is surrounded by a continuation of the same extremely heavy duty steel paling barrier that surrounds the prison. It is the most extraordinary thing, a courthouse which is a part of the prison system itself, a place where you are already considered guilty and in jail on arrival. Woolwich Crown Court is nothing but the physical negation of the presumption of innocence, the very incarnation of injustice in unyielding steel, concrete and armored glass. It has precisely the same relationship to the administration of justice as Guantanamo Bay or the Lubyanka. It is in truth just the sentencing wing of Belmarsh prison.
When enquiring about facilities for the public to attend the hearing, an Assange activist was told by a member of court staff that we should realize that Woolwich is a "counter-terrorism court." That is true de facto, but in truth a "counter-terrorism court" is an institution unknown to the UK constitution. Indeed, if a single day at Woolwich Crown Court does not convince you the existence of liberal democracy is now a lie, then your mind must be very closed indeed.
Extradition hearings are not held at Belmarsh Magistrates Court inside Woolwich Crown Court. They are always held at Westminster Magistrates Court as the application is deemed to be delivered to the government at Westminster. Now get your head around this. This hearing is at Westminster Magistrates Court. It is being held by the Westminster magistrates and Westminster court staff, but located at Belmarsh Magistrates Court inside Woolwich Crown Court. All of which weird convolution is precisely so they can use the "counter-terrorist court" to limit public access and to impose the fear of the power of the state.
One consequence is that, in the courtroom itself, Julian Assange is confined at the back of the court behind a bulletproof glass screen. He made the point several times during proceedings that this makes it very difficult for him to see and hear the proceedings. The magistrate, Vanessa Baraitser, chose to interpret this with studied dishonesty as a problem caused by the very faint noise of demonstrators outside, as opposed to a problem caused by Assange being locked away from the court in a massive bulletproof glass box.
Now there is no reason at all for Assange to be in that box, designed to restrain extremely physically violent terrorists. He could sit, as a defendant at a hearing normally would, in the body of the court with his lawyers. But the cowardly and vicious Baraitser has refused repeated and persistent requests from the defense for Assange to be allowed to sit with his lawyers. Baraitser of course is but a puppet, being supervised by Chief Magistrate Lady Arbuthnot, a woman so enmeshed in the defense and security service establishment I can conceive of no way in which her involvement in this case could be more corrupt.
It does not matter to Baraitser or Arbuthnot if there is any genuine need for Assange to be incarcerated in a bulletproof box, or whether it stops him from following proceedings in court. Baraitser's intention is to humiliate Assange, and to instill in the rest of us horror at the vast crushing power of the state. The inexorable strength of the sentencing wing of the nightmarish Belmarsh Prison must be maintained. If you are here, you are guilty.
It's the Lubyanka. You may only be a remand prisoner. This may only be a hearing not a trial. You may have no history of violence and not be accused of any violence. You may have three of the country's most eminent psychiatrists submitting reports of your history of severe clinical depression and warning of suicide. But I, Vanessa Baraitser, am still going to lock you up in a box designed for the most violent of terrorists. To show what we can do to dissidents. And if you can't then follow court proceedings, all the better.
There was a separate media entrance and a media room with live transmission from the courtroom, and there were so many scores of media I thought I could relax and not worry as the basic facts would be widely reported. In fact, I could not have been more wrong. I followed the arguments very clearly every minute of the day, and not a single one of the most important facts and arguments today has been reported anywhere in the mainstream media. That is a bold claim, but I fear it is perfectly true. So I have much work to do to let the world know what actually happened. The mere act of being an honest witness is suddenly extremely important, when the entire media has abandoned that role.
James Lewis QC made the opening statement for the prosecution. It consisted of two parts, both equally extraordinary. The first and longest part was truly remarkable for containing no legal argument, and for being addressed not to the magistrate but to the media. It is not just that it was obvious that is where his remarks were aimed, he actually stated on two occasions during his opening statement that he was addressing the media, once repeating a sentence and saying specifically that he was repeating it again because it was important that the media got it.
I am frankly astonished that Baraitser allowed this. It is completely out of order for a counsel to address remarks not to the court but to the media, and there simply could not be any clearer evidence that this is a political show trial and that Baraitser is complicit in that. I have not the slightest doubt that the defense would have been pulled up extremely quickly had they started addressing remarks to the media. Baraitser makes zero pretense of being anything other than in thrall to the Crown, and by extension to the US Government.
The points which Lewis wished the media to know were these: it is not true that mainstream outlets like the Guardian and New York Times are also threatened by the charges against Assange, because Assange was not charged with publishing the cables but only with publishing the names of informants, and with cultivating Manning and assisting him to attempt computer hacking. Only Assange had done these things, not mainstream outlets.
Lewis then proceeded to read out a series of articles from the mainstream media attacking Assange, as evidence that the media and Assange were not in the same boat. The entire opening hour consisted of the prosecution addressing the media, attempting to drive a clear wedge between the media and Wikileaks and thus aimed at reducing media support for Assange. It was a political address, not remotely a legal submission. At the same time, the prosecution had prepared reams of copies of this section of Lewis' address, which were handed out to the media and given them electronically so they could cut and paste.
(Note: You can view every article as one long page if you sign up as an Advocate Member, or higher).