By Alison Buckley and Hamma Mirwaisi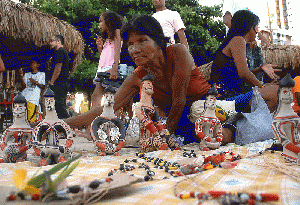 Indians of northeastern of Brazil %281%29

(

Image

by

(From Wikimedia) uploaded by User:Tetraktys

, Author: uploaded by

User:Tetraktys

)

Details Source DMCA

click here

: Indians of northeastern of Brazil (1)" alt="From click here: Indians of northeastern of Brazil (1)" width="300">

All creatures on earth are born to die. They may live only a few seconds or over a hundred years, but these time periods are only ripples in the flow that has placed human beings on a planet either 4.5 billion or approximately 6000 years old, depending on which perspective on the origins of life is taken. Amidst the uncertainty of human existence, one fact is indisputable; life is bound by time limitations.

Unfortunately one of the most tragic dictums of human history, the enslavement of women, has hardly any boundaries. If one seeks to discover why this has happened by studying the creatures on earth from the tiniest to the largest mammals, it will become apparent that few are abusing their own kind because of gender differences. This requires an explanation as to why humans are, in comparison to non-humans, behaviourally and instinctively challenged as far as the anti-life sentiments and actions inherent in the abuse of women are concerned.

In the honey bee the female is queen of the hive and the producer of young honeybees. In mammals the female grows new life inside her, but most new born animals are capable of surviving without their mother from a few moments to years after birth while the male of the species hardly takes responsibility in the sustaining of his own kind. Human newborns need care by their mother for long time. According to the evolutionary explanation, men took advantage of women in time because mothers were not capable of hunting and getting food to feed themselves and their babies, and needed men's help to survive. This could be seen as the starting point for women's eventual enslavement.

The analysis of documentary movies by anthropologists who have studied American Indian tribes in Brazil's Amazon region living as nomads to our time have shown how women follow the men who bring in meat from hunting. Women love the men with power and food to protect them and their children from hunger and other men. It is possible that this type of process also contributed to women's enslavement by men.

In time the human population multiplied and developed civilizations based on religions that had laws. Some attributed these directly to a divine being, but other laws bore the hallmarks of corrupted humans, who used marriage as an excuse to give woman to man unilaterally or as the possession of her father or family members. In time women became property to be given to men.

The authors of most of the religions were men called prophets of God, in spite of the fact that their nature as men didn't always represent his gracious character. They created laws or interpreted them to favour men, the end result being the worst religious laws for women ever in the form of the law of Islam. The Prophet Muhammad's laws are now anti-women more than any other religion or a-religious ideology on earth now.

(Note: You can view every article as one long page if you sign up as an Advocate Member, or higher).