From Consortium News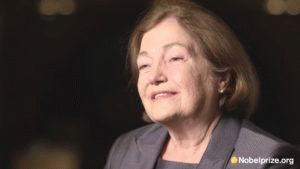 Nobel Peace Prize winner Mairead Corrigan Maguire.
(
Image
by
(Photo from YouTube)
)
Details
DMCA
On Oct. 5, two women Nobel Peace Laureates were at opposite ends of Israel, each working for peace in different ways. One was walking in Israel with Israeli and Palestinian women with hopes for peace in the Israeli-Palestinian conflict; the other sailed on the Women's Boat to Gaza to challenge the Israeli blockade of the 1.8 million Palestinians trapped in the crowded Gaza Strip.
Mairead Maguire, the 1977 Nobel Peace Laureate from Northern Ireland who had sailed 1,000 miles in nine days with 13 women from 13 countries, was stopped in international waters by the Israeli military, taken into custody and brought to the southern Israeli port of Ashdod.
On the same day, Leymah Gbowee, the 2011 Nobel Peace Laureate from Liberia, was to the north, on the Israeli border with Lebanon and spoke at the beginning of a two-week "Walk for Hope" through Israel with approximately 5,000 Israeli and Palestinian women.
Gbowee also spoke at the closing ceremony of the walk on Oct. 19 in Jerusalem at a rally in a square near Prime Minister Benjamin Netanyahu's residence.
"If you cannot see hope, if you cannot see peace, then you are blind," Gbowee said. "You must reject the narrative that war is the destiny of our children. War is easy, making peace is hard. But sisters, today you've made history! No one will be able to ignore your call for peace any more."
In an interview with the Haaretz newspaper, Gbowee added: "Men try to demean women's activism as if it isn't important, as if it isn't 'the real stuff.' But guns and bombs are not aimed only at men. Women suffer real pain -- and we have real things to say. And women have the ability to come together and bridge our divides -- and that is very real, very political and very powerful."
Many other women's voices from Israel and Palestine were heard at the Oct. 19 rally.
Nobel Peace Prize Winner Leymah Gbowee
(
Image
by
greenbeltmovement.org
)
Details
DMCA
Women's Power
Hind Khoury, an economist who was the Minister of Jerusalem Affairs in the Palestinian Authority and the delegate general of the Palestinian Liberation Organization to France from 2006 until 2010, said, "This is women's power at it's best. But will you last? Will you do the hard work? The hard part begins tomorrow -- will you keep up the hope in our region that is plagued with violence and despair? The 50 years of rule over the Palestinian people, from cradle to grave, cannot go on. Our people are ready for peace. President Abbas is ready for peace. We women have come together to tell all our leaders to work towards a negotiated agreement."
Fadwa Shear from Ramallah said, "We cannot count on men to create peace. We will have to do it by ourselves. We are political women calling on our leaders to reach a political agreement. I am very proud to be here."
The voices of Israeli women were also heard. According to the Haaretz article, "Hadassah Froman, widow of Rabbi Menachem Froman, and her daughter-in-law Michal, who was pregnant when she was wounded in a stabbing attack by a Palestinian in January, 2016, both spoke at the demonstration. The two women, who live in the West Bank settlement of Tekoa, were reportedly warmly welcomed by the crowd. 'There is great energy here, and it can bring us to a new way, to change,' said Hadassah Froman.
"As she held her infant daughter, Michal Froman added, 'I believe that peace, as we want it to be, will come from a place where we can see what is possible and what is impossible. The right can be part of peace, too. Life will be better here if we stop seeing ourselves as the victims of terror or the victims of the occupation. We all have to get over this and begin to work hard.'"
Peace Reciprocity
(Note: You can view every article as one long page if you sign up as an Advocate Member, or higher).