Cross-posted from The Capital Times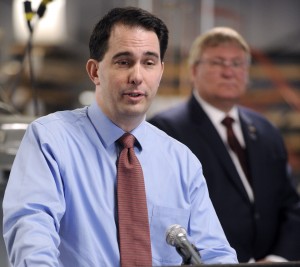 SCOTT ANDERSON - Racine Journal Times Gov. Scott Walker

Driving west from Madison, through the small towns and dairy farm country of western Wisconsin, it quickly becomes clear that the Wisconsin recall election is a statewide phenomenon.
For all the efforts of Gov. Scott Walker to convince the hosts on Fox and CNBC that he is a popular governor who is threatened not by angry citizens but by "the left, the radical left, and the big labor union bosses" who are "somehow counting on the idea that they can bring enough money and enough bodies into Wisconsin to dissuade voters," the message from farm country tells an entirely different story.
Walker has had the overwhelming spending advantage since the recall fight started last November. Walker has had all the benefits of the Republican Party organization, which has gone into overdrive to aid his candidacy, while Democrats have faced a multi-candidate primary fight.
Yet Walker does not have the swing counties of western Wisconsin wrapped up. Not by a long shot.
Along Highway 14, heading out of Dane County and into Iowa and Richland counties, hundreds of hand-painted signs propose to "Recall Walker." Most list reasons for the governor's removal: "Worst Job Losses in U.S.," "Attacks on Collective Bargaining," "Cut Education," "Cut BadgerCare," "Divided State," "John Doe."
Click Here to Read Whole Article