This year, our U.S. athletes proudly earned the most medals of any country at the Rio Olympics. And to further celebrate this victory, the most important winner was U.S. manufacturing. For the first time in many years, nearly all of the uniforms worn at the Olympic Games by our U.S. athletes were made in the U.S.A.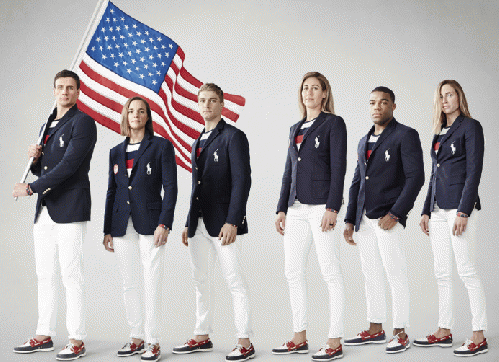 Ralph Lauren U.S.-Made Olympic Uniforms
(
Image
by
Ralph Lauren
)
Details
DMCA
I first brought the issue of USA-made Olympic uniforms up before the 2002 Olympic Games in Salt Lake City, Utah. In 2001, I testified before the Olympic Committee urging it to require that Olympic uniforms be made in the United States. In 2012, I appeared on numerous television programs criticizing Ralph Lauren and other manufacturers who had our uniforms made overseas. As a result of criticism, Mr. Lauren promised to make uniforms in the United States for future games. And he has kept his word. I would now like to present Ralph Lauren with a gold medal for demonstrating that we can make everything in the United States. Further, Mr. Lauren even had shoes made in the U.S.A. for the Olympic Games in Rio. Bravo!
Congress Should Have Taken Action (They Still Can)
When they learned in 2012 that the U.S. Olympic teams uniforms were made in China, Senate Majority Leader Harry Reid and Speaker John Boehner were quick to pounce. "I am so upset. I think the Olympic Committee should be ashamed," Reid told reporters on Capitol Hill. "I think they should be embarrassed. I think they should take all the uniforms, put them in a big pile and burn them and start all over again."
Speaker Boehner, meanwhile, said of the U.S. Olympic Committee: "You'd think they'd know better." House Democratic Leader Nancy Pelosi told reporters at her weekly news conference that she's proud of the nation's Olympic athletes, but ''they should be wearing uniforms that are made in the U.S.A.''
Well, Speaker Boehner, and Democratic Leaders Reid and Pelosi, you should have known better. Congress is in charge, and should have taken meaningful action.
The U.S. Olympic Committee is a federally chartered non-profit corporation. Congress charters the USOC and Congress can amend the charter in five minutes to require that all USOC uniforms and licensed souvenirs be made in the United States.
This is a simple solution that Congress controls. In 2001, when Mitt Romney chaired it, I testified before the USOC in Utah and asked the same questions then as I do now: why not make USA's Olympic uniforms and souvenirs in the United States? After hearing my testimony, Mr. Romney continued the US Olympic Committee's policy of going with the highest bidder, even if the products were made offshore.
The USOC does not receive money from Congress, but it does receive the very valuable, exclusive rights to license U.S. Olympic advertising and souvenir rights. Ralph Lauren bought the right to clothes of the U.S. Olympic team for $10 million. BMW, the Bavarian Motor Works, not exactly an American car company, bought the rights to be the official car of the U.S. Olympic team.
Even Nike, the Creator of Outsourcing, Made Uniforms in the United States
I have been criticizing Nike for 25 years for having soccer balls made by eight-year-olds in Pakistan, for violating the meager minimum wage laws of Indonesia and for outsourcing nearly everything to Asia. But, for the first time, Nike actually made Olympic Uniforms in the United States. Hell can freeze over!
Also joining Nike in making uniforms in the good old U.S.A. is newcomer Under Armour. Kevin Plank, then a 23-year-old entrepreneur, started Under Armour in 1996 in his grandmother's basement in Maryland. I call upon Mr. Plank and Under Armour to expand its manufacturing in Baltimore so that those living in that city and suburbs can earn a decent living. The core source of the Baltimore riots several years ago was massive unemployment caused by closed factories and steel mills. The Olympic spirit should inspire Under Armour to fill in that gap and give thousands of Baltimoreans new jobs and a new source of pride.