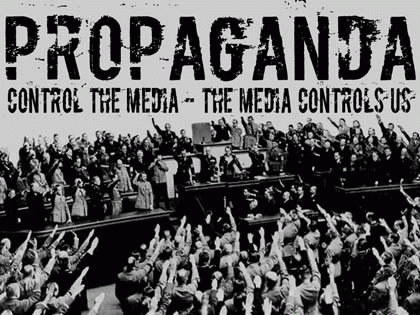 Conrol the Media- The Media Controls Us

(

Image

by

thelibertybeat.com

)

Details DMCA

The article I wrote on OEN last that headlined over the week-end asking if Bernie Sanders was a "Principled" sell-out apparently hit a nerve with many people. The truth as I see it is that Sanders finds himself in a quandary along with the rest of anyone to the left of the unhinged Democratic oligarchy. One reason for this is the obvious underhanded way that the Clinton camp purged voting rolls in many States and exit polls did not mirror the final vote in States like California and NY among other States. It is obvious to anyone with even a modicum of intelligence to see that the voting was rigged, election fraud was committed and the Clinton camp simply stole this Primary race!

There are efforts to overturn the results in something like twelve States along with voter class-action suits against the Clinton Campaign.

One reason I wrote the article was in response to the outright treachery of the Clinton Ca, and the DNC itself. How can Sanders object? The Clinton controlled media will simply claim it is a case of "sour grapes" on Bernie's part and ask Democrats to just move on the way she always does when confronted by her criminal behavior. She did this with her vote on the Iraq War, the obliteration on Libya, The CIA or castrated coup in Ukraine not to mention all the government contracts given out to Clinton Foundation donors while she was Secretary of State. There is more, much more. I could write a book on Hillary Clinton's wanton criminal behavior.

What Sanders needs to ask himself is why could he expect her to honor any of the demands his followers want? Every one of us knows that she will bow and curtsy, promise him the World and then do exactly what she wants to do, ignoring the wishes of everyone and just move on execute her own agenda and continue her bellicose ways. That will lead to more military force uses by the United States against anyone who crosses her, record profits for the Military-Industrial-Complex and possibly thermos-nuclear war.

Can anyone imagine anything different from Hillary Rodham Clinton? Can anyone imagine a worse scenario? If you don't believe this just look at her track record. Is this someone this country needs right now? Bernie fails to mention that we spend 54% of our discretionary budget on the military. That is more money spent on the military than the rest of the World combined! We spend more money on the military now than we did in 1945 even after you adjust for inflation. This is unsustainable.

Maybe HRC will be indicted, but I'm not holding my breath. Maybe she will be indicted for voter fraud but that too is in serious doubt since nobody is ever prosecuted for undermining the will of the peasant Class. This is a time you must ask yourself, can we ever overcome the fascist oligarchy that has captured both major political parties?

We can go to the Democratic Convention and riot, the cops can come out with their water cannons, tear gas and armored vehicles and many will get arrested or even killed. The MSM will ignore what the people are protesting about and glorify Hillary Clinton. That is the way things work.

I, and I'm speaking only for myself, am done with the Democrats. I don't believe them or anything they say. I believe they are operating on the same level as Republicans.

I wrote something a while back that I believe needs to be said again. What I wrote was that discontent is cumulative. Anger, hate, jealousy and even love are fleeting emotions. They come and they go. Discontent however is quite different. Discontent gowns, piling on one thing after another until after a while, when discontent is rampant, bad things happen. I see the pot starting to boil over. BERNIE MUST REALIZE THE HE IS THE ONLY RELIEF VALVE WE HAVE.