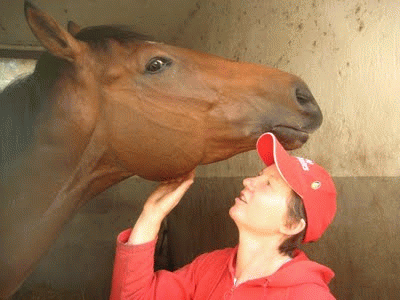 Racehorse trainer

(

Image

by

Invisible Paris

)

Details DMCA
This is the second of two articles exploring the age-old Human Nature debate and the question of whether human beings are capable of achieving true participatory and economic democracy.
Anti-capitalist John Strachey touches briefly on the Human Nature debate in his 1933 Coming Struggle for Power (see Is Capitalism Doomed?). He makes the observation that despite unimaginable technological advances in all other fields of endeavor, man has been totally unsuccessful in improving his own nature. He, Marx and Engels blame capitalist oppression for this. Marxist psychiatrist Wilhelm Reich enlarges on this perspective. He places most of the blame on the refusal of the intellectual elite to acknowledge the fundamental animal (biologic) nature of human beings.
Informed by nearly eighty years of behavioral research, I'm most swayed by Reich's arguments. Farmers and horse trainers wouldn't dream of subjecting the animals they depend on for their livelihood (they would be prosecuted under animal cruelty laws) to the horrendous conditions most of humanity are forced to live under.
Can Human Nature be Repaired?
There is compelling evidence from recent behavioral research that ending capitalism and class society will improve the so-called "flaws" I identify in Is Human Nature Flawed?:
1. More equitable distribution of food and clean drinking water will ensure that more, if not all, of presently "disadvantaged" populations are guaranteed access to basic nutrients that are the essential building blocks for normal child development and optimal physical, psychological and emotional functioning in adults.
2. Extreme stress levels that aggravate impulsive and aggressive behavior will be reduced, by ending excessively long work hours and arbitrary and abusive treatment by employers and supervisors, as well as by improving pay and working conditions.
3. Extended family and community networks, essential in the self-regulation of all primate behavior, will be restored. Human beings are a social species, owing to their biological programming, and function best in groups. Over the past four decades, extreme work pressures (long hours and high stress) have led to the widespread breakdown of extended families and traditional community and civic groups.
4. A reduction in work stress and restoration of social networks will facilitate a return to a more "naturalistic" communal childrearing environment. This model, according to cross cultural studies, is most conducive to optimal child development.
5. Hierarchical, coercive power relations that breed aggression, violence and sadism will be replaced -- in government, schools and the work place -- with cooperative, consensus driven models of governance.
The Damage Done by Capitalism
In view of the extensive research evidence, mainstream human behavior experts (psychologists, sociologists, criminologists, social workers, etc) are slowly coming around to the view that the ravages of capitalist society, rather than "human nature" itself are responsible for the wanton cruelty and "inhumanity" that characterize industrialized society. Yet most them continue to argue that socialism and participatory democracy are impossible, claiming that it will take generations to undo the damage capitalism has inflicted on the human species.
From their perspective, 21st century men and women commit theft, murder, rape, domestic violence, child abuse and wanton terrorism on the battlefield are due to faulty childrearing. Maltreatment of their children leads them to acquire similar character defects, which they, in turn, pass on to their grandchildren. Thus even if capitalism were to end tomorrow, we would be left with a society of defective human beings, prevented by major emotional and behavior problems, from governing themselves.
Does this argument have merit?
Human Behavior in a Post-Capitalist World
(Note: You can view every article as one long page if you sign up as an Advocate Member, or higher).