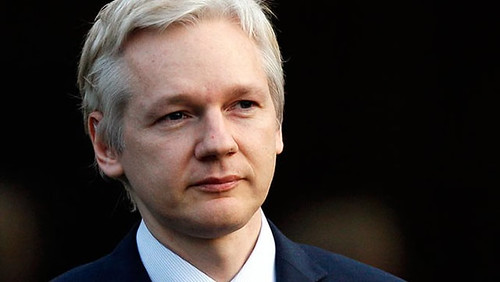 WikiLeaks founder Julian Assange
(
Image
by
newsonline
)
Details
DMCA
Those of us who understand that government secrecy is used to cover up illegal and covert operations, often involving assassinations, proxy wars, economic sabotage, and other crimes against humanity, have in the past applauded Wikileaks and its founder Julian Assange as warriors of transparency. In fact, that is the prime mission of Wikileaks, to confront secret government operations with exposure. To spill the beans and let the public decide.
But in regard to certain critical issues, including the 9/11 attacks and the recent victory of Donald Trump as President, Wikileaks has turned from exposing secrets to keeping them. In the case of 9/11, Assange is on record as saying:
"I'm constantly annoyed that people are distracted by false conspiracies such as 9/11, when all around we provide evidence of real conspiracies, for war or mass financial fraud."
And though Wikileaks did publish " "half a million US national text pager intercepts" covering a "24 hour period surrounding the September 11, 2001 attacks in New York and Washington," Wikileaks has been silent since, with Assange clearly viewing the compelling evidence that the WTC and Bldg. 7 all could have come down as they did only thru a controlled demolition and even the admission by the leaders of the National Commission on Terrorist Attacks Upon the United States, also known as the 9/11 Commission, that the government lied to them and the CIA, which had critical information on the- hijackers, "stonewalled" them and refused to co-operate, as irrelevant. How much more does it take to be persuaded that the lies and stonewalling are cover-ups and that the allegations of a conspiracy are therefore substantive?
We may reasonably ask: if Wikileaks thinks the 9/11 allegations and the documentation of lies by the 9/11 Commission Chaired by former New Jersey Governor Thomas Kean and the Senior Counsel to the 9/11 Commission John Farmer Jr., in books (e.g. The Ground Truth: The Untold Story of America Under Attack On 9/11) written afterwards are "false", then how can we expect Wikileaks to publish information on 9/11? And we have the template of such bias in the release of information about Clinton in 2016, while Wikileaks repressed the information on Trump, keeping it secret.
Assange explains why the Trump material was not released based on the fact that Trump says many outrageous things and that releasing the information would therefore "violate editorial standards" of relevance. Is not the mission of transparency to put out the information and let the chips fall where they may and to let the public decide how to assess the information? When Assange acts as the gatekeeper of secrets, keeping them from public view, he is betraying his goal of "total transparency."
(Note: You can view every article as one long page if you sign up as an Advocate Member, or higher).