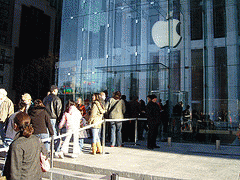 (
Image
by
jardenberg
)
Details
DMCA

These days if you do web search on "Black Friday", almost every news outlet, circle of writers, media and critics, portray the "Black Friday Rush" as a ridiculous and foolish endeavor, motivated by the strings of the corporate world. And, perhaps it's the contrarian in me, but I found myself persuaded to write this small opinion piece to convey slight different view. After reading a lot of pseudo intellectual criticism against the 'frenzied' shoppers on Black Friday, I came to the conclusion that perhaps there needs to be care with these cynical remarks, otherwise one may find to be inflicting the fault of hypocrisy on oneself.

It is very easy to take the road of self-righteousness when criticizing the masses of people that rush to buy goods at a 50% discount on Black Friday. They do seem out of control and foolish. Granted, it is a low brow activity and a hassle, and it is is not required by those who can afford to spend that extra 50% or more on the price tag any other given day of the year. After all, they have the luxury of healthy bank accounts, and promiscuous wallets. But the truth is that 'consumerism' appeals to intrinsic human behaviors: curiosity, conquest and ownership. To an extend it does have an effect on most of us.

On the other hand, you have the case of educated people, which by their conditional definition, have expanded their pleasures to more 'cultured' hobbies; such as literature, music, art, science, or spiritual (for lack of a better word) pursuits. Sure, they seem to have escaped the craving of consumerism. But ultimately, even they find moments to indulge in the love of unwrapping a newly acquired gift; be it bought by themselves or given by someone else. Fortunately for them, they either have a wider choice of activities to do, which do not require them to go through the "stampede" that is the "safari" of Black Friday. Or they simply can afford to discretely buy whatever they want at a higher price any other day. As an exquisite irony to the further disfavor of these critics, some of these people do enjoy these "stampedes", which I dare suggest that may bring out the playful child in them.
To attack the effect of a condition, is not to address the cause itself. To be fair, there is a problem with over consumption in the United States and other industrialized countries. Holidays are hijacked, or even made-up for the sole purpose of creating false reasons to buy things we do not need. But instead of attacking the pleasure some people have in consumption and unwrapping 'new toys', we should focus on pushing and boycotting politicians until they cut the war budget in favor of education, and to push them out of office when they are blatantly lured by lucrative corporate donations. Also, how about if we start sending a message to mainstream media about the absurdity of their banal advertisement. For now, let the "Black Friday rushers" rejoice with the 'loot' in their trunk, and the pleasure it brings them to get home, and finally open up that Microwave oven they wanted at the half the price of what it will be tomorrow.