This piece was reprinted by OpEd News with permission or license. It may not be reproduced in any form without permission or license from the source.
Republished from NEO
Happy Birthday, People's Republic of China! Heartfelt Happy Birthday! Happy Birthday, and thank you for being here, for standing, for not bending down and never surrendering.
President Xi and his Socialism with the Chinese characteristics
(
Image
by Andre Vltchek)
Details
DMCA
Happy Birthday, People's Republic of China! Heartfelt Happy Birthday!
Happy Birthday, and thank you for being here, for standing, for not bending down and never surrendering.
The capitalist world is in decay. The West is rotting. Anger and nihilism are pouring from the imperialist empire whose citizens are frustrated; not at peace with themselves.
Imperialist North America and Europe are furious at the countries like Venezuela and Cuba because their thinkers and leaders are exposing the terrible deterioration of values which is streaming from the neo-colonialist and historically imperialist countries.
But it is China and Russia who are at the forefront of spite of the Western nation and their propagandists. It is all grotesque, now. Russia which saved the world from Nazism, and which helped to decolonize dozens of nations, is now "least liked country" in Europe. Germany, which murdered millions of Jews, Roma, Slavs, and others, is the most liked. In the West, nobody seems to care that Germany is still plundering such nations like Venezuela while using its industrial and banking might to strip defenseless nations of their riches.
China, a mighty Communist country, (or call it a "socialist country with Chinese characteristics"), is being mocked and humiliated by Western propaganda. Arrogance of the European and North American indoctrinators and most of their servile pseudo-intellectuals, from the so-called center to the right, has no boundaries. Most of them are suffering from incurable superiority complexes. They feel that they have the right to judge China; to decide for it, whether it is "truly" Communist or not, and whether it is on the correct track.
China is a calm, some could even say timid nation. No matter how mighty it has become, it tries to resolve all conflicts with its self-proclaimed adversaries, harmoniously. It does not attack, and it does not provoke. Historically, it cares for the well-being of its peripheries, and even for the welfare of faraway nations. For millennia, the wisdom went like this: "if the neighbors are doing well, so will do well China itself".
Chinese leaders and Chinese people are convinced that if the entire world would become prosperous, China would benefit as a result. That is the essence of the BRI (Belt and Road Initiative), which is often defined as the "New Silk Road".
Of course, it is not as simple as this, but in essence, it is. New Silk Road is the flagship of the Chinese internationalism. I saw China "in action", in such places as Africa and Oceania, and I have been greatly impressed. I am an anti-imperialist, and an internationalist, therefore I decisively support China!
***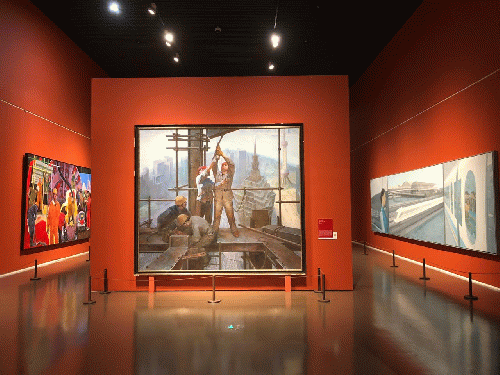 Socialist Realism in Shanghai Art Museum
(
Image
by
ANDRE VLTCHEK
)
Details
DMCA
Increasingly, I consider myself a Communist and an internationalist, not a "Marxist". Karl Marx was a historical, European figure, a good analyst and critic of the old, early capitalist regime. He was preoccupied with mainly European system, without using much energy to attack colonialism and imperialism. In the last hundreds of years, the most horrid problem has been the Western plunder of the planet by the West. Marx did not pay much attention to it.
Countries like the Soviet Union and People's Republic of China, which have been defending those who are defenseless, are consistently and very professionally demonized by London, Paris, Berlin, and Washington, insanely smeared as "equal to the fascists", while it is clear that the only honest equation could be made between the Nazism/fascism and the European and North American colonialism, or more precisely, neo-colonialist and imperialism.
While perfecting its own socialist system, China learned a lot about the mistakes made by the Soviet Union. It is not going to repeat them. Those of us who are close to the Academy of Social Sciences, or to the Chinese leading universities and media outlets, are doing our best to explain the errors committed in both Soviet Union and the so-called Eastern Block. Based on the analyses of its own past, and of other socialist countries, China is both fighting for the survival of the world, and for the improvement of the standards of living of its own people.
I like her approach; I am proud to be part of the "process". And I support China with my entire heart because I know that if China falls, if it gets destroyed by the imperialist West, it would be the end of all hopes for our humanity. The West already demonstrated what it would do to the planet, if it would be allowed to continue ruling, unopposed, over the billions of lives of human beings.
(Note: You can view every article as one long page if you sign up as an Advocate Member, or higher).