Cross-posted from Smirking Chimp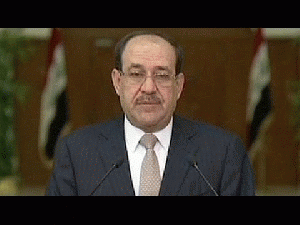 The Obama administration is pushing for regime change in Iraq on the basis that current prime minister Nouri al Maliki is too sectarian. The fact is, however, that Maliki's abusive treatment of Sunnis never factored into Washington's decision to have him removed. Whether he has been "too sectarian" or not is completely irrelevant. The real reason he's under attack is because he wouldn't sign the Status of Forces Agreement in 2011. He refused to grant immunity to the tens of thousands of troops the administration wanted to leave in Iraq following the formal withdrawal. That's what angered Washington. That's why the administration wants Maliki replaced.
Check out this White House statement of support for new prime minister-designate Haider al-Ibadi (Maliki's rival) by Vice President Joe Biden just hours after the change (coup?) was announced. The document is titled "Readout of the Vice President's Call with Iraqi Prime Minister-designate Haider al-Abadi."
"Vice President Joe Biden called Iraqi Prime Minister-designate Haider al-Abadi to congratulate him on his nomination to form a new government and develop a national program pursuant to Iraq's constitutional process. The Prime Minister-designate expressed his intent to move expeditiously to form a broad-based, inclusive government capable of countering the threat of the Islamic State of Iraq and the Levant, and building a better future for Iraqis from all communities.
The Vice President relayed President Obama's congratulations and restated his commitment to fully support a new and inclusive Iraqi government, particularly in its fight against ISIL. The two leaders also discussed practical steps towards fully activating the bilateral Strategic Framework Agreement in all of its fields, including economic, diplomatic, and security cooperation. Prime Minister-designate Abadi thanked Vice President Biden for the call, and they agreed to stay in regular communication as the government formation process proceeds." (White House)
Did you catch that part about the "bilateral Strategic Framework Agreement in all of its fields"? That's the kicker right there. That's what this is all about. Here's one small section of that document under the heading of "Defense and Security":
"...Iraq Joint Military Committee (JMC)... addressed issues such as border security, Iraqi military strategy, and engagement of Iraqi Security Forces in regional training exercises. The next JCC likely will be held in Washington this year.

"Acting Defense Minister al-Dlimi signed a Memorandum of Understanding on Security Cooperation with the U.S. Department of Defense. This agreement represents the strong military to military relationship between the United States and Iraq, and provides mechanisms for increased defense cooperation in areas including defense planning, counterterrorism cooperation, and combined exercises.

"The Iraq FMS program is one of the largest in the world and is an important symbol of the long-term security partnership envisioned by both countries. We remain committed to meeting Iraqi equipment needs as quickly as possible." (US Strategic Framework Agreement, US Department of State)
This is just the camel's nose under the tent. There's no doubt that the administration's ultimate objective is to put US "boots back on the ground" which, by the way, is the reason why Obama is allowing the terrorist militia (ISIS) to seize 30 percent of the Iraqi landmass, capture the nation's second biggest city, and move to within 50 miles of Baghdad without lifting a finger to help. It's because Obama wants to create a pretext for boosting troop levels in the country.
What better way to redeploy thousands of US combat troops to Iraq, then to scare Iraqi policymakers into submission with visions of bloodthirsty terrorists (ISIS) lopping off heads and slitting throats at every opportunity. It's all about persuasion. (Note: It's easy to see that -- while ISIS may not be directly under US control -- its presence in Iraq certainly serves Washington's overall strategic aims.)
Independent researcher and journalist, Soraya Sepahpour-Ulrich, appears to be one of the few analysts who's figured out what's going on. Check out this clip from Iran's Press TV from interview with Ulrich:
"America has long-standing plans to be permanently present in Iraq, and in the Persian Gulf region as a whole," said Ulrich. "Domination of the Persian Gulf is the lynchpin of US strategy...the presence of ISIL helps them in this goal."
After Iraqi Prime Minister Nouri al-Maliki forced American forces out of Iraq by refusing to sign a Status of Forces Agreement allowing the forces to stay on permanently, US found its way back again, she added.
The government of Maliki refused to grant immunity to thousands of US troops, who were to remain in Iraq beyond 2011 under the pretext of training local forces.
The government had agreed to allow some of the US forces to stay longer for "training" purposes, but refused to shield them from prosecution. As a result, that residual force was never deployed.
According to a 2008 bilateral security accord, known as the Status of Forces Agreement (SOFA), all the US troops left the country by December 2011.
(Note: You can view every article as one long page if you sign up as an Advocate Member, or higher).