Reprinted from Reader Supported News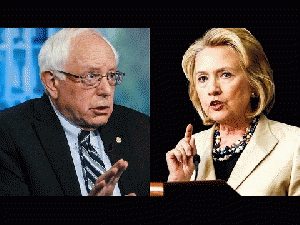 Bernie Sanders vs Hillary Clinton
(
Image
by David Pakman Show, Channel: MidweekPolitics)
Details
DMCA
>
The establishment media is declaring Hillary Clinton the Democratic Party nominee. Since when do red states choose the nominee? Will Hillary Clinton win South Carolina, Alabama, Georgia, Tennessee, Iowa, or Texas in November? She might win Virginia, Arkansas, Nevada -- and probably would win Massachusetts.
So Hillary Clinton has won one blue state and it's game over? Not so fast.
Massachusetts was essentially a dead heat. Minnesota went to Sanders, and of course Vermont, another blue state, went to Bernie.
Oklahoma will go red in November. Colorado and New Hampshire are purple and Hillary's Nevada and Virginia could go either way.
Can we put the brakes on here and have some primaries in the blue states before we decide who the Democratic nominee is?
Hillary Clinton's margins in the South were impressive and have helped her to build a substantial lead in the all-important pledged delegates. But let's put it into perspective: it was the South. It was Republican country. The Dixiecrats are Republicans now.
Let's face it, the Democratic Leadership Council's goal has been achieved again. By front-loading the nomination process with southern states they have given the momentum to a moderate candidate. It is a system rigged against a progressive insurgent candidate.
It will be an uphill climb, but the race is far from over.
Bernie Sanders will have to find some states that he can win by large margins or it will be difficult to catch Hillary Clinton.
Bernie issued the following statement after winning primaries and caucuses in Vermont, Oklahoma, Colorado, and Minnesota:
"The political revolution has begun.

"Ten months ago, when our campaign started, not many people thought we would get this far or do this well. Not many people outside of Vermont even knew who I was. That was then.

"Tonight, voters in Colorado, Oklahoma, and Minnesota have joined the people of Vermont in showing America that a political revolution is spreading across our country, that people want to take on the billionaire class and make our government work for all Americans and not just the top 1 percent.
(Note: You can view every article as one long page if you sign up as an Advocate Member, or higher).