Taxpayers Will Pay... and Pharma Will Profit Further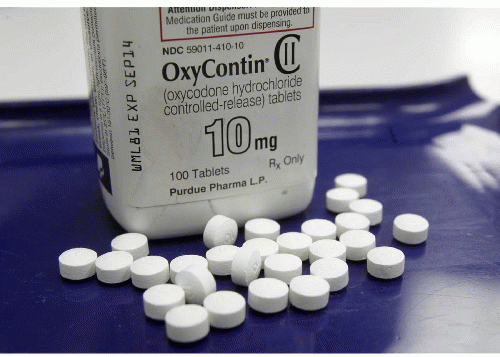 No Responsible News Outlet Disputes Pharma Caused the Opioid Addiction Epidemic
(
Image
by
Martha Rosenberg
)
Details
DMCA
By now, the contours of Pharma's opioid prescription scam which has driven a heroin epidemic have emerged. Between 1996 and 2002, Purdue Pharma, who makes OxyContin, funded more than 20,000 pain-related "educational" programs reports Vox Media and "launched a multifaceted campaign to encourage long-term use of [opioid painkillers] for chronic non-cancer pain." It gave money to groups like the American Pain Society, the American Academy of Pain Medicine, the Federation of State Medical Boards and "grassroots" patient groups to advocate "for more aggressive identification and treatment of pain," says Vox.
According to 2013 lawsuits filed by Chicago and California counties, the opioid makers Johnson & Johnson, Purdue, Teva, Endo Health and Actavis misled the public about opioid addiction and safety, paid doctors to extol pro-opioid opinions and created faux "patient" groups to signal the great demand for opioids.
Pharma-paid doctors actually changed pain guidelines to favor opioids. The American Geriatrics Society recommended opioids for "all patients with moderate to severe pain," and said that opioids should be used before over-the-counter pain relievers, such as ibuprofen and naproxen. A pain guide supported by the Society along with opioid maker Janssen/ Johnson & Johnson says opioids "allow people with chronic pain to get back to work, run, and play sports," and addiction fears are a "myth." One hundred and twenty five people are now dying a day from opioids, according to the New York Times--not quite a myth.
Pharma marketed opioids for every possible affliction from headaches and lower back pain to non-pain conditions like depression, divorce and boredom, r eported Bloomberg. IMMPACT, a Pharma-funded lobbying group even privately met with federal regulators to facilitate new opioid approvals.
Yet, unlike the tobacco industry which agreed to pay for the costs of smoking-related illnesses in perpetuity, taxpayers are paying for Pharma's profit party. The 21st Century Cures Act allocates $1 billion in grants to help states "deal" with opioid addiction that Pharma caused. Purdue alone made $31 billion on opioids reported the Los Angeles Times. Why are taxpayers paying?
And it gets worse. Pharma will further profit from the opioid addiction epidemic because it has succeeded in marketing the drug buprenorpine (Suboxone) as the preferred treatment for opioid addiction--a drug with its own "high" and street demand. A Pharma funded group promoting buprenorpine says it seeks to "reduce the stigma and discrimination associated with patients with addiction disorders"--as if Pharma didn't stoke those "addiction disorders" to begin with! Ka-ching. Addiction medicine" and "medication-assisted treatment" (MAT) are now huge new revenue streams for Pharma which taxpayers fund. At least six board of directors at the American Academy of Addiction Psychiatry (AAAP) have Pharma financial links and three are on speaker boards.
It is a sad comment on addiction that some of the biggest opponents of tighter opioid regulation are patients themselves who say the problem is not the drug but that the drugs are too restricted. In addition to deaths and overdoses, opioids cause cardiopulmonary and congestive heart problems, sleep apnea, hormonal changes, constipation, decreased immune responses, liver and kidney risks, fracture risks, lassitude and mental problems. Opioids even cause opioid-induced analgesia (OIA) in which pain actually gets worse not better.
(Note: You can view every article as one long page if you sign up as an Advocate Member, or higher).