Corporate TV pundits and so-called legal experts have debated minutia in the death of Eric Garner at the hands of police in Staten Island, New York. Questions debated have included whether he was resisting arrest, whether police technically used a chokehold to subdue him and whether he was killed because he was black.
The essential questions in this case which the pundits and experts have failed to address are: was there probable cause to arrest Mr. Garner in the first place? And was he informed he was under arrest before being subdued for supposedly resisting arrest?
Mr. Garner was allegedly arrested and subdued for selling "loose cigarettes", but none were found on him at the time. Witnesses claim Mr. Garner had in fact just broken up a fight and that is why he was where he was.
This raises the question: if Mr. Garner had no loose cigarettes on him at the time of arrest, why did the police believe they had probable cause to stop him and then arrest him? What was their probable cause to a violent take-down?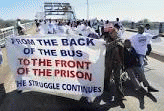 (
Image
by
newjimcrow.com
)
Details
DMCA
Suspicion-less stops of people of color has been a cornerstone of police practice in New York over the past decade and indeed within America since its history. A policy known as 'stop and frisk' was ruled unconstitutional by Judge Shira Scheindlin of New York but this has not stopped the brutal practice of police violence and obstruction of Constitution rights (http://www.slate.com/blogs/crime/2013/08/12/stop_and_frisk_ruling_judge_shira_scheindlin_s_decision_in_floyd_v_city.html).
It appears that Mr. Garner may have been another victim of NYC's stop and frisk program. Both 'stops and arrests' which lack probable violate the 4th amendment and are unconstitutional. Yet the rule of law is discarded in favor of the rule of 'men'.
The other question the corporate pundits and so-called legal experts have failed to raise is: was Mr. Garner informed by police he was under arrest and given the opportunity to comply prior to being tackled by police for allegedly resisting arrest?
How could Garner resist arrest if he was never told he was under arrest? It appears he was not told this, and this also would have violated Mr. Garner's constitutional rights.
It seems the main reason Mr. Garner may have been subdued with the lethal chokehold was the temerity of a black man to talk back to a white police officer. This would be keeping with the New Jim Crow that has enveloped racist America. But this would be difficult to prove in a court of law.
As the Feds investigate a potential civil rights case against the NY police in Garner 's death, it may be most productive for them to focus on whether his death was the result of an arrest without probable cause and whether he was informed he was under arrest and given the opportunity to comply, prior to being lethally subdued.
- Advertisement -