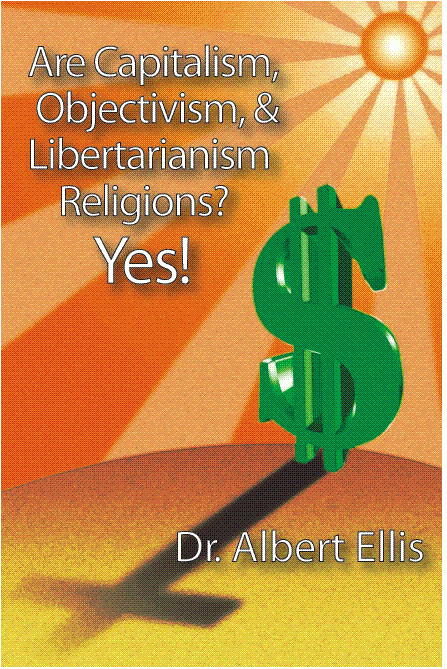 Front Cover

(

Image

by

Jimmy Walter

)

Details DMCA
Why Objectivism is a Fanatical Religion
A main theme of this book is that objectivism, while purporting to be an atheistic philosophy, and while frequently attacking the usual kinds of religion, is itself one of the leading orthodox religions. To prove this point, let us first agree on what the term "religious" means.
According to Webster ' s New World Dictionary, there are two main definitions of religion: 1. belief in a divine or superhuman power or powers to be obeyed and worshiped as the creator(s) and ruler(s) of the universe; and expression of this belief in conduct and ritual; 2. (a) any specific system of belief, worship, conduct, etc., often involving a code of ethics and a philosophy: as the Judeo-Christian-Islam religion (they only differ in minor details and can be considered one), the Hindu religion, the Buddhist religion; (b) loosely, any system of beliefs, practices, ethical values, etc., resembling, suggestive of, or likened to such a system; as, humanism is his religion.
As I point out in "The Case Against Religiosity: A Psychotherapist's View" (Ellis, 1983), and in my other writings on religion and REBT (Ellis, 2000; Nielsen, Johnson & Ellis, 2000), I do not consider the second of these dictionary definitions a very good one, because religion, to me, includes some concept of a supernatural deity and some dependence on this deity. When the term is used merely to denote a system of beliefs, practices, or ethical values that are not connected with any assumed higher power, then I believe it is used loosely: since such a non-supernatural system of beliefs can more accurately be described as a philosophy of life or a code of ethics, and it is misleading to confuse a believer in this general kind of philosophy or ethical code with a true religionist.
Every atheist, in other words, has some kind of philosophy and some code of ethics; and many atheists, in fact, have much more rigorous life philosophies and ethical systems than most deists. It therefore seems misleading to say that someone is religious because she happens to be philosophical or ethical, and unless we use the term religion to mean some kind of faith unfounded in fact, or dependency on some assumed superhuman entities, we broaden the definition of the word so greatly as to make it practically meaningless.
In contending, then, that objectivism is a religion, I do not merely claim that it is a specific system of beliefs, practices, and ethical values but that it is a clear-cut religious system, in the classical use of this term, involving the kind of beliefs, practices, and ethical values that at least imply (even if they overtly deny) a divine or superhuman power in the universe and that particularly comprise a faith unfounded on fact. I contend that any dogmatic, fanatical, absolutist, anti-empirical, people-condemning creed is religious because there is no factual evidence on which it is based, and its adherents, in zealously sticking to it, strongly state or imply that some higher power or order of the universe demands that their views are right--and all serious dissenters to their views are for all time wrong.
Take, for example, devout nationalism. Fanatic nationalists believe that their country is right, whatever the facts are about any controversy in which it is involved; that other nations are inferior to theirs, no matter what the evidence shows; that their country does not merely consist of its land and its people, and their known and measurable characteristics, but of some ineffable, mystical, indefinable essence over and above these characteristics; that merely because they are citizens of their nation there must be something super special, heroic, and practically godlike about them; that the piece of fabric with insignia on it that represents the flag of their country is sacred and that any insult to it must be expunged with the insulter's blood.
Now fanatic nationalists may believe that they believe in no God whatever; they may even be militant atheists. But the fact remains that their nationalistic beliefs imply that their country is not merely good--it is great and glorious (which really means, it is close to being omnipotent). They imply that their nation and its citizens are heroic (which really means Godly). They imply that their land (and they as citizens of it) have an un-provable and yet indubitably special essence (which means they believe in mystical transcendence). And they imply that the symbols of their nation are sacred, meaning regarded with the same respect and reverence accorded holy--i.e. coming from God.
Fanatic nationalists, then, to use Eric Hoffer's valuable term, are true believers. And so is virtually any other fanatical devotees of almost any ism you can think of. They may not believe in the conventional Gods, with a capital G; but they believe in higher powers, in inexorable orders of the universe, in absolutes, certainties, and inevitabilities for which there is no observable evidence, but the existence and truth of which they are utterly sure. They profoundly feel that these powers, orders, and absolutes exist. Just about nothing can shake their conviction that their feelings prove their existence. For that is the essence of their fanatic religiosity: deep abiding faith unfounded on fact--and often rigidly held in spite of the knowledge of contradictory facts. Most capitalists are also included here as religious in nature in that they are true believers in the "invisible hand" of the market, a clearly supernatural concept, to solve all the worlds' problems if the world will just set all markets free!
To be as clear as possible about the definition of religion that I am using in this assessment of the religiosity of the objectivists, let me try to define this concept in operational terms, and make clear what I think religious people, like the true believer, usually do to make and keep themselves sacred believers. Here are what appear to be their main behaviors:
1. Extremism and dogmatism. Fanatically religious individuals think in extremist, all-or-nothing ways. They do not merely think their views are correct; they fanatically, overzealously are sure they are. They not only give significance to certain things; like practically all-bigoted persons, they exaggerate their dogmas' significance. When they believe in something, they tend to be highly dogmatic, rigid, close-minded, bigoted, and orthodox. They hold onto their views for dear life--as if they would fall apart at the seams if they held them more loosely, or let them go..
2. Absolutism and need for certainty. Fanatical religionists believe in absolutes: in unqualified and unconditional creeds. They have a desperate need for certainty, and essentially strive to be perfect and infallible. They are anxious about doing the wrong thing or appearing in a bad light to others; so they insist on an inexorable order in the universe that make them feel safe and secure. As part of their absolutism, they frequently believe in some superhuman, or infallible God, who will completely be on their side and who will help them to be angelic. But instead of such a personified God, they can easily dream up other absolute entities or ideas with which they feel safe.
3. Tautological and definitional thinking. Because fanatic religionists demand certainty, and because they live in a world of probability and chance where no absolutes and nothing perfect exists, they tend to create artificial certainty by thinking tautologically and definitionally. They invent some logical or mathematical system, in which everything comes out exactly because they start with certain axioms or definitions that insure perfect answers. Then they foist this system upon the world of diverse reality and delude themselves that it is reality. As another aspect of their need to be certain, once they determine that something is true, is a strong tendency to keep "proving" that it is true with specious logic and all kinds of non-sequitur "proof."
Next Page 1 | 2 | 3 | 4 | 5 | 6 | 7
(Note: You can view every article as one long page if you sign up as an Advocate Member, or higher).