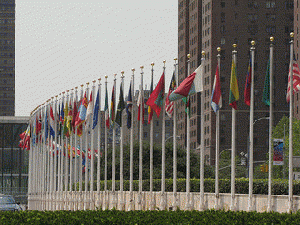 UN & vicinity

(

Image

by

Friar's Balsam

)

Details DMCA




The West (US, EU and NATO) and Israel have associated themselves with Saudi Arabia and the Sunni Muslim side of the religious movement by supporting Arab countries in their geopolitical religious hegemony, especially in the Persian Gulf region of West Asia. And by force, these countries have placed the countries which they disagree with under sanctions which some of these sanctions are illegal (e.g., going against Chicago Convention treaty).

The US, EU, Saudi Arabia, and UAE have used Responsibility to Protect (R2P) all over the West Asia including Iran, Afghanistan, Libya and Syria to support separatist groups with regime change in mind.

Now Iran is contending UN-R2P should apply on its terms to "Yemen, Bahrain and Palestine" where people are oppressed. Iran has said they want(ed) to protect oppressed people of these countries as much as they can, -- Is this regime change, out of control, or interference?

Who defines UN-R2P need and who should carry out that need?

UN-Responsibility to Protect and The Prevention of Genocide agreements and terms mention sovereignty no longer exclusively protects States from foreign interference; it is a charge of responsibility that holds States accountable for the welfare of their own people.

The three main pillars of the responsibility to protect, as stipulated in the Outcome Document of the 2005 United Nations World Summit (A/RES/60/1, pages 138-140) and formulated in the Secretary-General's 2009 Report (A/63/677) on Implementing the Responsibility to Protect are:



1.The State carries the primary responsibility for protecting populations from genocide, war crimes, crimes against humanity and ethnic cleansing, and their incitement;

2.The international community has a responsibility to encourage and assist States in fulfilling this responsibility;

3.The international community has a responsibility to use appropriate diplomatic, humanitarian and other means to protect populations from these crimes. If a State is failing to protect its populations, the international community must be prepared to take collective action to protect populations, in accordance with the Charter of the United Nations.

It is interesting to note that free Syrian army and other rebel groups in the West Asia are backed by The West (USA and EU) and Arab money from the Persian Gulf region.

The solution is not to bomb an area or drop white phosphorous bombs to kill indiscriminately. This is committing genocide against humanity for getting rid of opposition or a religious group.

The UN charter(s) must be carried out for all countries equally. It is the responsibility of international community to utilize appropriate diplomatic means to protect all populations and not to stand by watching bombs are dropped and crimes are committed against humanity.